Thank you to Sephora and ShopStyle for sponsoring this post.
Put a few skincare products in front of a girl and it can be overwhelming! It sort of reminds me of the scene in Pretty Woman when Viv is learning how to eat a meal in a fancy restaurant. Which fork goes with which course etc… With skincare, it's like what goes on where and when? Now that I am in my late 30s, I figured I should do a little research to figure out the correct order to apply your nighttime skincare products. Because I am a visual learner, lining them up helps.
Most skincare experts agree on this correct order to apply your nighttime skincare products: Cleanser, toner/exfoliant, eye cream, serum/treatment, night cream. Timing also matters. Make sure to wait 30 seconds to a few minutes between each step to allow the products to fully absorb into your skin. For example, wash your face, apply toner, then brush your teeth. Apply eye cream. Then even if you don't feel like it, floss. Next apply serum. Check your phone. Reply to miss texts. Then apply night cream….
And you thought forks was confusing.
Kidding, kidding. It's really super easy once you establish that routine and I have it all laid out for you below with some of my favorite nighttime skincare products from Sephora.
Correct Order to Apply Nighttime Skincare
Step 1: Cleanser
Kate Somerville's line of skincare has a cult following for good reason. Her cleansers remove dirt, oil and make up without stripping your skin. I love her Exfolikate Cleanser Daily Foaming Wash for everyday use. Once or twice a week I use the Exfolikate Intensive Pore Exfoliating Treatment to really polish my skin. This treatment makes your skin crazy soft and reduces pore size.
More Top Rated Cleansers to Try…
Step 2: Toner or Exfoliant
After cleansing, I alternate between a toner and an exfoliant. My skin is prone to those little milia bumps and exfoliants really help to keep them (and breakouts) at bay. The Peter Thomas Roth Pro Strength 10% PHA Clarifying Exfoliating Liquid helps to even skin tone and combat dullness on top of keeping my skin clear.
More Top Rated Toners to Try…
Step 3: Eye Cream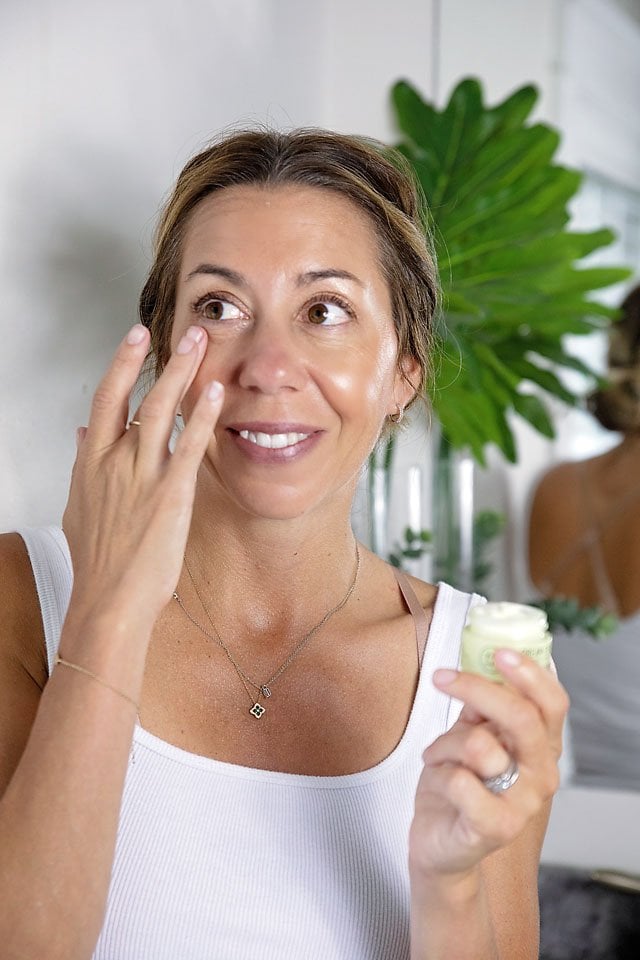 I don't care how tired I am, I NEVER miss this step! I have an entire drawer full of eye cream, but the Youth to the People Dream Eye Cream (similar here same brand) are both amazing products for anti-aging. Firming, hydrating, elasticity…. all the things.
More Top Rated Eye Creams to Try….
Step 4: Treatment or Serum
Step 4 should really be customized to your skincare needs. I am always looking for extra moisture and a kick-butt treatment for fine lines and wrinkles. Because wrinkle treatments can be strong, I alternate nights. One night I will use Glow Recipe Plum Plump Hyaluronic Acid Serum to visibly plump my skin, and the next night I will use Shani Darden Retinol Reform to help with wrinkles and fine lines. Give these products a few minutes to simmer before the next step. You know you want to floss… these are the things I tell myself.
More Top Rated Serums to Try…
Step 5: Night Cream
The final step is the most fun. There is nothing like slathering on a thick night cream to seal it all in and hydrate while you sleep. The Fresh Lotus Anti-Aging Youth Preserve does just what it sounds like…. with over 1k rave reviews, you will wake up to a baby face.
More Top Rated Night Creams to Try…
Yes, a nighttime skincare routine can be time consuming, but you are worth it! Taking these few minutes at the end of the day helps me unwind. Oh, and you don't actually have to do it right at bedtime. I normally do this routine when I put my youngest to bed. If I wait until I am ready to go to bed, I just want to get into bed I will be tempted to skimp on my routine and will curse my husband for being in bed 10 minutes before me….. really? You are JUST going to brush your teeth and that's it? Men!
I hope that sharing the correct way to apply nighttime skincare products was helpful and if you love beauty insider tips make sure to join Sephora's Beauty Insider Community! I always learn so many great skin/beauty tricks! Make sure to sign up to be a Beauty Insider – it's free and you can get exclusive access to savings and reward points on every purchase.
Did you miss my last #SephoraHaul? Check out previous skincare posts here and here!