I have a confession to make – I have a lot of fall jackets people. And it's strange because I didn't realize this revelation until this past weekend. I was running out the door to yet another baseball game and thought, "I should grab a light jacket because it is a little chilly." So I popped open the old coat closet and there I was, standing there unable to decide which coat to wear. I don't have this problem in the winter. I grab my parka and I am off. Warm and cozy, done!
Fall jackets are more than a jacket. They are layering pieces that accentuate specific styles. A denim jacket is perfect for a casual look, where a vest is worn more for versatility. If you find yourself wondering which fall jacket to invest in and which to pass on don't sweat it. I am breaking down the top 5 must have jackets for fall and how to wear them!
Fall Jacket 1: The Utility
The utility jacket might just be the quintessential jacket for fall. I don't want to call it a uniform but when there is the slightest chill to the air I break this baby out of the coat closet. It is so versatile. It looks great with jeans, jean shorts, leggings and a t-shirt or sweatshirt. I even like it over a cute dress to give the look some edge.
Jacket | Tee (use code MOTHERCHIC20) | Jeans | Sneakers
Fall Jacket 2: The Vest
Ah the vest, they do serve a purpose. Not only do they look cute but they are a great layering piece when it's not super cold and you don't want to fully hide a stylish sweater or shirt. It's easy, lightweight, comfortable, and is another great option to throw on with jeans and cute shirt, leggings and a tunic or joggers and a sweatshirt.
Vest | Top (use code MOTHERCHIC20) | Jeans | Sneakers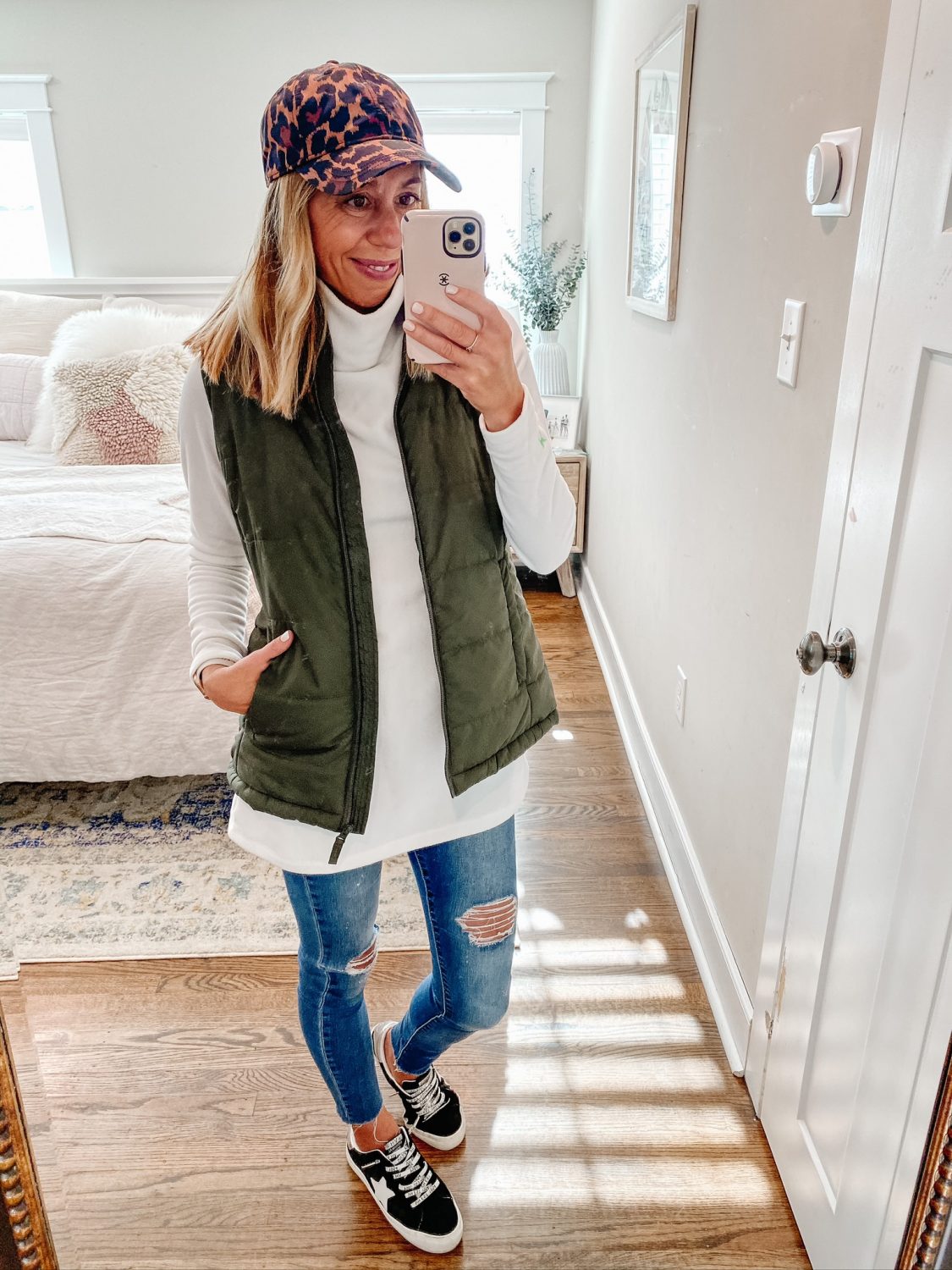 Vest | Pullover | Jeans | Sneakers | Hat
1// Vest | Button Down | Mules
2// Vest | Pullover | Chambray
3// Vest | Pullover | Leggings | Slides
Vest | Sweatshirt (use code MOTHERCHIC20)
Fall Jacket 3: Denim
Denim jacket or jean jacket? Whatever you call it, it is forever a classic! So many different styles, and washes. The denim jacket is the cool cousin of coats. It's not trying too hard and goes with so many outfits! It's perfect for laidback, weekend lounge wear and also the ideal piece to throw over your favorite fall dress on those chilly nights.
1// Jacket | Tee | Joggers | Mules
2// Jacket | Top | Leggings | Sneakers
3// Jacket | Tank | Joggers | Sneakers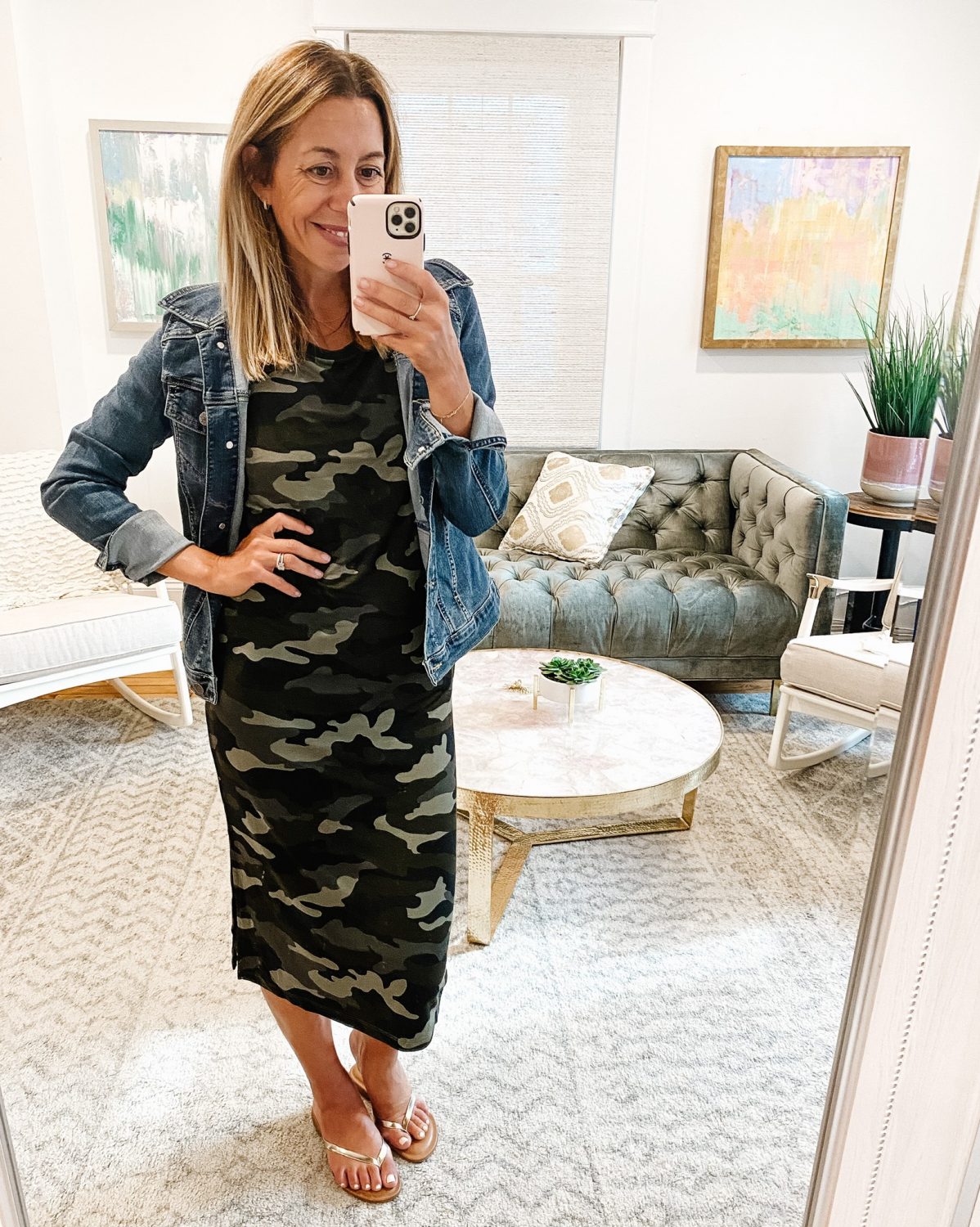 Fall Jacket 4: The Coatigan
If you want to look polished, yet relaxed, the coatigan is for you. But what is it? Is it a coat or is it cardigan? Let's just say its the best of both! With a few different styles and lengths out there it's the perfect transition piece for those who like to cover their bum! The coatigan can make your yoga pants and t-shirt look professional! Drape it over a silk cami and your favorite jeans and you are date night ready. So chic!
Coatigan | Tank | Leggings | Sneakers
Coatigan | Chambray Top | Jeans | Mules
Fall Jacket 5: Leather
Real or faux the leather jacket can be more versatile than it seems. The leather jacket can add a cool factor to a pretty dress or basic jeans and a tee look. Due to the thicker fabric it can also keep you warm! The fabric acts like an insulation barrier trapping the heat. Leather jackets are a timeless look and usually appropriate for most occasions.
Jacket | Top | Jeans | Booties
Jacket | Top | Jeans | Booties
1// Jacket | Top | Jeans| Heels
More Fall Jackets We Love