This post was written by Christine
Just about halfway into my second pregnancy (say what!?) I'd like to think I have this whole dressing-the-bump thing down to a science. Especially because I very much noticed you "pop" a lot sooner versus your first pregnancy! I got my trial-and-error period out of the way when I was pregnant with my son, Mason, 3 years ago and am here to share with any and all of you expecting mamas out there a few tips and tricks I've picked up along the way. Sharing some of my maternity clothing tips below!
Maternity Clothing Tips: The Staples
I have to say I am very lucky to be able to share maternity clothes with my sister-in-law. We are the same size and have not been pregnant at the same time (yet!), so we each add a little more to our "pregnancy stockpile". If you are able to share maternity clothes with a family member or friend I highly recommend this! I also recommend splurging on just the essentials you need – a good pair of leggings, a good pair of jeans, comfortable pajamas. Even incorporating a lot of non-maternity items with nice stretch so you can wear now AND later. Don't go overboard on maternity-specific clothing because again, you will just be wearing them for a few months!
Leggings
One of the most important maternity clothing tips I can give is, invest in great leggings! Just like regular leggings, can a pregnant woman ever have too many maternity leggings?! I'll answer it for you: no. My two absolute favorites are these Spanx leggings and these Blanqi leggings. Both squeeze you in in all the right places! The Spanx are a little more thick and textured so definitely good for the chillier days.
Blanqi Leggings | Sweatshirt (use code MOTHERCHIC20)
Spanx Leggings | Off-the-shoulder Top (use code MOTHERCHIC20)
More Maternity Leggings
Jeans
Personally I am an "under-the-bump" jeans/pants girl. I find them a little more comfortable without having to pull my pants up all day, and can tuck my shirts in to show off this bump! After all, the bump is the new accessory here so might as well show it off. DL1961 and Paige are my favorite maternity jeans, but also linking some more affordable options below!
DL1961 Jeans (exact ones sold out, linking very similar from same brand)
The one pair of over-the-bump jeans I like are these distressed Madewell jeans. Just the right amount of stretch and comfort!
More Maternity Jeans
Layering Basics
There are lots of maternity layering/basics bundles you can find as a "starter kit" for your maternity wardrobe! I love this set from HATCH that includes a tee, tank, leggings, and a dress. I like maternity tops/dresses without the ruching for the most part and these hit the nail on the head. Also love this 3-pack of maternity tees from ASOS that come in 3 basic colors!! The quality is amazing (so is the price!) and no, the white is not see-through 😉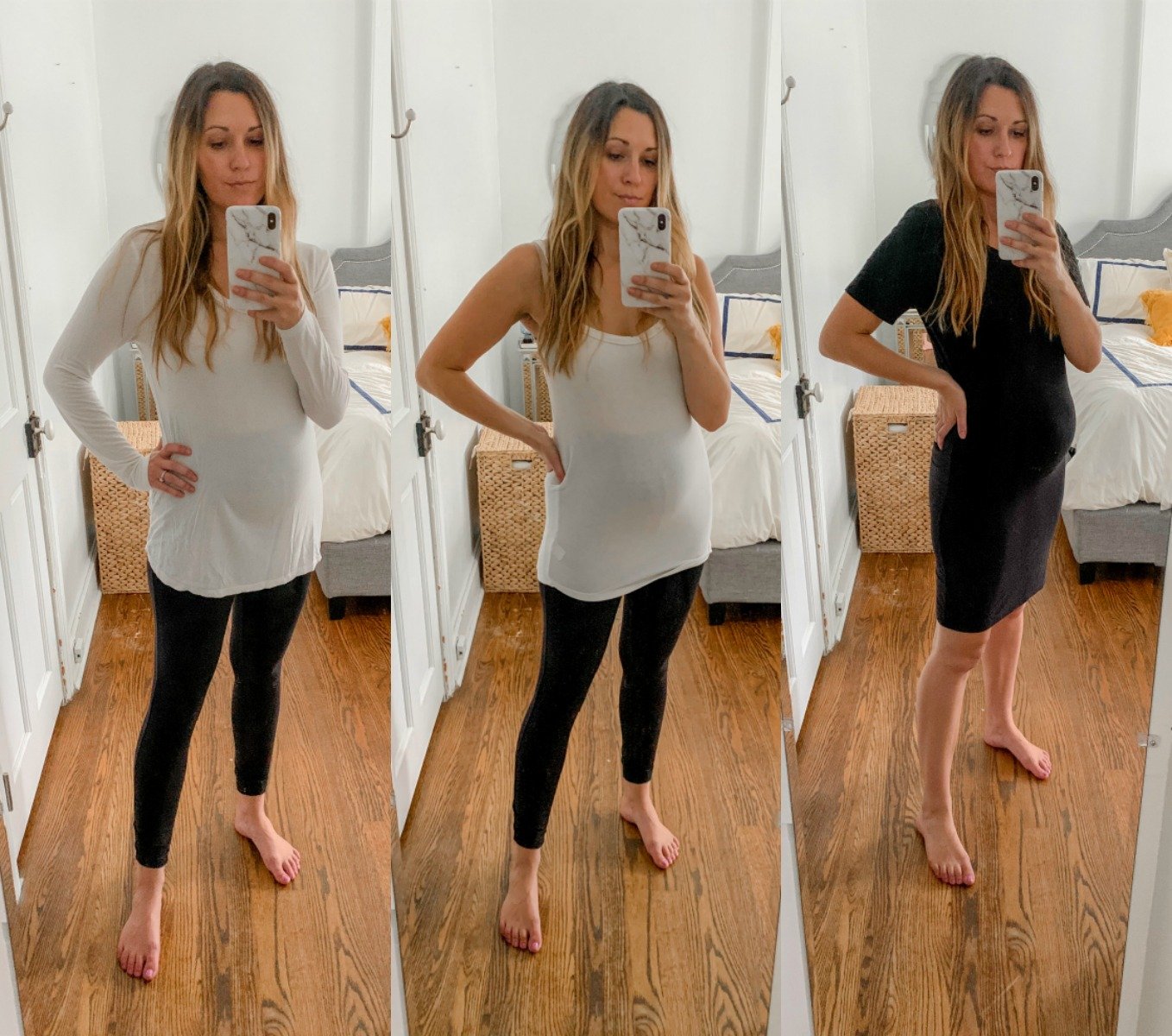 HATCH Layering Set (makes a great gift for an expecting mama!)
ASOS Tee (part of 3 pack)
More Maternity Layering Bundles
Maternity Clothing Tips: Non-Maternity, Maternity Favorites + More
One of my favorite things to gravitate towards while pregnant is non-maternity items. I know, it sounds like the complete opposite! Luckily being pregnant (now for a second time) during the fall/winter months I like a good oversized, cozy sweater, dresses that have some stretch and/or flow to them and tunics. These are things I know I will be able to wear postpartum (hi, 4th trimester) and even in future years/pregnancies to come. Free People is known for their oversized tunics and sweaters this time of year so I like to opt for a few of those (more selection directly from their site here)! Another favorite I recently treated myself to was this super soft and comfy jumpsuit from HATCH. HATCH items can be a little pricy (hence why I just treated myself to this!) but their clothes are made to wear both during and well-after pregnancy!
Tie Dye Dress (wearing small)
Z Supply Overalls | ASOS Maternity Tee (part of 3 pack)
HATCH Jumpsuit (wearing size 1)
Free People sweater (old/sold out, linking very similar here) | Madewell Jeans
Striped Sweater Dress (old/sold out, very very similar one here)
More Non-Maternity Clothing
Favorite Stores For Maternity Clothing
Rounding up my favorite places to find super cute maternity clothes!
More maternity style inspo here right over here!