Thank you to Banana Republic and ShopStyle for sponsoring this post.
If there is one thing this year has taught me, it is to embrace uncertainty. Ok maybe embrace is too strong of a word because I still don't like uncertainty. Maybe it's more like "accept" uncertainty. There is so much we can't control and can't predict, but it doesn't mean we can't look forward to things in the future even if we don't know exactly how they will pan out. Normally around this time of year I am jittery inside about Thanksgiving and Christmas. News flash: they are not cancelled this year. They might just look a little different. Gathering will be smaller, but smaller can mean more intimate. Travel will be shorter, but that also means less time in traffic. In an effort to preserve this special time of year, I'm putting on the dress, buying the gifts and going all out even if I'm not going anywhere at all!
I found the most gorgeous fall dress from Banana Republic that is ready to celebrate the season. I also rounded up some of my top gifts from Banana Republic because the name of the shopping game this year is E.A.R.L.Y …. Oh, and they are having some great sales so make sure to take advantage of the savings!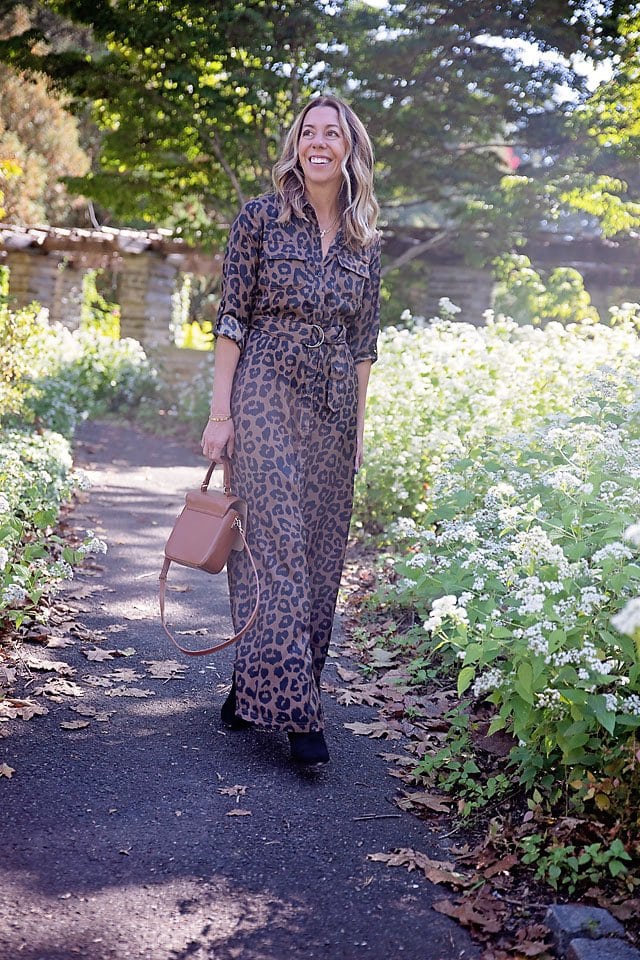 Dress (size down – and on major sale!) | Booties | Necklace
This dress is feminine, yet structured. But don't let the structure fool you – the fabric is soft as silk and feels amazing on. It would be the perfect dress to wear on Thanksgiving or for any upcoming occasion were you want look styled, but comfortable. I added a pair of timeless, very walkable booties and a statement necklace to finish the look.
Top Gifts from Banana Republic
Shop these gifts by clicking on the images below….