I remember when I was a teenager all I wanted for Christmas was clothes, specifically jeans. Even more specifically, jeans that looked like the ones Katie Holmes wore on Dawson's Creek. And although I am pretty sure that style of jeans is in style again, I don't think it's the one thing every teen is wishing for this year. But also, what would a gift guide be if there was only one thing included? A lot of growing and changing happens during the 13-19 time period so we didn't want to take a one size fits all approach. If I had to pick ONE thing? To be honest, if I had to guess they would probably want to be able to hang out with their friends and go to school just as they did prior to March 2020. While the world works on that…. we came up with 75+ ideas to gift your teen this holiday season. Here are some of our top picks.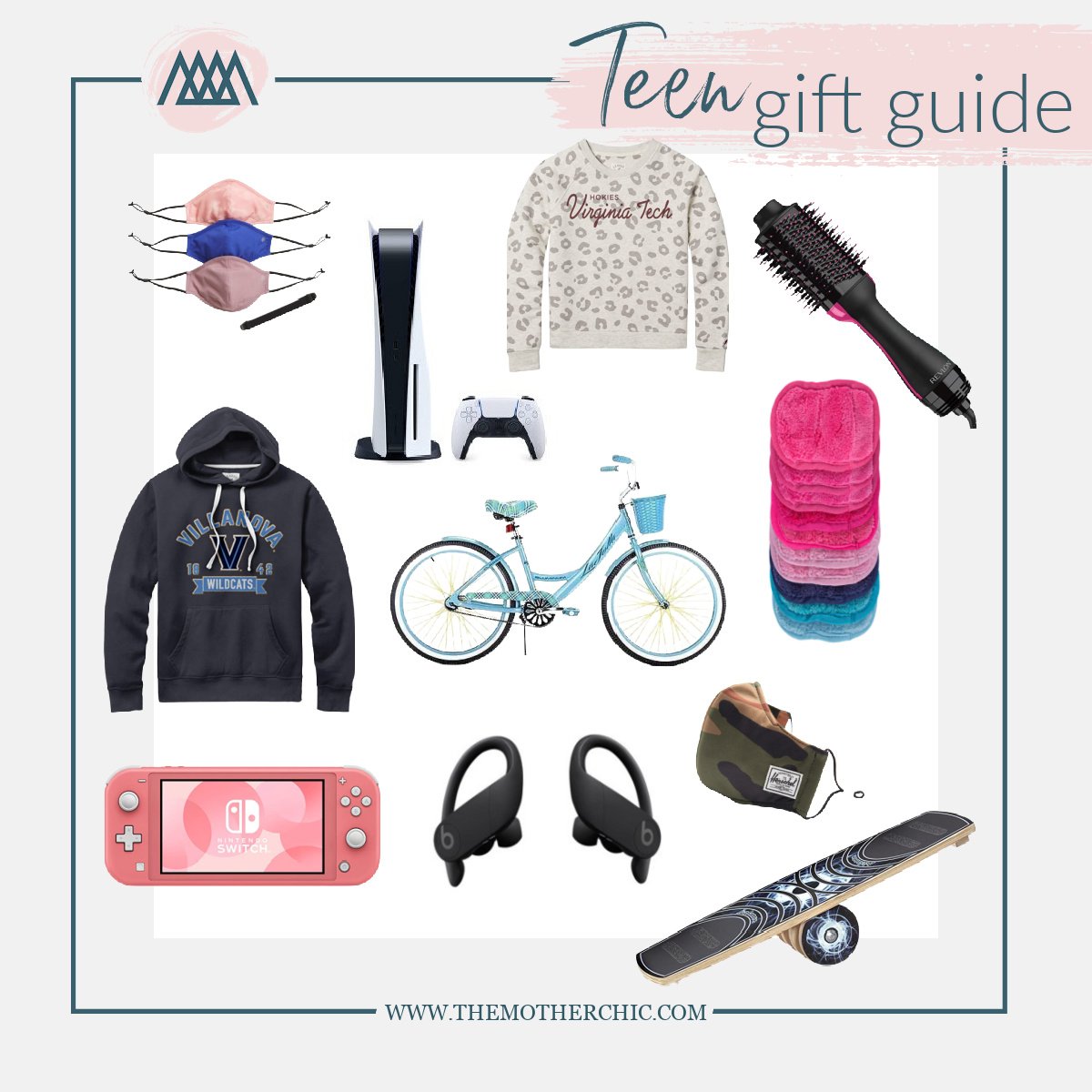 Masks and more masks// I would have never imagined 9 months ago that I would be putting masks in a gift guide, but hey anything can happen in 2020. The two clear favorites for teens are the Athleta Masks and the Herschel Masks.
Games// Specifically, video games or video game players. The Nintendo Switch and Playstation 5 are the top picks. Add on a gift card so they can choose the games.
Gear// Collegiate gear is something always on my kids wish list. Maybe it's because we live near a college, but I have a feeling lots of teens love gear. This shop has just about everything.
Hair Products and Make-up// I honestly don't think remember when I started wearing make up or doing my hair – maybe college? But the right tools are necessary. This hair dryer and these make up removers get so many rave reviews!!
Bikes and Trikes// Bicycles were a hot item when the lockdown came, so I can imagine that they are still on a few teens wishlists. If not a bike, then a fun balance board will get kids up and moving.
Headphones// I am pretty sure every teen really wants to go back to school. They want to run through the halls holding their hands friends, laugh with them at lunch, stuff their books in their locker without a care. And while they are hopeful for the future it seems as though virtual learning is sticking around. So, they are most likely going to need headphones.
Shop these top gifts plus lots more below
Tech and More
Sports & Games
Apparel
Accessories