Thank you to Sephora and ShopStyle for Sponsoring this post.
Ok, girls. Here I am in my barefaced glory. If you have been reading my blog for a while you know I LOVE beauty products, but I also like to keep it simple. My makeup routine will never take me more than 5 minutes. I need something that is quick and easy and "natural". And while I like my makeup to be natural, I've started to incorporate clean makeup products into my routine. Why not, right? If they have these cleaner alternatives out there, might as well give them a try! I love that Sephora has a "clean" indicator on the products that meet certain standards in terms of ingredients – you can see all of these products here. I am excited to share my current clean makeup routine that includes clean makeup products under $40 (but mostly under $30).
Also, starting today, Sephora is hosting their annual SEPHORA Holiday Savings Event! Rouge members can save up to 20% from now until 11/9, and if you bring a friend in-store today or tomorrow, your friend can get 20% off their purchase too! VIB members can save 15% starting 11/3, and Insiders can save 10% starting 11/5! Use code HOLIDAYFUN to unlock the savings. 
If you haven't signed up to be a Sephora Beauty Insider yet, sign up for free here and you can immediately unlock the 10% savings starting 11/5! Make sure to come back next week to see my #SephoraHaul from the SEPHORA Holiday Savings Event!
---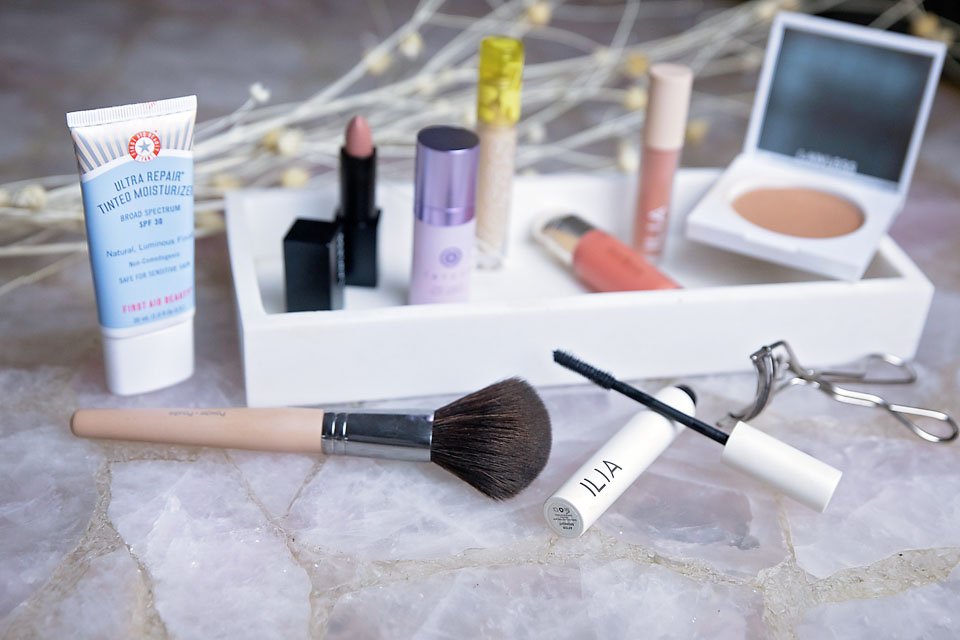 Tatcha Mini Liquid Silk Primer ($22)
Why I Love It: This is the perfect canvas for makeup application. It evens out skin tones and make your face feel silky soft.
How to Use It: After moisturizing, apply a thin layer all over your face. Can be worn alone or prior to makeup application.
Kosas Revealer Concealer (color: tone 5) ($28)
Why I Love It: This formula is super creamy and hydrating. It leaves your skin with a dewy finish and has medium coverage. Very easy to apply!
How to Use It: Dab it directly on your under eye area and blend with a beautyblender. You can also use it as "spot treatment" for blemishes.
First Aid Beauty Tinted Moisturizer Broad Spectrum 30 ($28)
Why I Love It: I NEVER (rarely) leave home without my tinted moisturizer. After years of using bareminerals Complexion Rescue (which I still love), I wanted to try a cleaner version. The First Aid Beauty Tinted Moisturizer is VERY similar! They both have medium coverage. This new version boasts hyaluronic acid for extra hydration.
How to Use It: I apply this all over my face just as I would a moisturizer. Makeup experts may use a brush, but my hands work well enough for me! I always make sure to blend into my neck so there are no makeup lines.
Lawless Summer Skin Velvet Matte Bronzer (Color: Golden Hour) ($38)
Why I Love It: This talc-free soft-finish bronzer gives me a summer glow year round. It is buildable so even though there are only two shades you can adjust the color by adding more or less.
How to Use It: For an all-over bronze I use a fluffy brush and apply pretty much all over focusing on areas that sun would naturally hit. For more of a contoured look, apply with a contoured brush to the hollows of your check bones.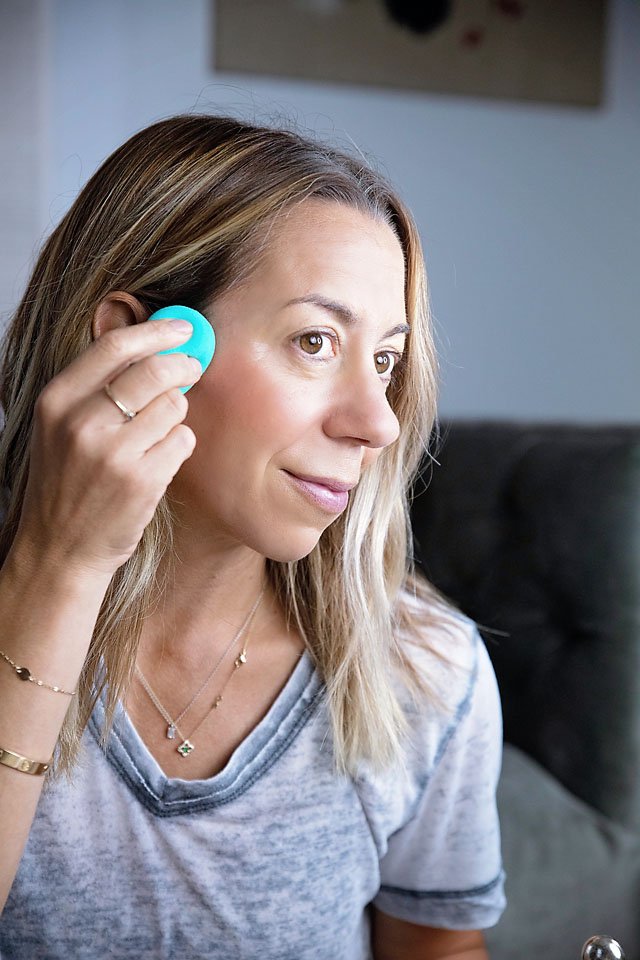 Rare Beauty Soft Pinch Liquid Blush (Color: Joy) ($20)
Why I Love It: Well, obviously, it is fun to apply. I love the dewy finish and the subtle pop of color, especially as we go into colder months!
How to Use It: A little goes a LONG way! Start with 1-2 dots on your cheek and blend up your cheek bone with a beautyblender. This blends really well – continue to blend until desired color is achieved.
ILIA Liquid Powder Chromatic Eye Tint ($28)
Why I Love It: This adds the perfect amount of shimmer to my lids – perfect for an everyday look!
How to Use It: Use the applicator to sweep across your lids. Use a sponge (or your finger) to blend from brow to lash.
ILIA Limitless Lash Lengthening Mascara ($28)
Why I Love It: This mascara goes on BEAUTIFULLY! It separates each lash and is super lengthening. It stays put all day and washes off with normal cleanser. When it comes to clean makeup, finding a clean mascara that is good is hard to come by… this, my friends, is REAL good!
How to Use It: After curling my lashes I apply from base to tip. I wait 10-20 seconds between coats to get some extra volume.
Lawless Satin Luxe Classic Cream Lipstick ($28)
Why I Love It: A hydrating lipstick that comes in an amazing palette of nudes.
How to Use It: Swipe!
And there you have it… my current makeup routine using clean makeup products under $30! Shop these and more "Clean at Sephora" below!
And P.S. the holiday value sets are now live at Sephora! See below for a few gifts I am adding to cart stat!
Want more beauty secrets?! Check out this post for my nighttime skincare routine!