Thank you to Express and ShopStyle for sponsoring this post.
This year Thanksgiving will look a little different for us for several reasons….one being the obvious social distancing one, and the other is the fact that my in-laws recently moved out of their house and can no longer host us as they did in the past. What I am trying to tell you is that it looks like this girl is hosting. I have never made a roasted chicken in my life let alone a turkey! I keep getting emails from restaurants saying that I can order Thanksgiving dinner… going to take that as a sign. I'll stick to what I know best, by NOT telling you what to cook, but what to wear instead.
No matter the circumstance, I think that dressing cozy on Thanksgiving is always a must. It's family time, after all. Family time with LOTS of eating, so you want your outfit to be forgiving. The fashionista in me can't go for sweatpants because I do want to "dress" for the occasion, but I've come up with a chic yet cozy outfit formula that is perfect for Thanksgiving. Are you ready for it? Faux Leather Leggings + Cozy Sweater + Low Booties. Even better all of these pieces are part of the Retail Therapy sale going on right now at Express.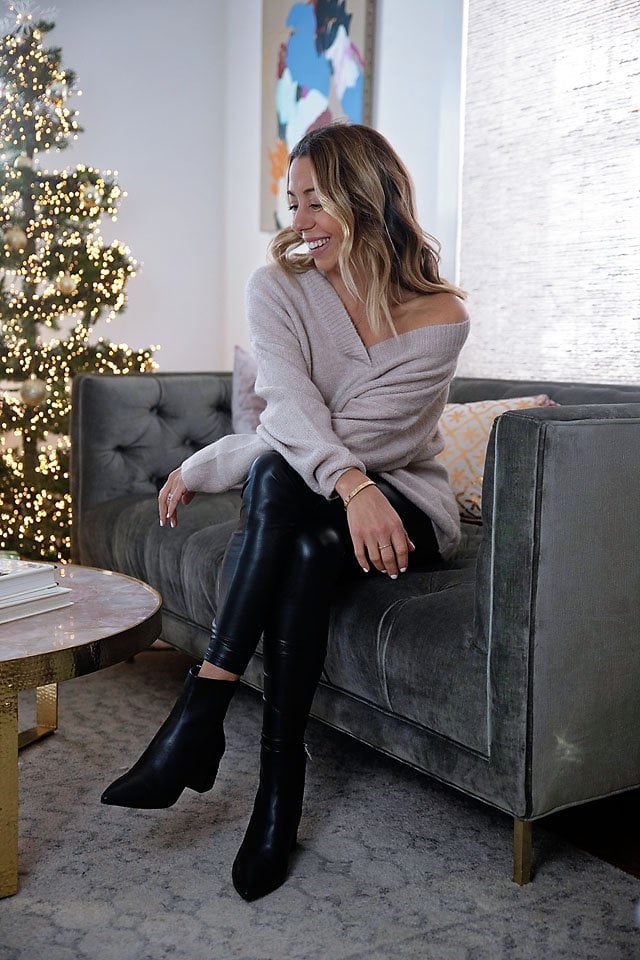 Wearing:
Faux Leather Leggings | Sweater | Booties | Wool Coat
More Cozy Yet Chic Thanksgiving Ideas Below
Sweater | Jeans | Sneakers | Slippers | Headband
Dress | Sneakers | Hat | Earrings | Coat
Metallic Dot Top | Jeans | Headband | Coat | Flats