I think we can all agree that Zella leggings are one of Nordstrom's greatest inventions. The fit, the quality, the price… the secret pocket. There really is no denying the insane ratings with thousands of people who agree. If you haven't tried Zella leggings, add them to your list asap and grab a pair for your daughter too… thank me later 🙂 Although Zella leggings are a wardrobe staple, I love seeing some of the novelty items they come out with each season. Are you ready for this? Fuzzy. Camo. Zella. Pullover. There are five little words that sound almost as good as this little gem feels on.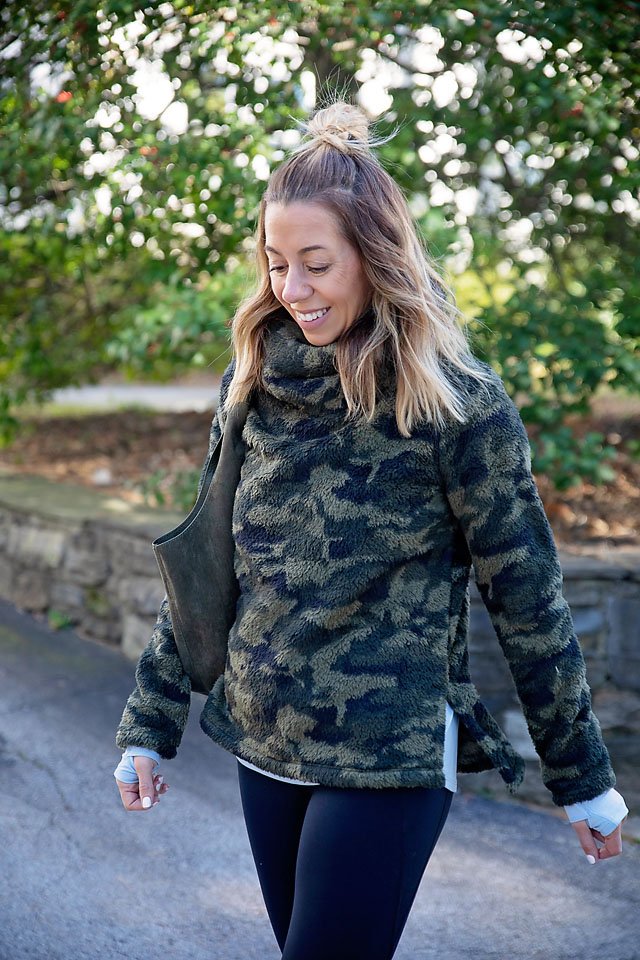 Cozy, comfy, camo… and I'm sold! Whether you are lounging around the house, going on walk in brisk weather, grocery shopping, raking leaves, this is the warm layer you will never regret. The fact that it is super cute is just added bonus. I love pieces in my wardrobe that encourage me to get outside in the colder months. Nothing replaces that natural Vitamin D and the mental and physical benefits of breathing in fresh air. I make it a goal to do something outside every single day even when my weather app tells me otherwise!
Wearing:
Zella High Waist Studio Lite Pocket 7/8 Leggings // Run TTS, size down in between
Zella Furry Fleece Funnel Neck Pullover // Runs TTS, comes in LOTS of other colors and prints that you need to check out!
Sole Society Kesaris Sneakers // Slip 'em on and be ready for anything!
Zella No Show Socks // Don't forget the no-shows! These stay in place… and trust me, I've tried them all!
And whether you are working from home or chasing kids all day, I couldn't not mention the coveted Zella Joggers. Paired with their performance tees (with thumbholes) this is my weekend uniform from the time the coffee brews until the wine is poured…
Zella Gen Long Sleeve Performance Tee // Runs TTS, love the thumbholes! This is a great base layer for women who like to run/walk outside during the cold months!
Zella Live In Pocket Joggers // The ratings speak for themselves. Made of lightweight performance fabric, these are great for everyday wear or working out.
Shop more Zella favorites below…
Also, if you aren't already a Nordy Club Member it is a no-brainer! You can sign up here and don't forget to take advantage of Nordstrom's BOPUS (buy online, pick up in store) service throughout the holiday season!