Fall is here and winter isn't too far behind. And that chill to the air has me rethinking all my go to outfits. It's time to take stock of what is in my closet, revamp a few things, and add in some cozy sweaters and fleece lined leggings. But one thing that I won't be putting away are my "go-to, always on repeat, don't judge me, they are comfortable and cute" joggers! Am I right? How could I possibly go through 6 months with out my joggers? Sure, I have to pack away my flip-flops and tanks that paired so nicely with them. But no worries friends, there are SO MANY CHIC ways to rock your joggers in the fall and winter months. So go grab some wool socks to wear with your sneakers and check out the 3 ways I will be styling my joggers all season long!
How to Style Joggers: Sideline Chic
For those of you who have a leather or suede jacket (real or faux) in that closet of yours I bet it is just waiting to be worn! And I'm not talking for date nights. A leather jacket is the perfect piece to amp up your joggers. Layer with a cozy sweater and pom pom hat and this chic look says, "I'm not lounging around, I'm going places."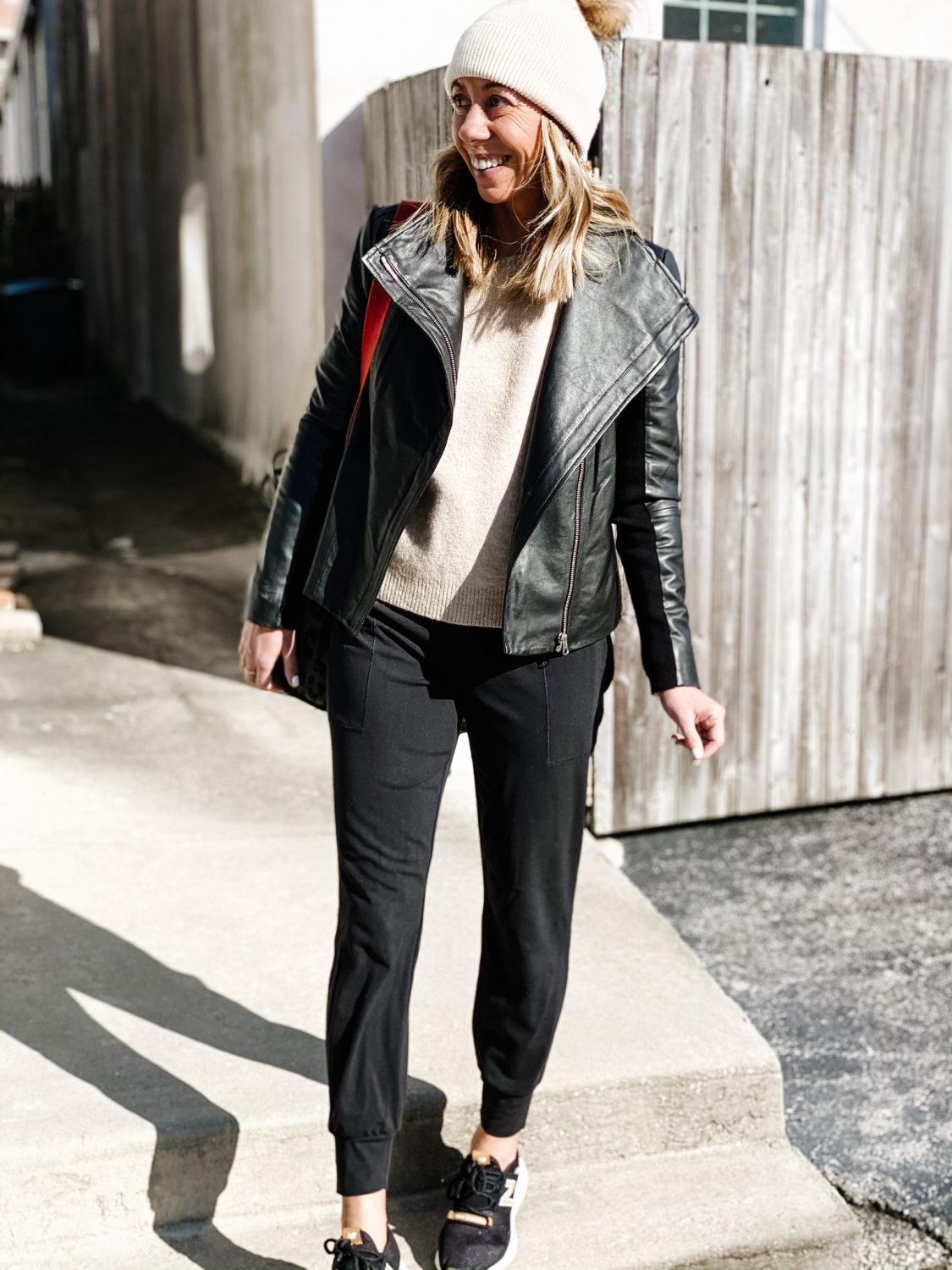 Jacket | Sweater (linked similar) | Joggers | Sneakers | Hat
Shop the More Leather Jackets
How to Style Joggers: Casual & Cool
Anyone need anything from the farmers market? No? Me neither, but when I do, I have a great outfit for it. Your joggers might say you're relaxed, but pair them with an easy chambray shirt (half tucked obvi) and a cozy sherpa and you've got yourself a pulled together, styled look.
Vest | Chambray | Joggers | Sneakers | Glasses
Shop more Chambray Tops
How to Style Joggers: Classic in Camel
Whether you are headed out to brunch, lunch, or running errands, nothing is more classic than a chic camel coat! It's a timeless, cold weather staple that makes any outfit, joggers included, on point! Take your sweatshirt and joggers from meh to yeah, just like that!
Coat | Sweatshirt | Joggers | Sneakers | Hat
Shop the more Camel Coats
Check out more ways to style joggers here!!