Thank you to Our Place for sponsoring this post.
It's no secret that I am a huge fan of the Always Pan. I discovered it during quarantine when I was forced to make 87 meals per day for my family of 6 who had nowhere to go, but my kitchen. Cooking is not my favorite thing and it's debatable whether I am deterred because of the clean up that comes after or if it's just really not my thing. If there is a recipe for a one pot meal, I've probably made it. The Always Pan has fed into my love for one pot meals because it replaces the need for 8 pieces of traditional cookware. It steams, sautés, frys, boils, sears etc… plus it is very, very pretty. It's the only dish I need to make dinner, plus it is crazy easy to clean. Do you see the appeal?
Shop the Always Pan HERE – Black Friday special price! Use code SUPERSALE
Another reason I love the Always Pan is that the ceramic non-stick surface is made without PFOAS and PTFES so I can rest assure that no toxins are seeping into my food. I've talked before about all of the bells and whistles of the pan (check out this post here)… the built in spatula holder, the lid for storing and steam release, the pouring spout, the cool touch handle, but for this post I wanted to focus your attention to the steamer basket. Whether you are steaming or straining, it makes any recipe that much easier.
Here is a recipe for an easy vegetable orzo dish that can be served as a side dish, or would make a full meal with the addition of a protein. Since I am gluten-free I used Banza orzo which is made from chickpea flour, but this can be made with any brand.
Vegetable Orzo Recipe
Place the steamer basket inside the pan, fill with water and bring to a boil. Add orzo.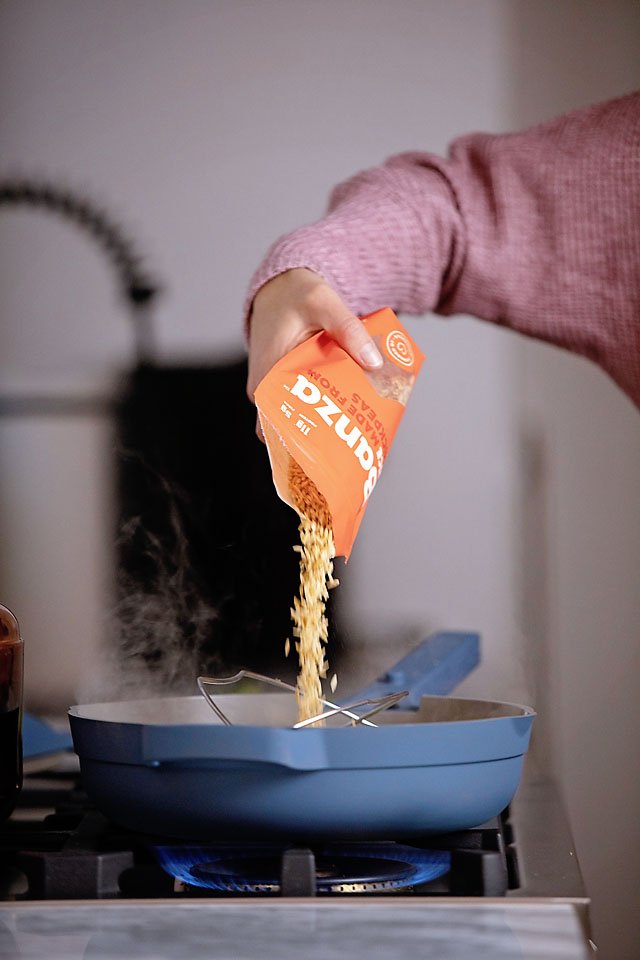 Allow to cook according to directions on package, stirring occasionally.
Using a cloth, remove steamer basket from boiling water. I like to rinse all of my gluten-free products in the sink – the basket makes this very easy to do, but this is an optional step.
Remove orzo from the steamer basket and put aside. Fill the pan with fresh water and replace steamer basket to steam broccoli.
When the broccoli is cooked, remove it from the pan and set aside. Next, add olive oil to the pan and sauté two cloves of garlic.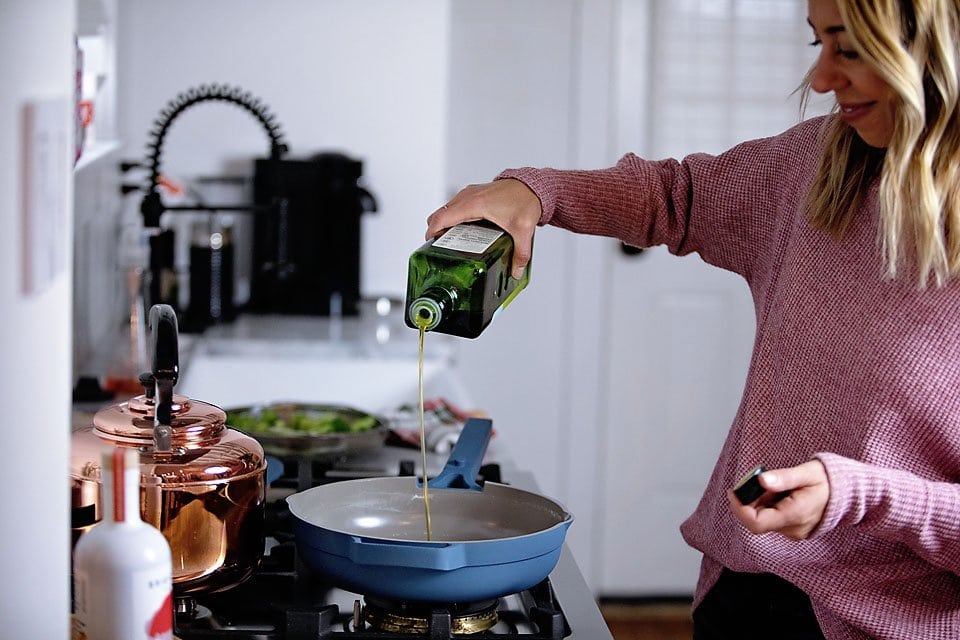 When garlic is fragrant, put the orzo and broccoli back into the pan and mix to integrate the olive oil. Add halved cherry tomatoes, a touch more olive oil, parmesan, salt and pepper to taste.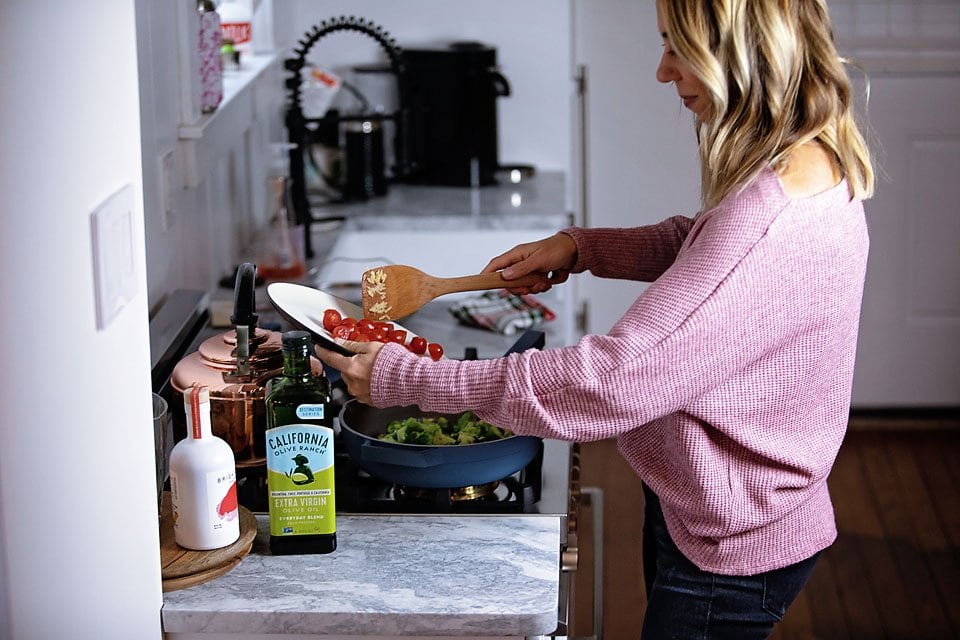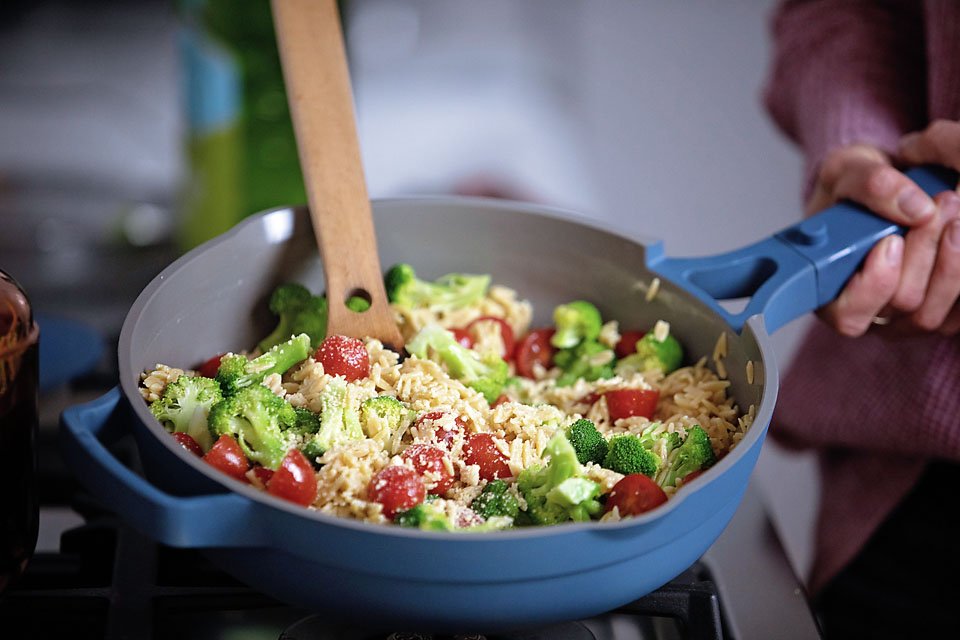 And I wish I could take the credit….. but it's really my sister's recipe!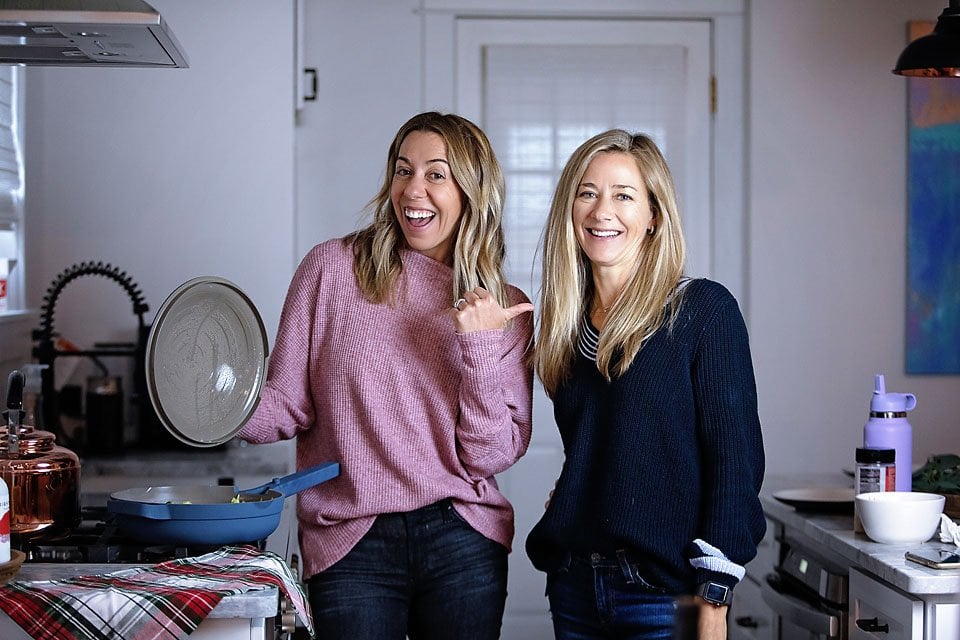 Ingredients:
1 package of orzo
1 small head of broccoli
1 cup of cherry tomatoes, cut in half
2 cloves of garlic
Olive oil
Salt
Pepper
Parmesan Cheese
Recipe:
Cook the orzo according to the package, strain and place in a dish.
Steam the broccoli for 3-4 minutes and set aside.
Add a tablespoon of olive oil to a saute pan. Add the minced garlic and cook on med/low heat for 1 minute (make sure it doesn't burn).
Add the orzo, broccoli, tomatoes, salt, pepper, and another good swirl of olive oil to the pan and mix.
Top with Parmesan cheese and serve!
If you try it, let me know what you think! And if you are looking for a great gift for the holiday season (for yourself, or a loved one) the Always Pan is an amazing choice! Make sure to take advantage of the special Black Friday price before it sells out!