Our mothers-in-law deserve all the love and praise in the world. After all, they did raise and put up with our other halves for many years, right 😉 As much as we need to take those self-care moments for ourselves during these crazy times, we know the moms and grandmothers in our lives need the same love and care…maybe even just a touch more. They are the center of our family and what holds us all together. Personally, I know my mother-in-law is one of the most selfless human beings and I want to get her something that is all about her, aka no sharing! Because it's okay to be a little selfish sometimes. We curated a gift guide just for our amazing mothers-in-law in our lives that is bound to make you the favorite (kidding…but am I?!).
The Mother-in-Law Gift Guide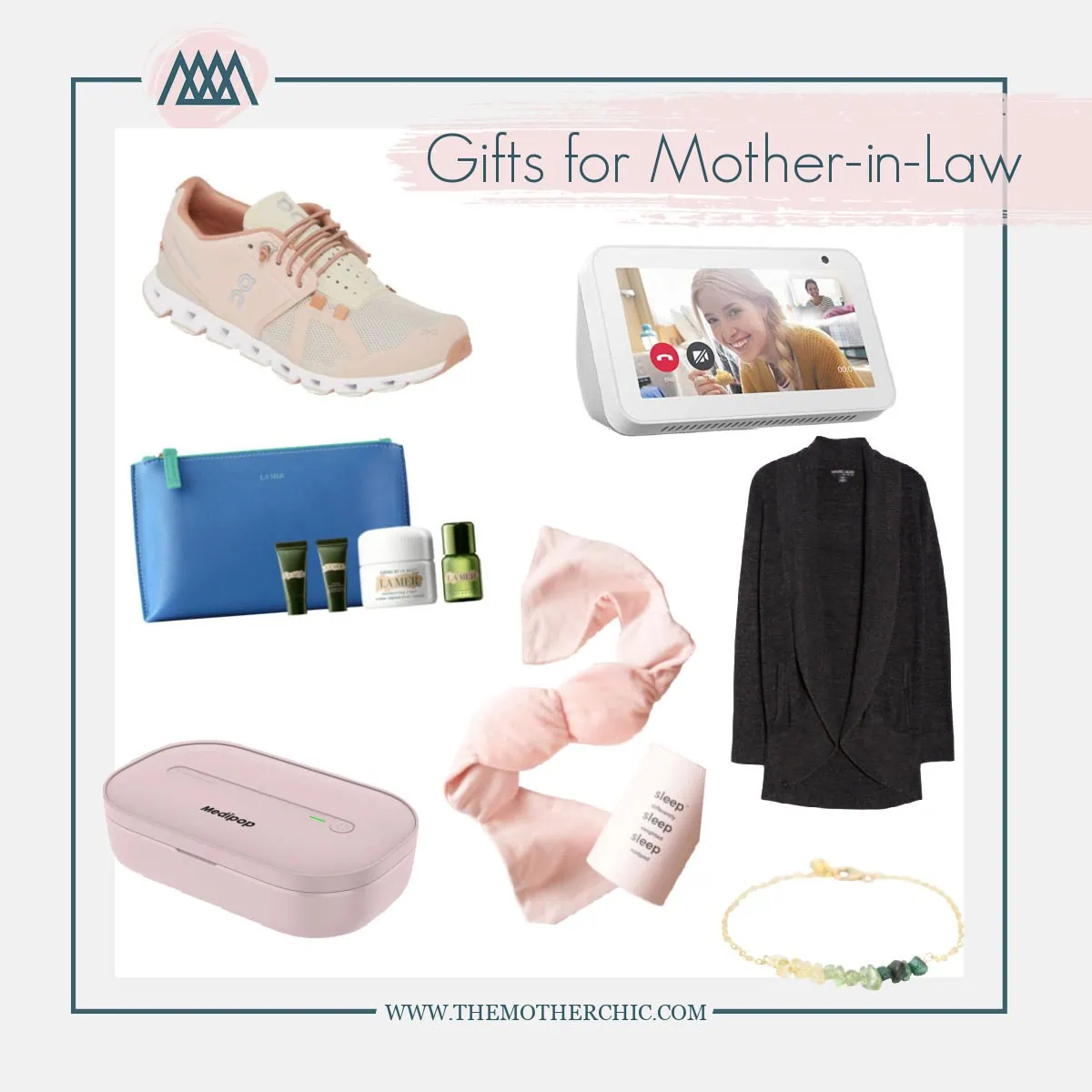 ON Cloud Sneakers// Give the gift of style and comfort with a touch of activity! Whether they are chasing after your little ones, love going on long walks or is crushing HIIT classes, she is going to LOVE these sneakers just as much as you do!
Amazon Echo// Maybe your mother-in-law lives far away, or maybe she's just not able to make it to many gatherings. Whatever the case, popping on to say hi with your kids is sure to brighten her day. Get her all set up with Alexa too and she'll be the most techy mother-in-law/grandmother around.
La Mer Gift Set// The gift of amazing luxury at a fraction of the cost! We all know La Mer can be just a tad pricy, so this mini gift set is a little slice of luxury to keep all to herself.
Medipop UV Sterilizer// Take sanitizing one step further with this magic little box! Your MIL can disinfect and sterilize her phone, smart watch, ear buds, etc. with special UV light. I think I might have to get this for my house, too!
Nodpod Weighted Eye Mask// Does your mother-in-law already have a weighted blanket? Maybe now she needs a weighted eye masks! Said to alleviate migraines and reduce anxiety, she can drape this over her eyes for a relaxing few minutes or wear at night to fall asleep.
Barefoot Dreams Cardigan// If she doesn't already have one of these amazing cardigans, she needs one! Or maybe she just needs another one in a different color. Great for cozying up at home or throwing on with jeans if venturing out.
Custom Birthstone Bracelet// Get your mother-in-law a beautiful bracelet with your kids' birthstones. Don't have kids? Get it with all of her children's birthstones! This customizable birthstone bracelet is just as beautiful as it is meaningful.