There are those gifts you receive and think, "Huh, well this is interesting". And then you actually use that gift and think, "What on earth did I DO before I had this?!". I often think these are the best kind of gifts. They might seem odd or even "boring" at first, but then become almost life-changing. This year, with all the craziness going on in the world and possibly being away from our loved ones for the holidays, it'll be nice to send a little thing or two to make life even just a smidge easier. The Motherchic Team each contributed their tried-and-true things we never knew we needed until we actually had them. They also make great stocking stuffers!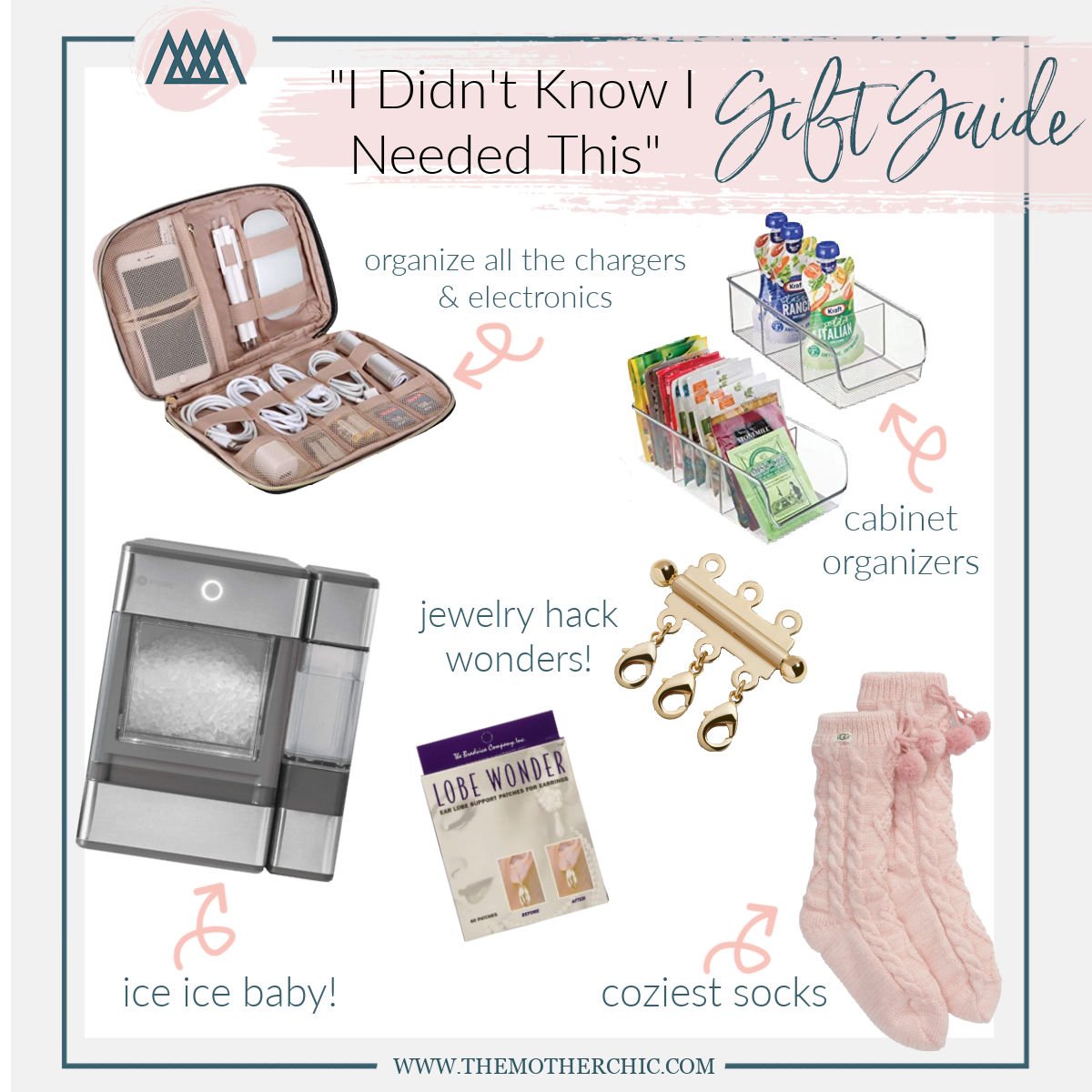 Electronic Organizer // If your family is anything like mine, packing up all the electronics, chargers, cords, etc. can get a little messy. Whether it's just a short, overnight trip to visit my parents or a long weekend away (fingers crossed big family vacation soon!) this is sure to keep us all organized. Well, for the most part.
Cabinet Organizing Bins // Ok, maybe these get filed under the "boring" section. But you won't realize how life-changing and amazing these bins are in your cabinet! And how oddly satisfying it is to open up your cabinets (or fridge!) and see how neatly organized everything is.
GE Countertop Nugget Ice Maker // Let's all agree on something: everything tastes better with either crushed or nugget ice. I don't know what it is, exactly, but it's just a fact. Even better, it only takes 20 minutes to make this ice AND you can control it from your phone (hello, Bluetooth!).
BaubleBar Build-Your-Own-Stack Necklace Holder // I always wear two necklaces, both sentimental gifts from my husband centered around our kids. Everyday they inevitably get tangled and I am constantly untangling. I think it's time I gift myself one of these so there's no more fussing. And yes, it's also great for the gal on your list that wants to layer her necklaces but is worried about previously-mentioned tangling 😉
Lobe Wonder Earring Patches // For the one who loves wearing big, statement earrings, this is a cute little something extra to gift with a new pair of earrings! These patches help to hold up heavy earrings so it doesn't feel like an anvil is attached to your ears. Talk about a fashion hack we all need!
UGG Pompom Fleece Lined Socks // Another pair of socks? Not so fast! These may not seem like a necessity but once put on, you'll never want to take them off. These are the perfect stay-at-home, stay snuggly, hot cocoa-by-the-fire-with-movies kinda gift that you will receive a lot of thanks for.
More Gifts You (and They) Didn't Know Were Needed