I don't know how many times we are reminded that year is like no other. Every time I hear that I also keep reminding myself that we have no choice but to make the most of it. With all this time spent at home I wanted to make my house the coziest, most festive ever. Holiday bedroom decor is something I've never dabbled in before, but after many of you inspired me to try, I went all in. A few simple swaps and the rooms were transformed. I have to say that I was a bit more thrilled than my kids, but I truly believe that it has brought some magic back. And I think we need all the magic we can get!
Holiday Bedroom Decor Room #1
I like to keep holiday decor simple yet cozy, and I think I accomplished that with this room. I bought some flannel sheets that would be "log cabin approved" and added a few other festive touches through out the room – festive pillows, wooden signs, mini trees, just to name a few! Now it's time for me to teach the boys how to make their beds like this every morning!
Shop the Room Below
Holiday Bedroom Decor Room #2
This room was just asking for some plaid. I love the deeper color scheme in this room and the cozy reading nook has gotten a lot of use. I even found a little monkey jumping in the bed. But back to the plaid, I am blown away by how soft this bedding is… it takes everything in me not to snuggle in and sleep here for the night.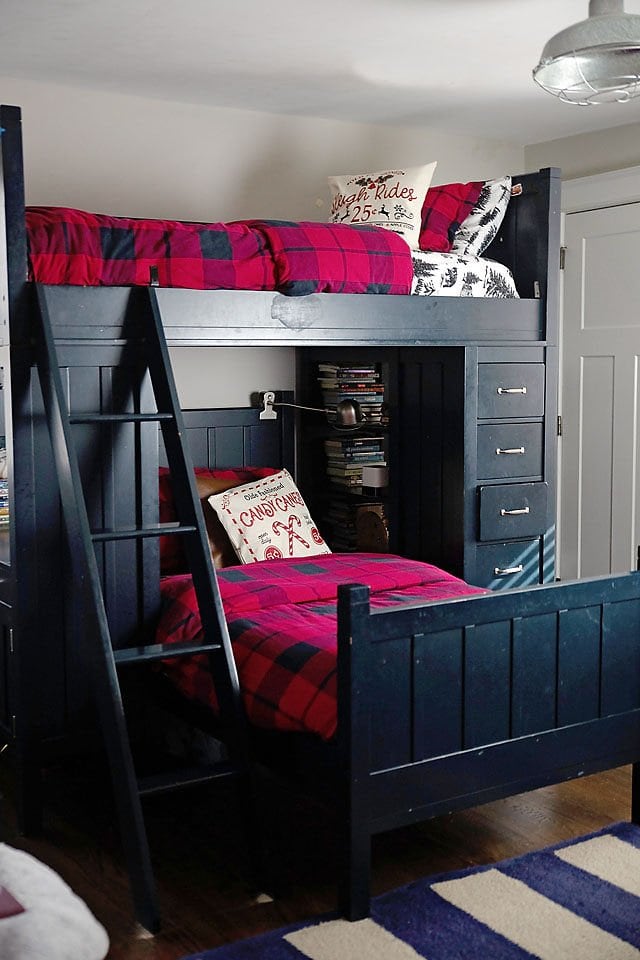 Shop the Room Below
Do you decorate your bedrooms for the holidays? Planning mine next …… Want more home decor inspiration? Check out these posts!