Whatever your holiday plans are this year, albeit a little different, it may feel like a marathon trying to get everything accomplished. Parcel carriers are experiencing overwhelming delays from online shopping, so we are all crossing our fingers that every gift will arrive on time. We are trying to make the best out of this unique holiday situation and sprinkle holiday magic wherever, however we can. Plus planning what to make for holiday dinners — the list goes on and on, my friends! And while the holiday season is one I look forward to most for my outfits and getting dressed up, it seems like even more of a task this year. So naturally, given the year 2020 has been, I am putting it in neutral and going "casual glam" this year for our holiday celebrations. But casual doesn't have to mean boring! Just spice up your outfit with rich, vibrant colors, nordic prints and lots of sparkle. A few casual holiday outfits below to get you into the holiday spirit in a comfortable way!
Casual Holiday Outfits
Look 1 // Pop of red
Look 2 // Perfectly Plaid
Plaid Shirt | Jeans | Booties
Look Three // Fun with Fringe
Fringe Sweater | Jeans | Hat | Tote (30% off with code TMC30)
Look 4 // Bring on the Sparkle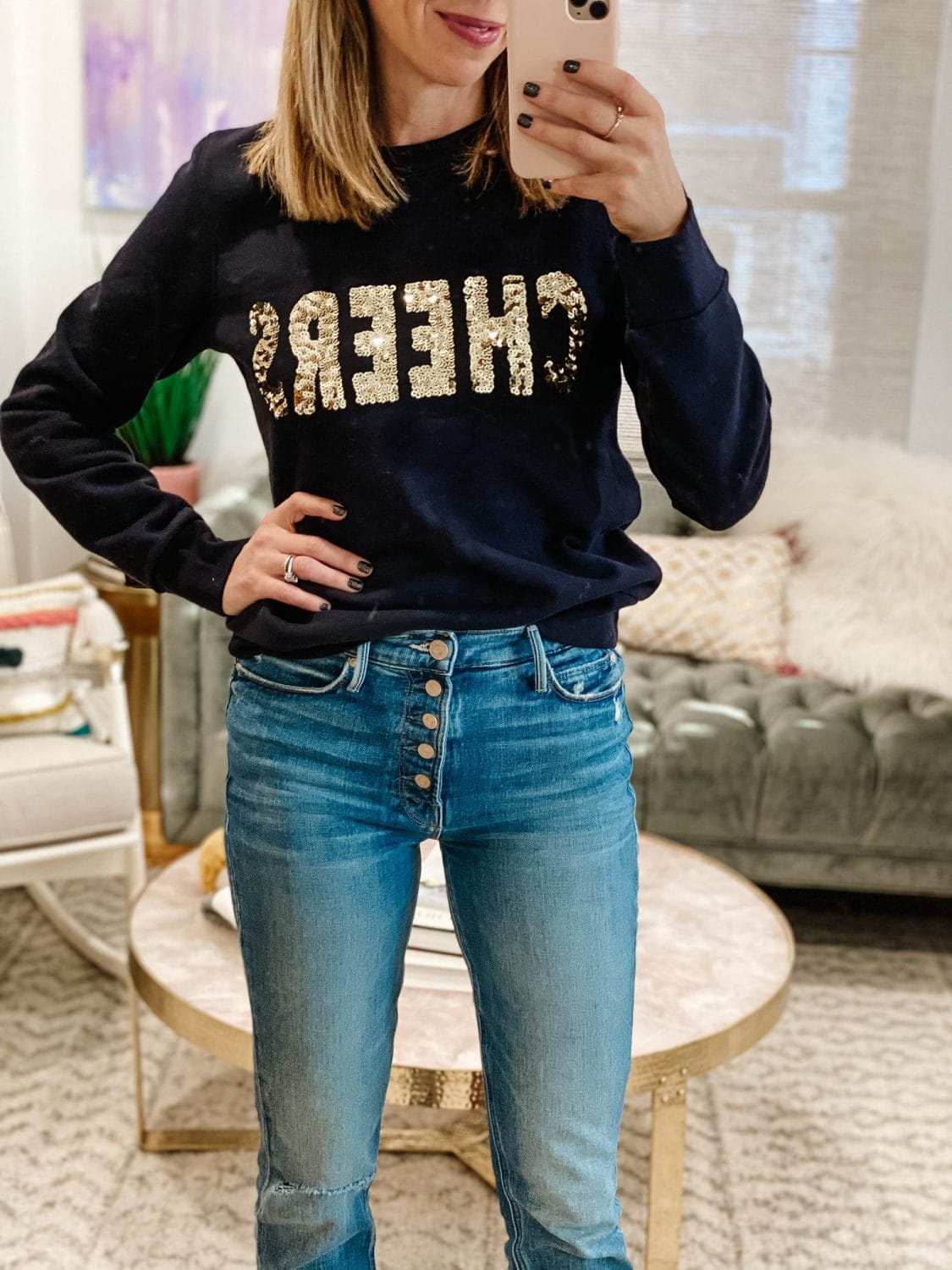 Sweatshirt | Jeans (old, linking similar)
Look 5 // Winter Whites
Sweater | Jeans | Booties | Hat
Look 6 // Print Mixologist
Look 7 // Ready to Shine
For a more casual look, pair with your favorite sneakers or even slippers!
Look 8 // Apres Ski Vibes
Look 9 // Cozy Chic
Look 10 // Cozy Factor TEN!
Ugg Cardigan | Ugg Boots | Ugg Hat | Vuori Leggings | Plaid Shirt
More Casual Holiday Inspo
Want more holiday outfit inspiration? Check out how to wearing leggings for the holidays here!