Longtime readers now that I have invested in a few Dudley Stephens pieces over the years. If you haven't heard of Dudley Stephens, they are a female-founded brand that solely produces their products in the USA. Their signature cozy fleece pieces are made from recycled fabrics and the durability of these pieces is unmatched. When I think of this brand, the words timeless, classic, and modern come to mind. If you like bold colors, preppy vibes, and pieces that you will live in, you will love this brand. I am thrilled to partner with Dudley Stephens to announce a brand new style that just launched today! Their classic "stand up" turtleneck style just got a makeover and now comes in a softer, "double roll" silhouette.
Just Launched: The Double Roll Neck Park Slope Turtleneck
Shop the Double Roll Neck Park Slope Turtleneck Here – wearing XS in color "Natural Blush"
The Scoop on This New Style
The Double Roll style can be rolled or folded down and is a great alternative to the original stand up. I am wearing the "Park Slope" length that hits right at my hips. You can also get the Double Roll in the Cobble Hill (longest length) or Greenpoint (mid-length). I find that these run true to size and am wearing an XS for reference.
Once you try a Dudley, you will get the hype. They are the perfect blend of comfort and style, polished yet cozy. I wear them with everything from jeans to joggers, leggings to slacks! Their pieces are crazy versatile and while they may be a bit pricey, the quality is top notch.
For reference, here is a photo of the original Park Slope Turtleneck with the stand up collar.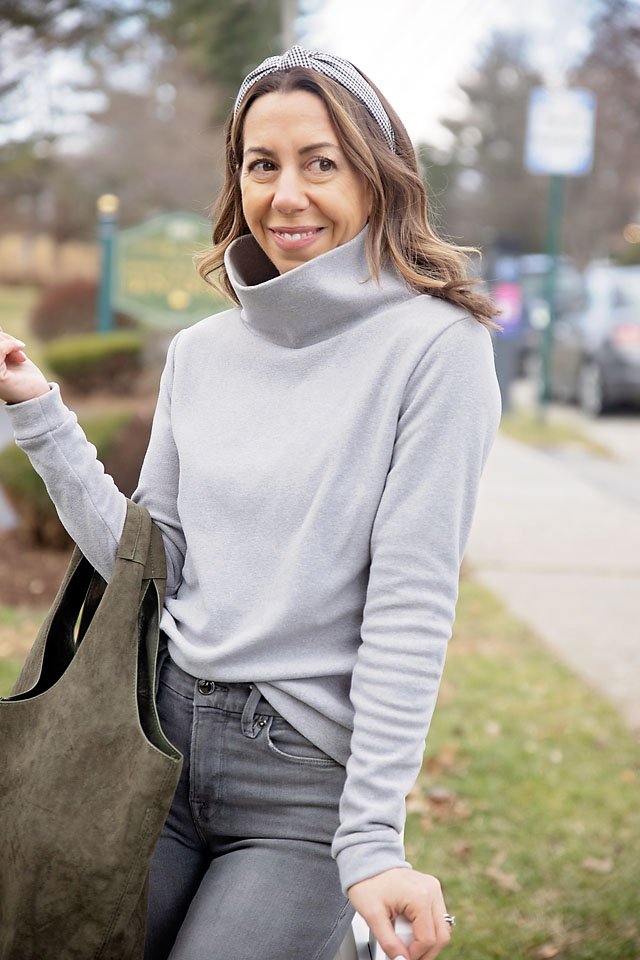 Shop the Park Slope Turtleneck Here
Thank you to Dudley Stephens for sponsoring this post.