January has been a mostly indoors month – ok except for that one time I ventured on in the snow. So my Amazon fashion haul this month has consisted mostly of cozy tops, cozier tops and joggers. I also ordered A LOT of home organization items because what else is there to do but organize? More coming on all that soon! I snuck in some new leggings to test out while continuing the the Bulldog Yoga Challenge and they all passed with flying colors! Let's dig into my Amazon orders the past few months (definitely missed November and December!)
Amazon Fashion Haul Favorites
Varley Top // Limited stock, wearing xs
CC Hat // Love the fleece lining for extra warmth
Fleece Lined Legging // Wearing xs, reader favorite
Hunter Boots// True to size, wearing size 7, size up if in between
Amazon Fashion Haul: Tops & Tees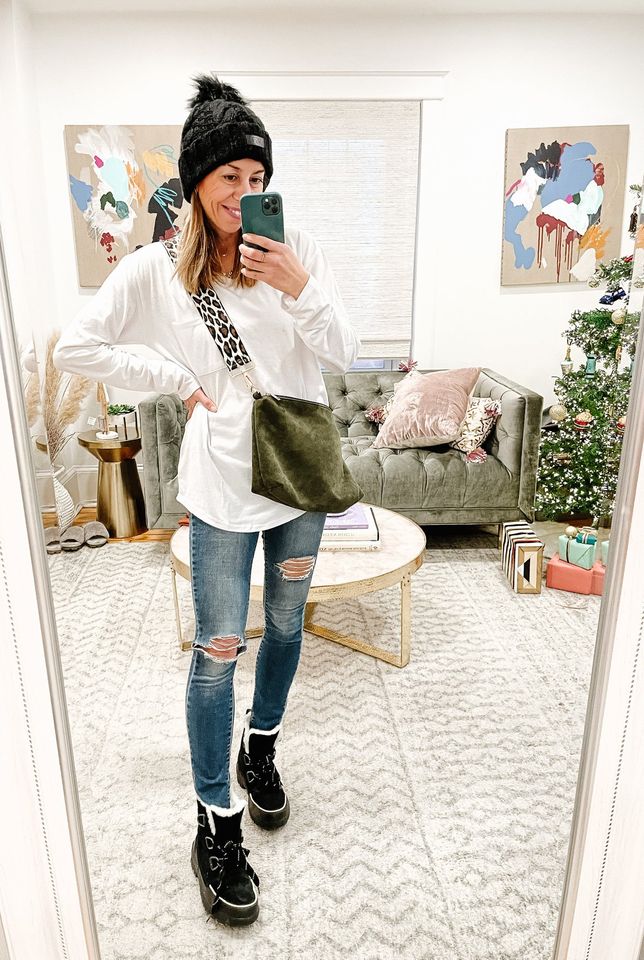 Miholl Long Sleeve Tee// Wearing small, love the easy fit and longer length
Miholl Short Sleeve Tee// Same tee as above, but short sleeve. Easy fit, wearing army green in size small.
Jeans | Cardigan | Bag | Plaid Shirt | Booties
Oversized Sweater Top // Wearing charcoal in size small/medium
Bralette// Wearing dark red in XS
Left Tunic// Reminder – this cutie has pockets! Wearing red in size small
Right Tunic// True to size – wearing XS in grey
Stripe Top// A classic stripe in neutral colors doesn't get much better! Easy fit, wearing size small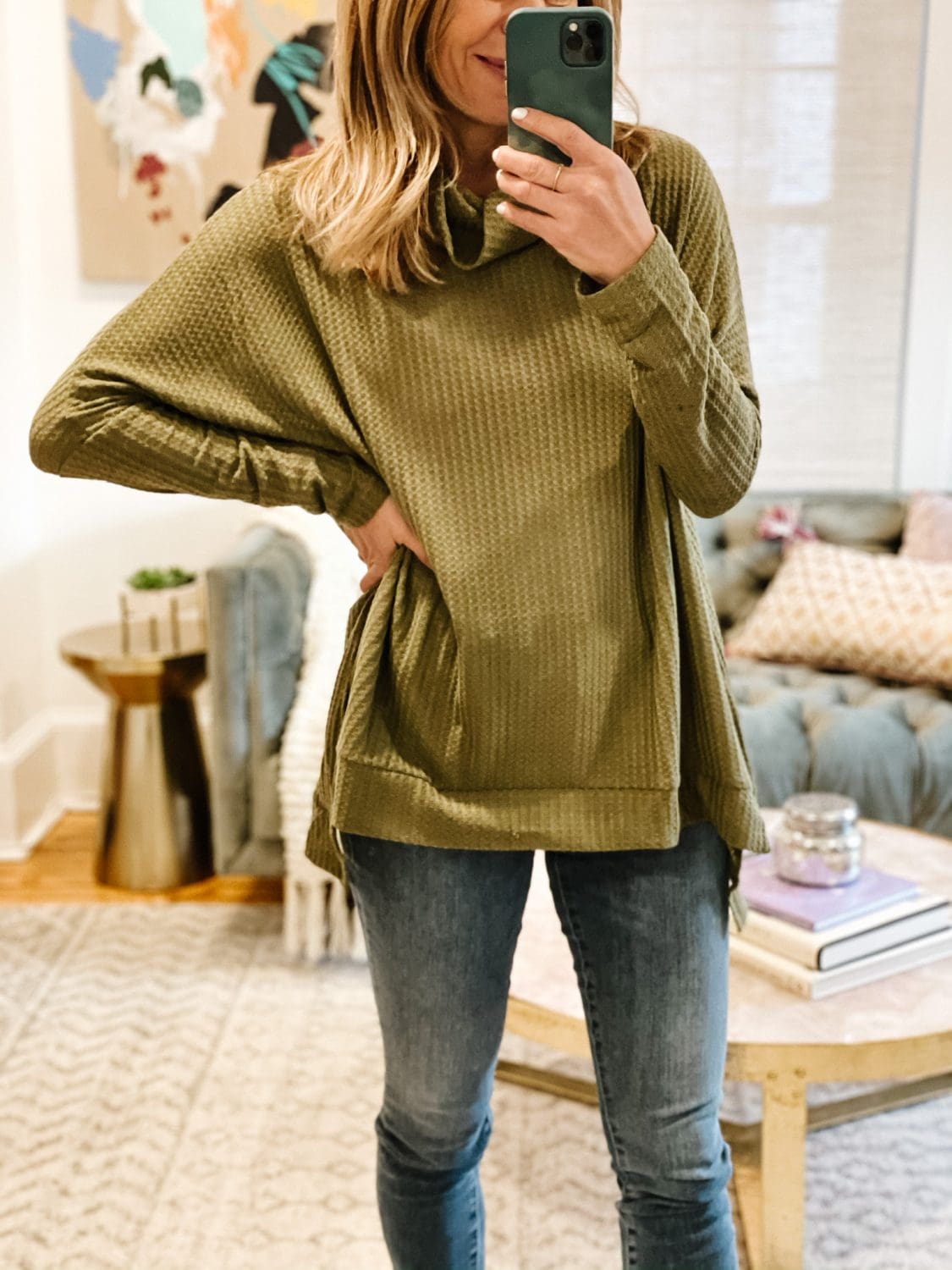 Waffle Top// Wouldn't be winter without some waffle, right? This swingy top comes in lots of fun colors. Wearing Army green in XS.
Cardigans
The Drop Cardigan// The texture on this cardigan is pretty amazing. It is easy to wear alone or layer (as seen below). Wearing grey in size XS.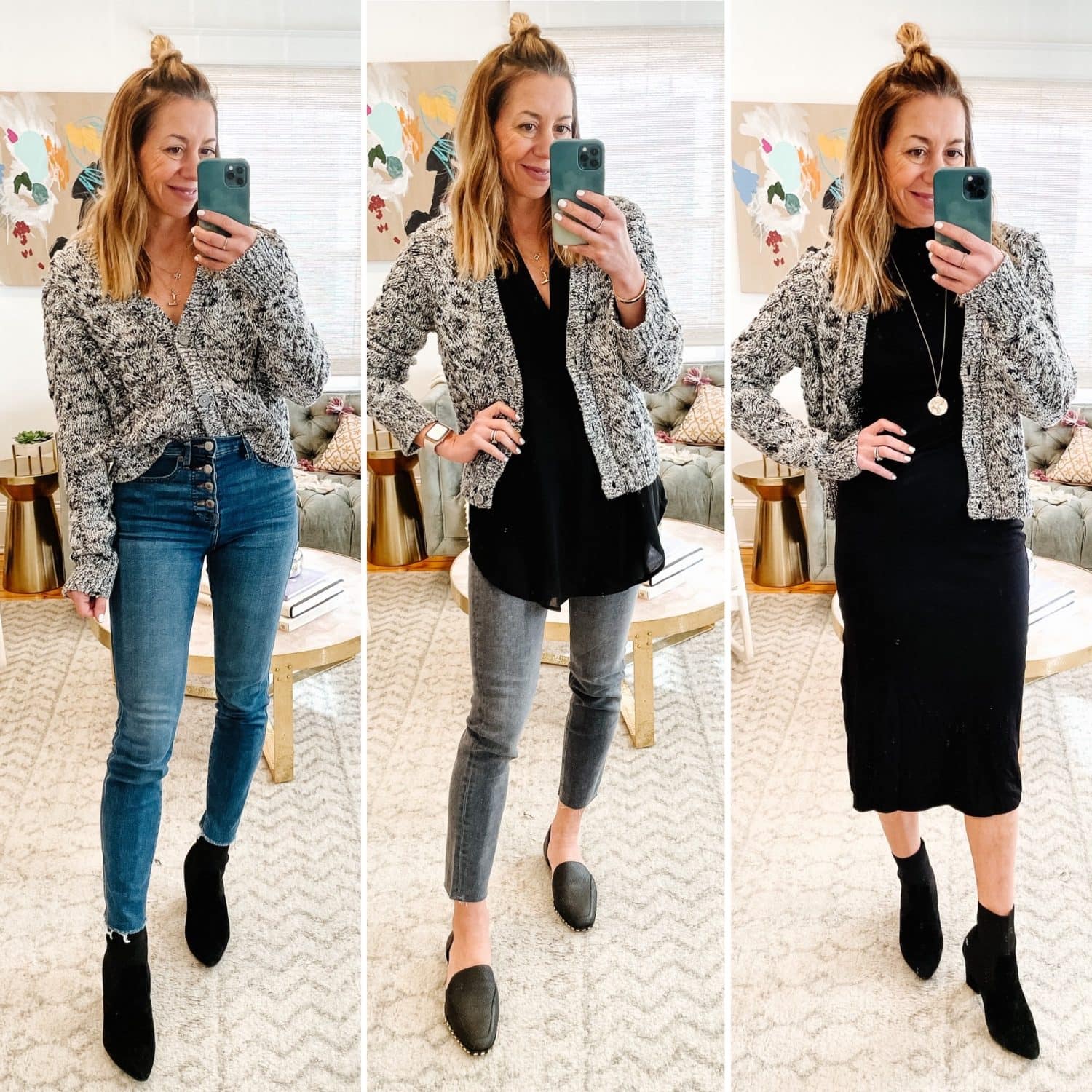 Blue Jeans | Booties | Tunic | Grey Jeans | Flats | Dress
Popcorn Cardigan// Much more stylish than popcorn ceilings 😉 this cardigan is light weight but super cozy. Wearing khaki in size small.
Cozy Tops
Sherpa Zip Pullover// This sherpa top is by far a reader favorite this year. For under $30 this fuzzy pullover feels put together while also keeping you warm. I am wearing army green in size small.
Structured Sweater Tunic// There was a similar sweater to this that was sweeping the internet – but the hi/lo hem wasn't for me. I like this true tunic version better. Wearing apricot in size XS.
Fuzzy Sweater Tunic// This tunic sweater easily transitions from leggings to jeans aka dress it up or dress it down. Wearing apricot in size small.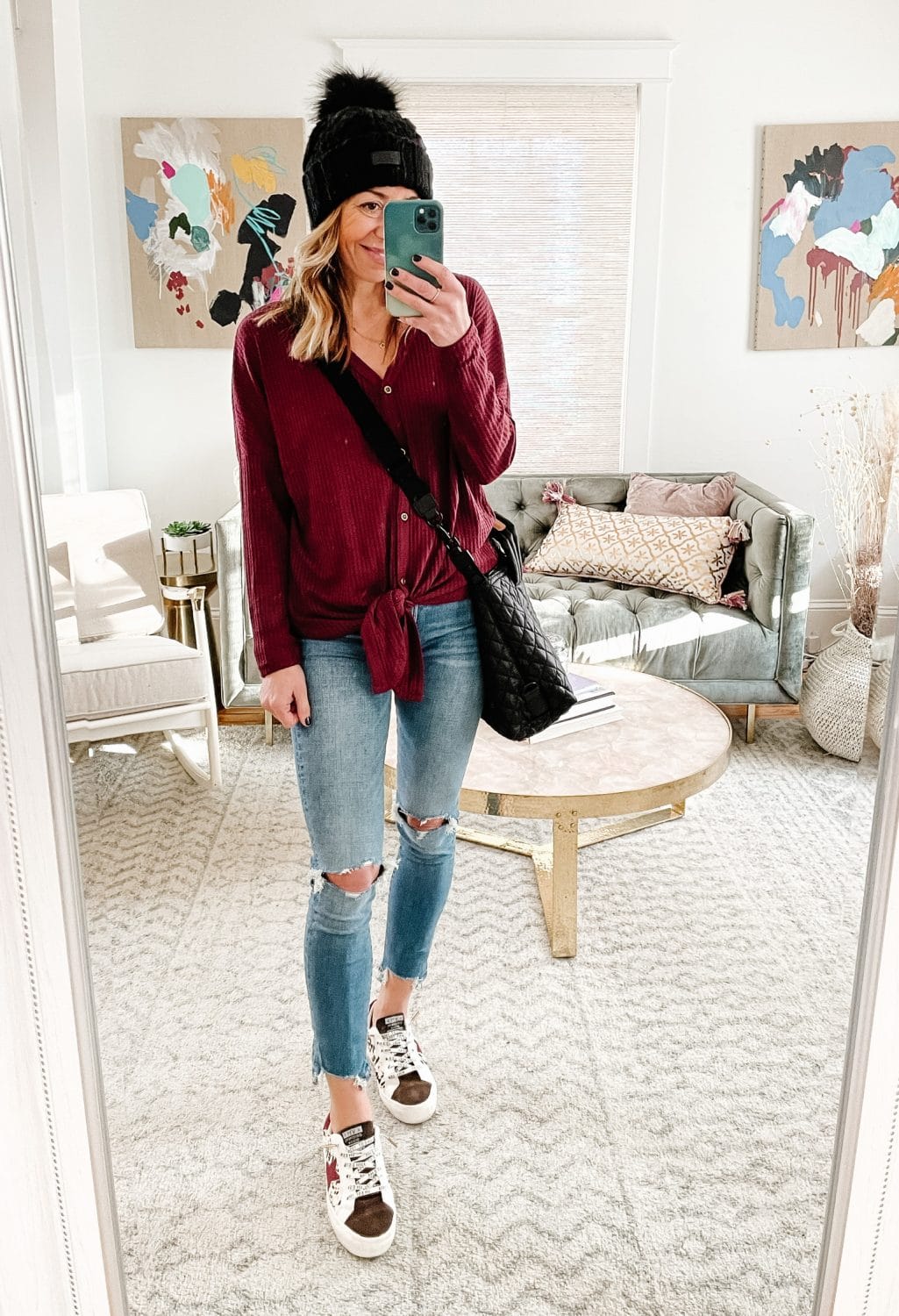 Button Down Tie Front Tee// Truth be told this is my 3rd colorway of this top. I find it so easy to throw on when I have that "I have nothing to wear" feeling. Wearing wine red in size XS.
Good Threads Sweater// This sweater is an easy mood booster or maybe it's the adorable color. Wearing XS
Amazon Fashion Haul: Workout Gear
The CRZ Yoga brand has been a hit this month – everything I have purchased has been great! Including this joggers – wearing lime heather in size XS. Lots of fun ways to wear them below…
Alo Sweatshirt// Wearing XS, similar version linked here.
Colorfulkoala Leopard Leggings// Wearing XS, size down if in between, buttery soft!
Brooks Sneakers// My favorite brand for running!
Sports Bra// I love the longer length on this bra top – medium support. I wear XS.
Shorts// These shorts are very light weight and I love the back key pocket. I wear XS.
Sneakers// These New Balance sneakers are a favorite for slipping on and running around during the day – they don't have the support I need for a full workout.
Leggings// Feels like second skin, good compression and true to size – wearing XS
Accessories
Chain Bracelet// If we can't go to parties, let's have our own – arm party 🙂
Did you order any of these pieces? Would love to hear your favorites in the comments below!