Thank you to Banana Republic and ShopStyle for sponsoring this post.
Is it just me or are many parts of life becoming more casual? From what we wear to how we speak to the dishes we eat off of… yes, I still have yet to use the china from my wedding except for the one time my nieces had a tea party with it, but I digress. My point is, jeans are pretty much appropriate anywhere these days, and loungewear is having a major moment. But here's the thing….casual doesn't mean sloppy. Casual can be crazy chic and many retailers are taking note. Banana Republic just launched their BR Sport line. It is a dual gender line full of lifestyle essentials that you can wear anywhere. Work? Check! Working out? Check? Errands? Lunch dates? Trader Joe's? Check! Check! Check!
The BR Sport line is full of "elevated essentials" yet they all have one thing in common: luxe comfort. It's your favorite casual wear, but amped in a sophisticated way.
For an instantly chic look, I love using the old "monochromatic" trick. Whether it's leggings or joggers, wearing an outfit that is all the same color or similar shades of the same color is an easy way to look effortlessly styled.
The quality of these pieces is top notch and the fabrics have a very polished look yet they feel like second skin.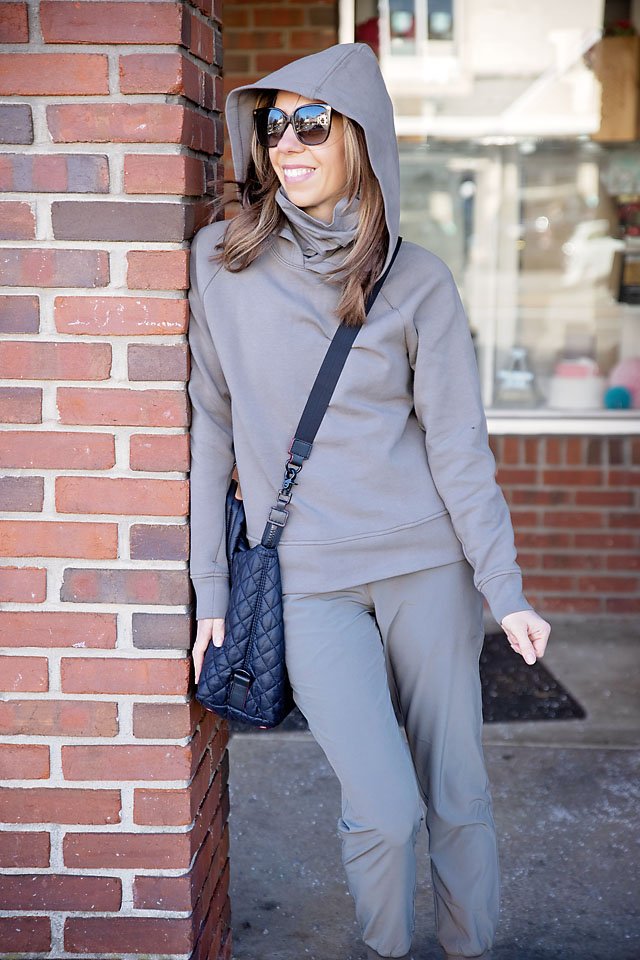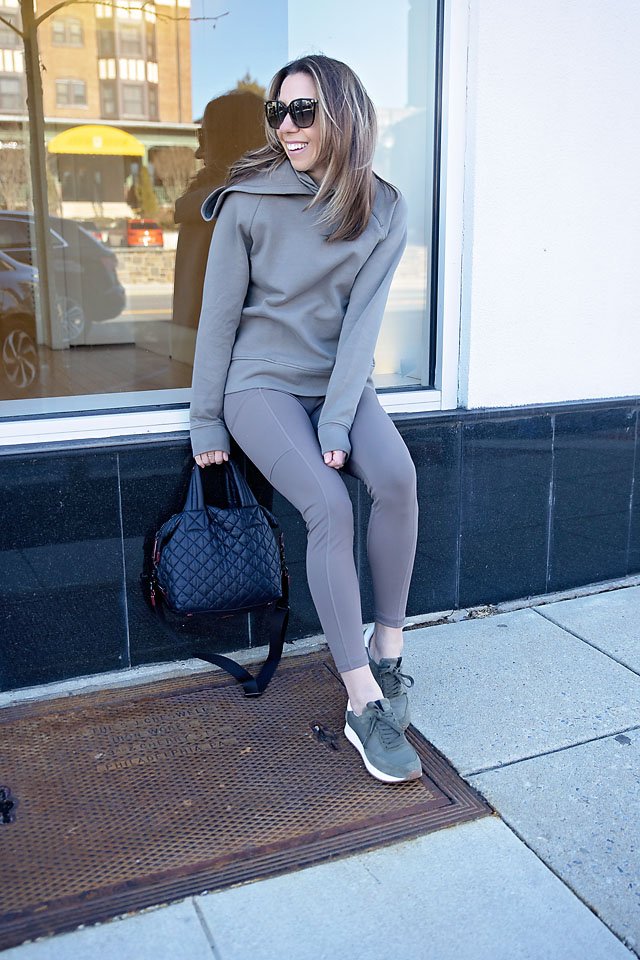 Wearing:
Flyweight Joggers // Sleek is the word that came to mind when I first put on these joggers. They are very lightweight (honestly it feels like you are wearing nothing) which makes them perfect for everything from travel to wearing into the warmer months. And friends, they are wrinkle free! Wearing XS, TTS.
Scuba Knit Hoodie // Ok this is pretty much the ultimate hoodie. It has several zippered pockets to stash keys and such on walks or runs. My favorite feature is the hidden face shield. It looks like a built it turtleneck, but it can also be pulled up to cover the bottom half of your face. Wearing XS, TTS.
On the Go Leggings // These leggings feature several "stash" pockets and a high rise panel. The fabric holds you in, but also holds its shape and moves with you. I love that they are also SPF50! Wearing XS, TTS.
Essential Trainer Sneaker // To complete my monochromatic look, I had to grab these sneakers. They go with everything and are super comfy. I would recommend sizing up half.
Check out more top picks from the BR Sport Line below…