Whether you are hitting the slopes or shoveling your driveway, it's cold out there!! Bone chilling cold in Pennsylvania. Remember the days when your parents would tell you to layer, upon layer, upon layer before going out in cold or snow? And like the kids these days, we didn't listen. I mean, I can barely get my boys to wear a jacket. Anyway, I need layers so maybe I have officially become my mother? I'm talking thermals, fleece lined EVERYTHING, wools socks, heck I'll even take some hand warmers. And because it's only February, I'm guessing I'll be needing the cold weather layers for the next few months. If you need to add some warmth to your wardrobe, check out some of my favorite cold weather layering pieces that are sure to keep you snug and toasty!
For those who didn't already know, there are rules to layering. And I'm going to break them down for you!
#1 Base Layer
Base Layer Top | Base Layer Leggings | Socks | Boots (more sizes here) | Hat
It all starts with the base layer. This is the first piece of clothing that touches your skin. It needs to be a fabric that is designed to keep you warm and dry. So think moisture wicking and synthetic fabrics.
#2 Middle Layer
This layer is going to be the one that traps all the warmth and heat. A fitted vest or mid to lightweight jacket that is not super bulky. This will allow you to be able to layer your heavier coat on top.
#3 Outer Layer
If you don't already have a warm winter coat, check out some of my favorites. The outer layer is the protector. It keeps you warm but lets the inner layers breath!
#3a – Ski Shells/Insulated Jackets
If you are doing some sort of outdoor winter sport (like skiing) it's best to wear a lighter insulated jacket or shell over your first few layers instead of a bulky coat. These will break the wind and keep you dry, but also allow you to move!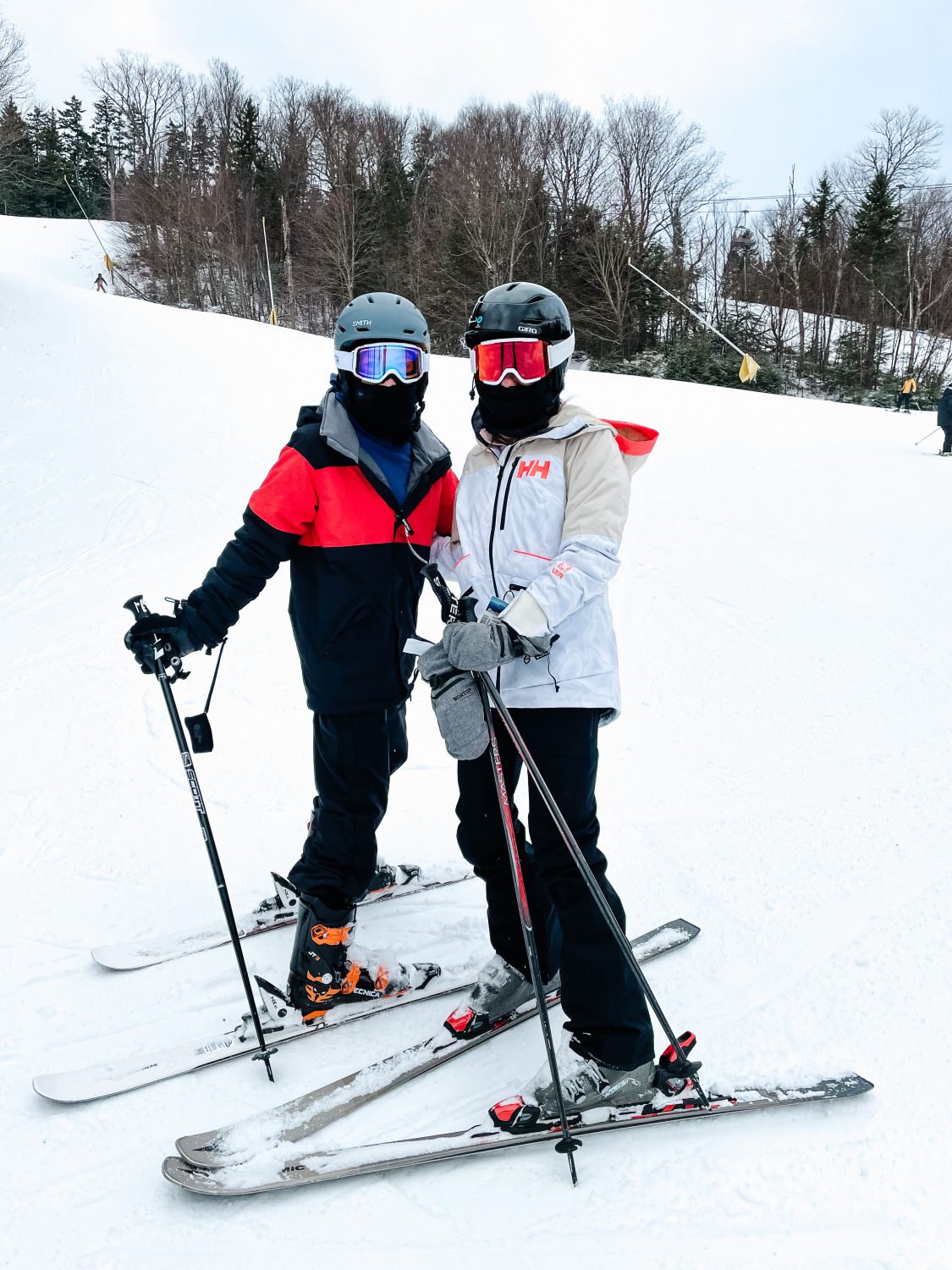 Left Insulated Jacket (on my son) | Right Insulated Jacket (similar same brand here)
#4- Warm Weather Accessories
The final rule of layering is taking care of our extremities. We need to keep the fingers and the toes warm at all times! Sherpa lined mittens, a cozy hat or headband, and some wools socks are a must!!
Bonus Layer: PANTS!!
If you are dealing with snow, adding snow pants is probably a good idea. I prefer the bib style for skiing so they don't fall down, but we have lots of options linked below!
And if you are looking for some warm and comfortable snow boots check out The Motherchic team's favorite snow boots here!