What an honor to be part of the International Women's Day Collection at Gibsonlook. I have been empowered and inspired by so many incredible women in my life and taking the time to recognize that today, to really think about all of the women who helped me along the way is equal parts humbling and uplifting. I started The Motherchic as an outlet for myself, and it turned into an outlet for other women, and over the years it has transformed into an amazing community of hundreds of thousands of women who support each other every single day. Basically what I am trying to say is, I don't know what I would do without my girls! As a female business owner with an amazing team of women working with me, I would like to ask you to take a moment to recognize the women in your life today and hope it makes you smile. This collection celebrates women empowerment and I hope that when you wear it, you feel confident and like the best version of yourself.
I love when I have the opportunity to show pieces on different body types so you will see the other women that are part of this collaboration throughout the post.
General sizing information: Size down if between. I am normally an XS, but in this collection I am wearing XXS in everything.
Special Discount: Use code MOTHERCHIC20 to save 20% off your order!
This super versatile dress is the piece I collaborated with Gibsonlook for the collection! It fitted through the hips and blouses over an elastic band at the waist. You can dress it up or down, layer it or wear it alone. Size down if between, and get ready for this to be the dress you grab for… everything!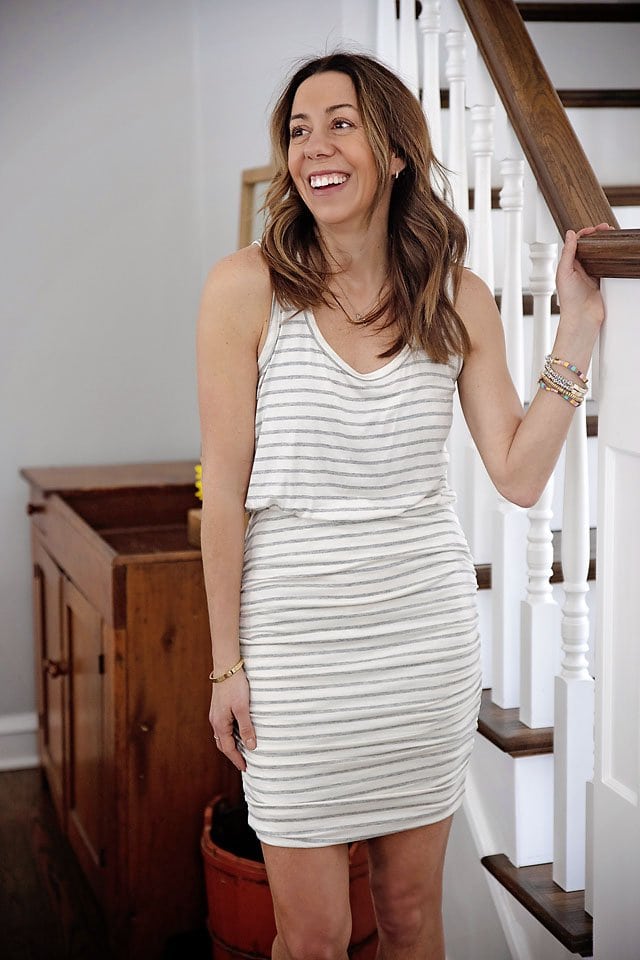 Shop the dress HERE (use code MOTHERCHIC20)
Check it out on the other women behind this collection!
Sweet and simple, this true wrap dress is perfect for any dress-worthy spring event or even something you can wear to work. Dress it up with heels or down with a denim jacket, baseball hat and sneakers!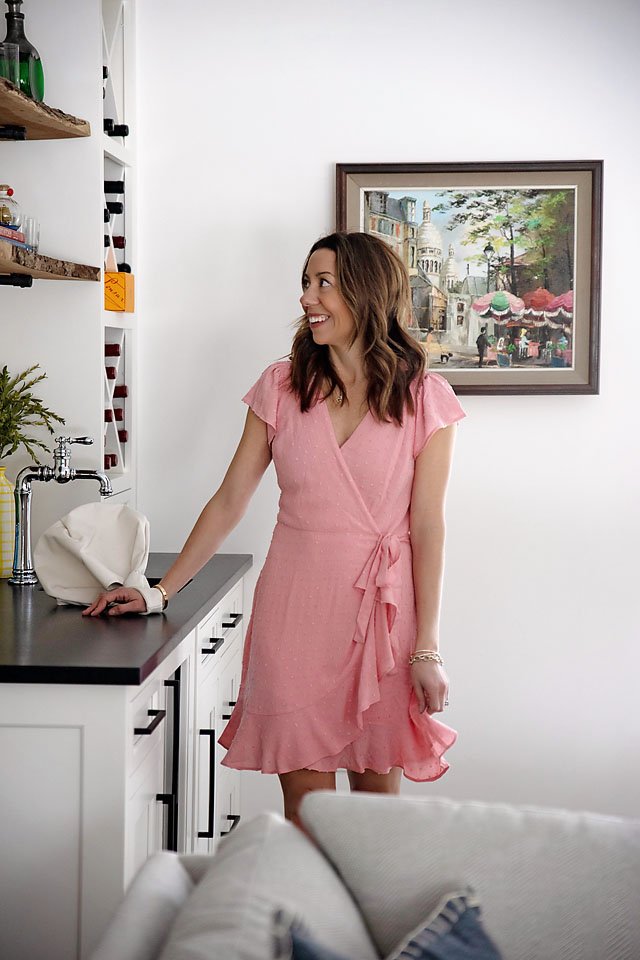 Shop the dress HERE
Boucle Cocoon Sweater
That perfect "but what if I get cold" layer. Whether you are dining al fresco or just need to cut the chill from A/C this summer weight sweater is that extra layer you can't leave home without.
Shop the cardigan HERE
If you are looking for an upgrade from your sweatpants, these linen joggers are the perfect transition. They can be styled countless ways for work, errands, or just lounging.
Shop the linen joggers HERE
Who doesn't love a slouchy waffle pullover? It is fitted through the sleeve and can be worn as a boat neck or off one shoulder. It has good length so can be worn over leggings or front tucked into your favorite denim shorts.
Shop the Sweater HERE
Who doesn't love a matching set? Be ready for one of spring's biggest trends with just that! These joggers pair perfectly with several of the tops in the collection and are a knit version of your favorite joggers.
Shop the joggers HERE
Who said lounge wear can't be a little sassy? This off the shoulder sweater is great for date night at home (again) or looks really cute with jeans. You can play around with how you drape the neck – one shoulder or off both or just throw it on and see where it falls!
Shop the sweater HERE
This mock neck midi dress is a chic wardrobe staple. It looks just as great layered as it does alone and if you are sporting a baby bump, this dress will look so good on you!
Shop the Dress HERE
Shop the duster cardigan HERE
Looking for a jogger without a drawstring? Here she is! Flat panel elastic band and pairs perfectly with your favorite tee or any of the tops in the collection.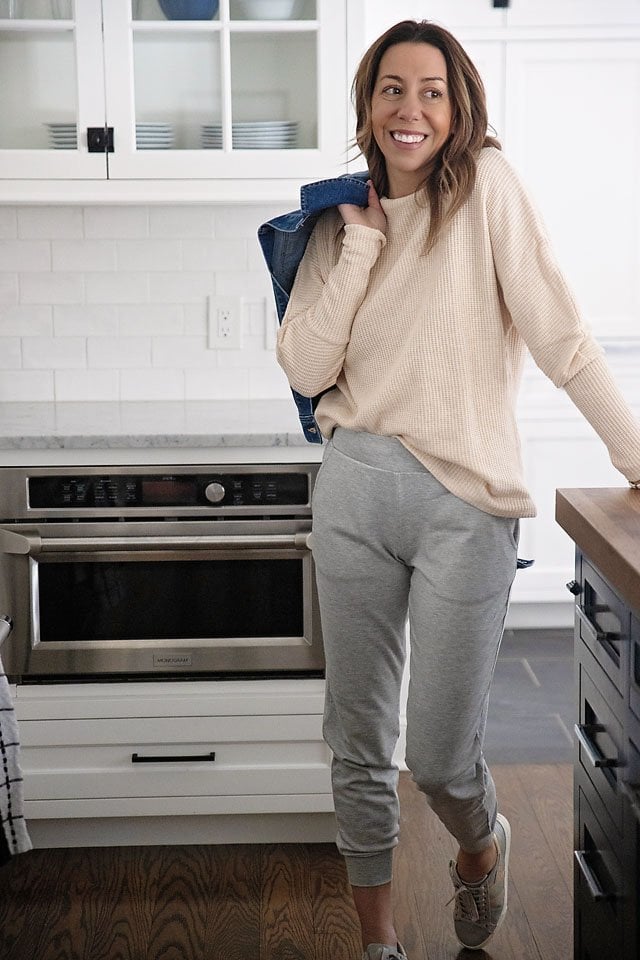 Shop the jogger HERE
This pin dot sleeveless top with ruffle trim is key piece for your spring work wardrobe. Wear it alone or under a blazer, but either way it's perfectly polished and feminine.
Shop the top HERE
I hope you all find a piece that you love and I can't wait to see you wearing it! Please tag us to we can see you wearing it – that is truly the best part of doing these collections! Thank you to Gibsonlook for the opportunity to be a part of this collaboration!