I love fashion. It's what I do, it's who I am. But I am also a wife, a mom and a working woman – so I try to keep things in perspective. I know trends come and go, and every season there are "must haves". But I make an effort to keep things real. For instance, we have all stood in front of our fully, packed closet and still had nothing to wear. Am I right?? So to make things easier this spring I rounded up the 10 staples to have in your spring wardrobe. And of course it can be your own version of these 10 things. Skinny leg or straight jeans? A tiered dress, maxi or midi? Whatever your style is, I am just here to help so you always have something to wear, no matter how many clothes you have in your closet!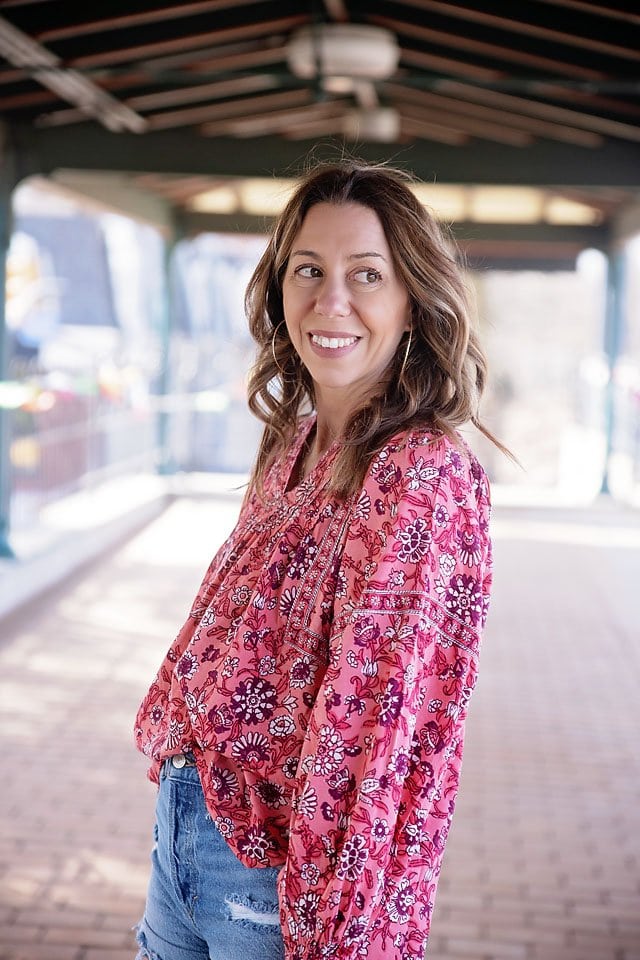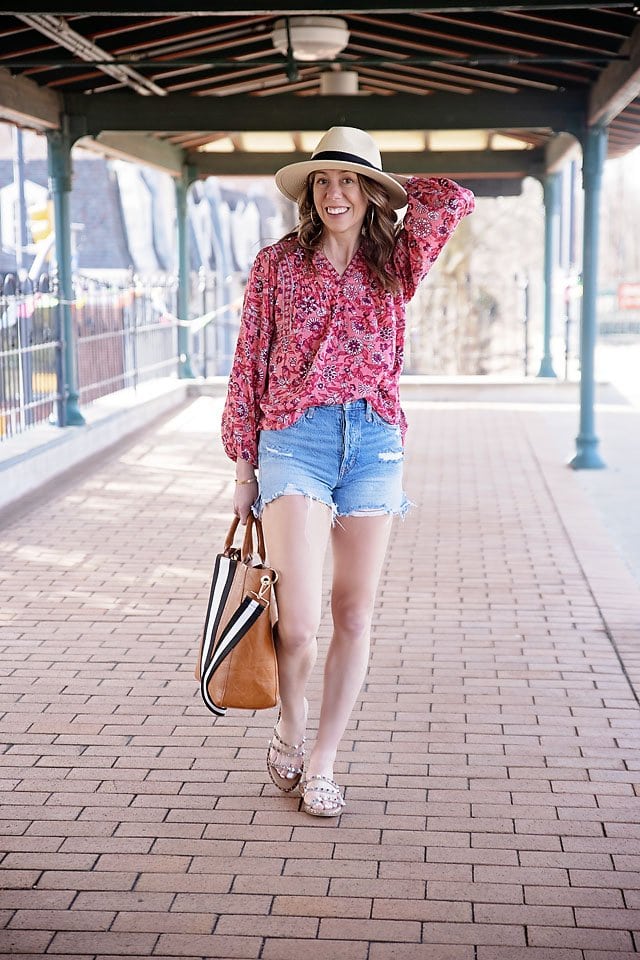 Blouse | Shorts | Sandals | Hat | Bag (sold out, will be restocked soon!)
Check out our top ten list for a spring capsule wardrobe.
Light colored denim
A printed blouse
Throw on and go dress
Slide sandal
White sneakers
Denim jacket
Button-up shirt
Denim Shorts
Basic Tank or Tee
Handbag
---
Light Colored Denim
There has been a definite shift to a more straight leg or relaxed denim silhouette, but I've also noticed that denim washes are getting lighter. There are so many options from super distressed and skinny to relaxed girl friend fits.
---
A Printed Blouse
I always feel that a printed top helps to bring some fun to an outfit – it can easily be paired with denim for a go-anywhere look. It also helps set the tone for the season. Just like a fresh vase a flowers everyone needs a fresh printed top in their spring wardrobe.
---
Throw on and Go Dress
It couldn't just be me that woke up late from daylight savings… which means less time to get dressed! If you have an easy knit dress in your closet you can be good to go in 3 seconds flat. Pop that cutie on and run out the door.
---
Slide Sandal
The perfect addition to the above throw on and go dress – a slip on sandal! I love a pop color for a shoe to go with a neutral dress. We rounded up some of our other favorite sandal trends in this post.
---
White Sneakers
What says spring more like a pair of fresh kicks? I'll wait.
---
Denim Jacket
Maybe it's just me, but I feel like a denim jacket just makes life easier. This classic staple can be popped over everything. And yes, I have seen brides wear them over their dresses 😉 I have tried out a few here and there and found that a little subtle stretch in a light wash is my go to!
---
Button Up Shirt
In case you were wondering what the difference between button up and button down shirts is – button down shirts have extra buttons on the collar. These are more likely found on men's styling shirts. Either way a button up/down shirt is a classic style to have in your closet. These come in handy as an extra layer over a dress as the weather shifts.
---
Denim Shorts
Just making this list of shorts makes me realize that we need to do a post solely on denim shorts. There are a few tried and true favorites, here plus some new ones I'd love to try!
---
Basic Tank or Tee
I shouldn't have to tell you to replace your tees every once in a while, but in case you want to know what to replace them with here are a few favorites…
---
Spring Tote
While we are all waiting for this bag to restock (last time it sold out in less than 48 hours!) – a good straw tote is in order for spring. It takes a basic outfit up a notch!