Thank you to Nordstrom and ShopStyle for sponsoring this post.
It's true – I change my outfit a lot. I am constantly reviewing products, testing out new trends and I have the other full time job of being a mom! So I get a lot of questions about what I actually end up wearing during the day. There are always a few key factors I consider when picking my outfit: comfort, versatility, and of course, fashionable. I've learned a lot over the years about what works best for my body type, what I like and don't like, and how accessories can really bring an outfit together. I always find it important to keep on hand a few great basics and build the outfit around them. I've broken down each component of my outfit to explain why I chose it and offered a lot of other great options to fit your personal style.
I tend to gravitate towards lighter wash denim with a bit of distressing – especially for daytime. Blank NYC makes super comfortable denim and offers the newest silhouettes. These Madis Ripped Jeans have a high waist fit and raw edge detailing at the knees and hem. I find most of the Blank NYC offering to be under the $100 price point.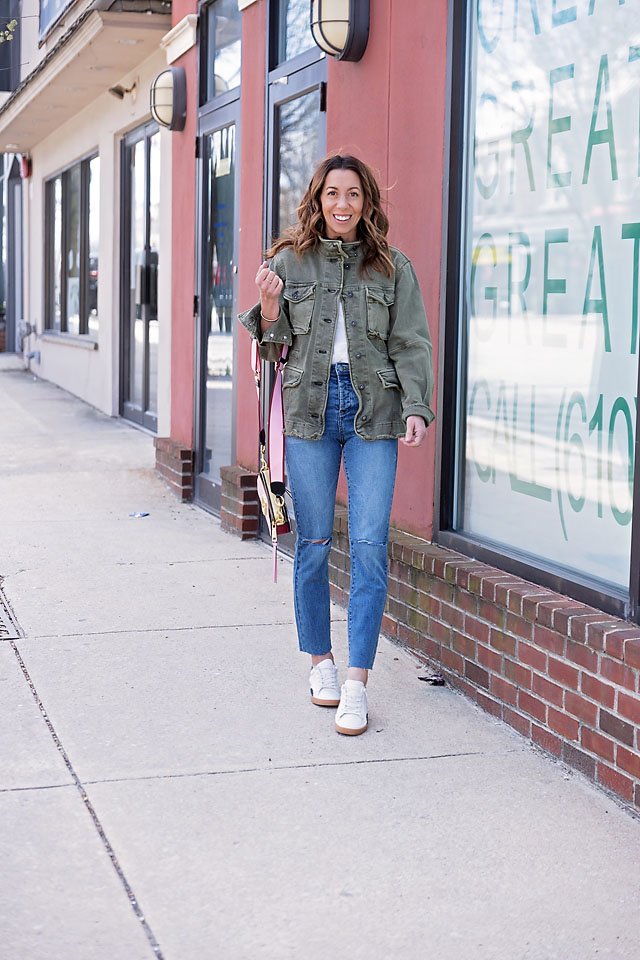 Shop More Light Wash Denim Options
A basic t-shirt is always a great closet staple, but a t-shirt with a twist (literally) can easily take that pair of denim up a notch. I always look for that something extra in a top to add a little fashion and a little fun to my outfit. This knot sleeve top by Everleigh is the perfect example. This 100% cotton top makes it easy to wash and wear time and time again.
Shop More Tops with a Twist
Next up are the shoes – I have become a bit sneaker obsessed. As mentioned before I am constantly on the move and so sneakers are my go to! Dolce Vita offers the perfect mix of sporty and casual sneakers. I love the accents of print or sparkle and again that under $100 price point.
Shop More Everyday Sneakers
Another thing I've learned over the years is that "3rd piece" can really bring an outfit together. Whether it's a statement scarf or an easy cardigan this is the piece that make the outfit feel more styled. A quick swap for a leather jacket makes this look ready for a night out or try swapping for an on trend shacket for a trip to the park. For this look I've chosen the utility jacket – equal parts versatile and stylish. This Free People Jacket is the perfect addition for a cool bus stop morning yet fashionable enough for a zoom meeting.
Shop More 3rd Layers
Finally the accessories – those little bits that can really show off your personal style and your personality. A hint of color or a pop of sparkle can really make the outfit SHINE! A monogram necklace and a crossbody bag complete this look for me.
Shop Outfit Completing Accessories
And because sometimes we just need that instant gratification or had last minute plans, I always like to remind you all of Nordstrom's Buy Online Pick Up In Store service! They are always top notch in customer service and, yes, they also have curbside delivery! And if you want to earn points on every order, make sure you sign up to be a Nordy Club Member! This is also super important to do if you plan on shopping the Nordstrom Anniversary Sale this year!