As a self-proclaimed lover of food, but not the best chef in the world, there isn't much I love more than a good one pot meal. Not just any one pot meal, one that is satisfying, healthy, and checks all of the boxes (easy, balanced, crowd-pleasing). Here is a meal I make often and can be substituted with items you may have in your kitchen – pretty much any veggies go! You can also make it vegetarian, by omitting the chicken. Quinoa as a lot of protein so if you follow a plant-based diet, I am sure you are already aware of this super food!
I use the Always Pan to make this dish and it is the pan I use multiple times per day. I know many of you have this pan already and/or are thinking about purchasing one! I wanted to share some quick care tips for the Always Pan so you can protect your investment and preserve the non-stick coating.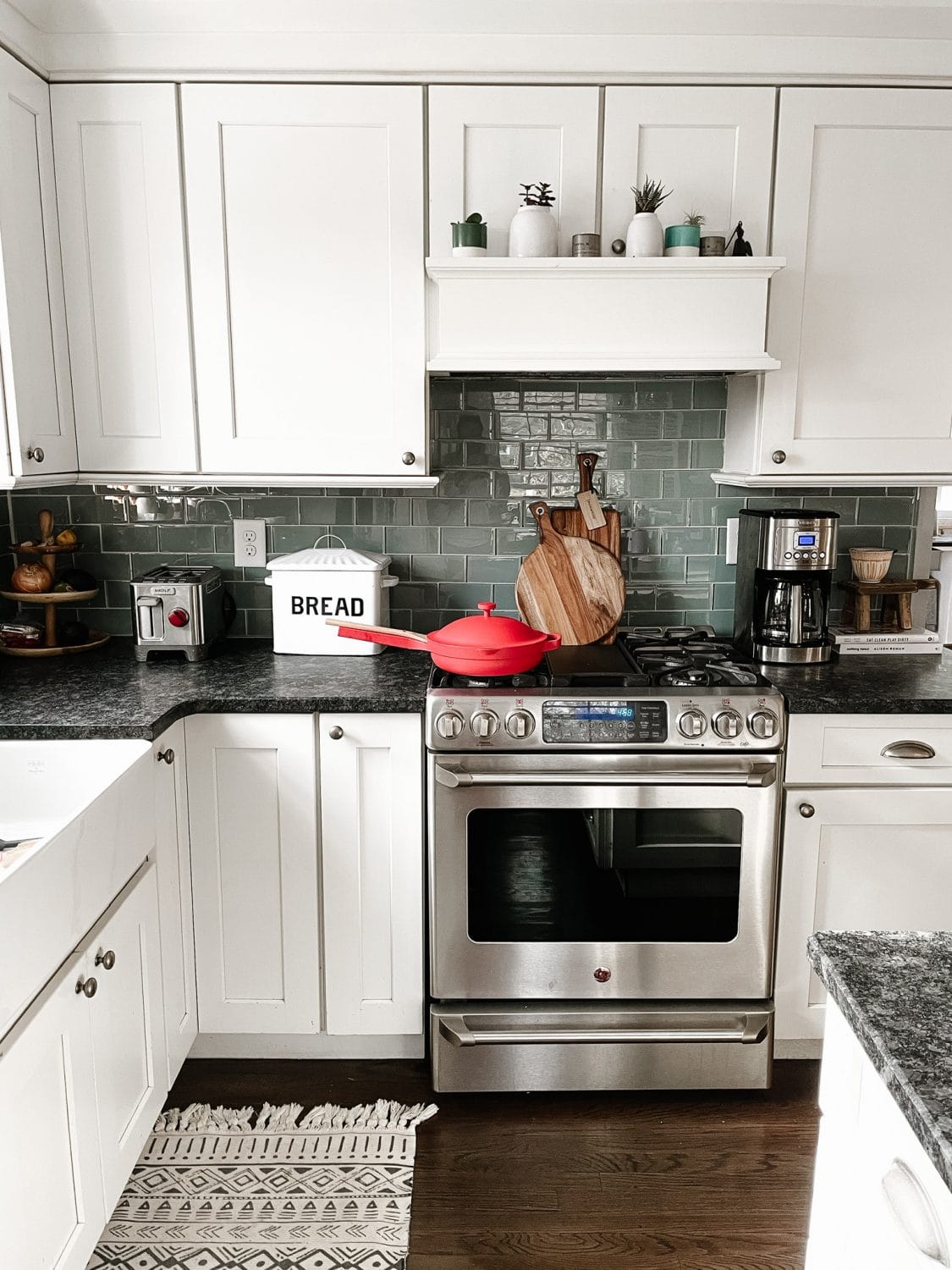 You can purchase the pan HERE and use code LINDSEY10
Shop other kitchen accessories and decor pictured above HERE.
Always Pan Care Tips:
The Always Pan should only be used on low-medium heat. The occasional sear is ok, but the aluminum body is designed to distribute heat evenly and quickly so you shouldn't need to use high heat.
It is also recommended to use non-aerosol high smoke point oils (extra virgin olive oil, avocado oil, refined coconut oil, ghee or peanut oils)
Wait until the pan is cooled before submerging in water.
Clean with warm soapy water and the sponge it comes with. The mesh basket is dishwasher safe, but the pan and the spatula should be hand washed only.
The Always Pan can be used on any type of stovetop. If using induction heat, it is recommended to use the smallest burner.
The Always pan is NOT oven safe.
For more FAQs, check out this page!
Veggie Loaded Chicken and Quinoa
Ingredients
1 tablespoon olive oil
2 tablespoons butter, divided
1 pound boneless, skinless chicken breasts, diced into 1-inch cubes
Borsari seasoning (or just good old fashioned salt and pepper)
Half yellow onion, diced
2 celery stalks, diced
2 garlic cloves, minced
1 cup quinoa (uncooked)
2 cups chicken broth (may need a little additional)
1 1/2 cups broccoli florets
half cup frozen peas (honestly I just eyeball it )
1 cup fresh spinach
Optional: lemon and grated parmesan cheese
Directions:
Heat 1 tbsp butter and 1 tbsp olive oil on med/low heat. Add the chicken and season to your liking. Sauté chicken until cooked through and then remove from pan and set aside.
Add the remaining butter and olive oil to the pan. Sauté the onion and celery until tender (about 4 minutes). Add the garlic during the last minute.
Stir in uncooked quinoa and broth. Increase heat slightly so the mixture comes to a boil. Cover, reduce heat to low and allow to simmer for about 15 minutes or until liquid is absorbed and quinoa is cooked.
Remove lid and add broccoli florets to the pan. If needed you can add a bit more chicken broth. Replace lid and let broccoli cook for about 5 minutes.
Add the peas and spinach to the pan and gently stir until wilted.
Add the chicken back to the pan and gently mix until heated through.
Serve with parmesan cheese or a squeeze of lemon juice.