I wouldn't call myself super spontaneous, but I am definitely not a planner either. I like to call my style controlled chaos. But I like to lean more on the side of controlled when it comes to preparing for a family photo. Getting four boys to wear clothes with buttons can be a near impossible task. So instead of starting with what they will wear I like to start with myself. As the self proclaimed queen of the castle I like to create the theme and color scheme around what I am comfortable wearing. Whether its a printed maxi or an easy denim look I think comfort always comes first. I try to allow some leeway with my kids so that they feel comfortable as well. Lots of retailers are putting out foolproof ideas on how to create the matchy-matchy look without the stress. The J.Crew Mini Me Shop and the Gap – Everyone's Matching page are easy ways to get the whole family a curated look. But in case you need a few more inspiration ideas we put together 5 themes with coordinating color palettes to fit a few other styles.
Island Vibes
A printed dress can really make a statement, but its also a great place to pull a variety of colors for your family to coordinate. Soft peaches and pops of turquoise keep this look feeling fresh and vibrant. Mixing prints with stripes strikes the perfect balance.
Shop The Look
---
Pretty in Pastel
Adding some print variety in size and scale helps to create visual interest. But also these soft pinks and blues create the perfect mix of girl meets boy.
Shop The Look
---
Marigold Fields
This unexpected marigold color takes on a whole new look when paired with light blue. I also love the casual vibe of denim and graphic tees.
Shop The Look
---
The New Neutral
I love this new take on neutrals – its like fifty shades of khaki. I can totally imagine frolicking on the beach with my kids in this look. Key word: imagine.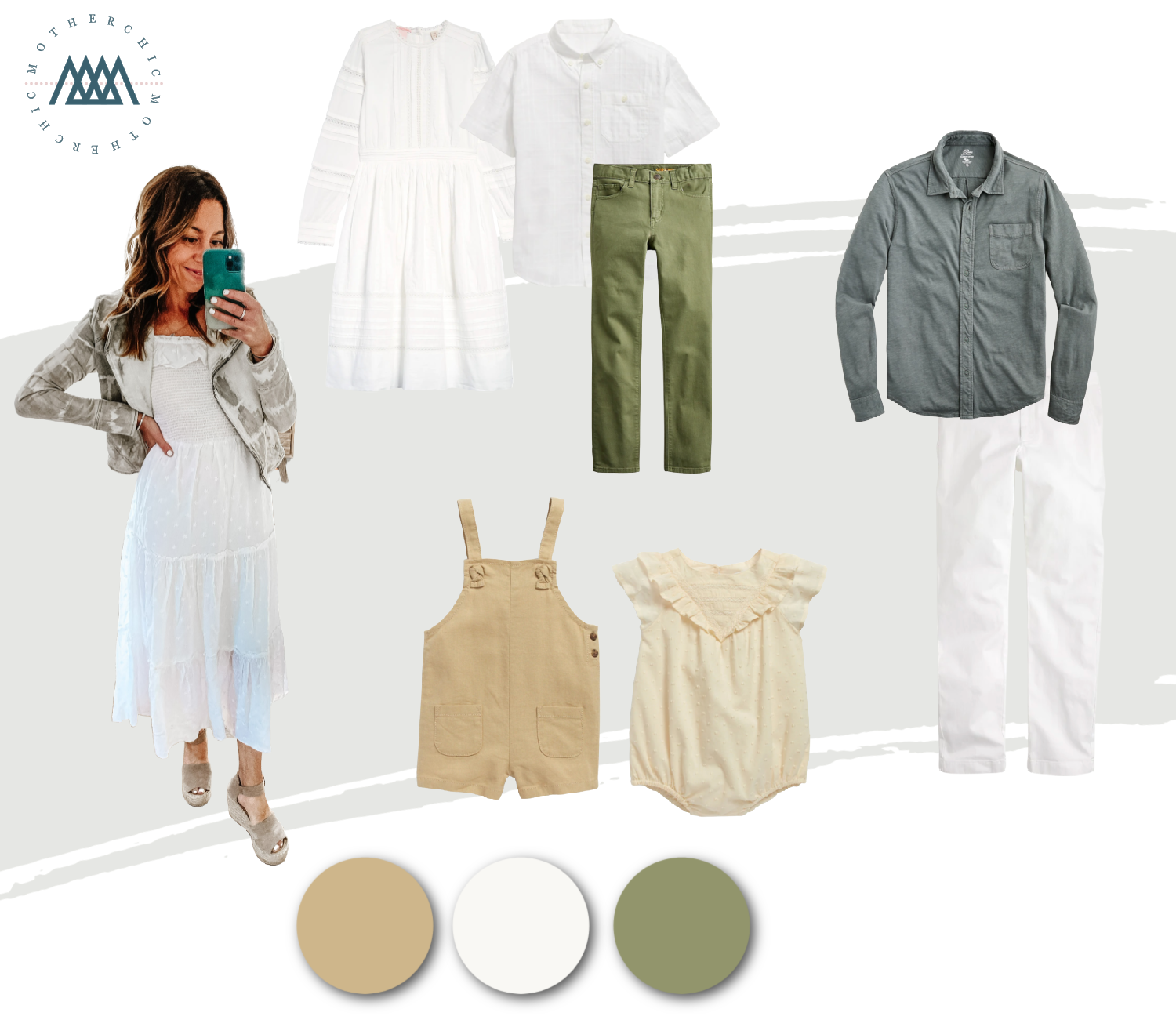 Shop The Look
---
Classic Navy
When in doubt, everyone wear blue. But seriously, blue is the easiest color to match for everyone. Add in a splash of embroidery, stripes or gingham and all of a sudden it feels fresh!
Shop The Look