Thank you to Bed Bath & Beyond and ShopStyle Collective for sponsoring this post
I recently read an article that said Americans only spend 7% of their life outdoors. Is it just me or does that need to change? Unless it's sub-zero temps, going outside can be the greatest mood booster. You don't have to go far to reap the benefits of Mother Nature – just walk outside your door. I've made it my goal to create an outdoor haven so my family can enjoy more time together outside this season. And I promise it's not only because that means spending more time outside equals less time vacuuming inside!
I went a little nuts scrolling through pages of outdoor furniture and decor on the Bed Bath & Beyond site and couldn't be happier with what I found. I quickly realized that becoming a Beyond + Member to get that coveted 20% coupon was worth it, especially because I was buying some higher priced items. Whether we are outside reading or entertaining, I wanted a statement piece that would help us gravitate towards the outdoors. Meet, the egg chair. Isn't she pretty?
I spend so much time relaxing here (ha, well, in my dreams I do!) I have HUGE plans to soak in some sun and read magazines in this gorgeous chair this summer. But it's also a fun piece for my kids to enjoy. Ok yes, they think it's part jungle gym, but that just speaks to the quality (not that I condone such behavior!).
I added some pretty pillows and a fun throw blanket to add a pop of color. It really is just a cool spot to hang out and, yes, all 4 of my boys can fit inside (why don't I have a pic of this yet?!).
I also wanted a little hub for entertaining and outdoor eating/cocktailing. I loved the look of this outdoor tea cart and the two levels are perfect for serving food and drink. I also grab some shatterproof wine glasses and melamine serving platters. I finished off our little haven with some chic planters and cool solar powered garden lights.
Now, if it could just stay 70 and sunny forever, I might never leave this little space! The home hub is officially outdoors for the foreseeable future! And I must say, I have such fond memories of going to Bed Bath & Beyond before college to stock up on those twin XL sheets, but this space is just proof they really are a one stop shop for everything! No matter what stage of life you are in, Bed Bath & Beyond can help you feel at home ❤️.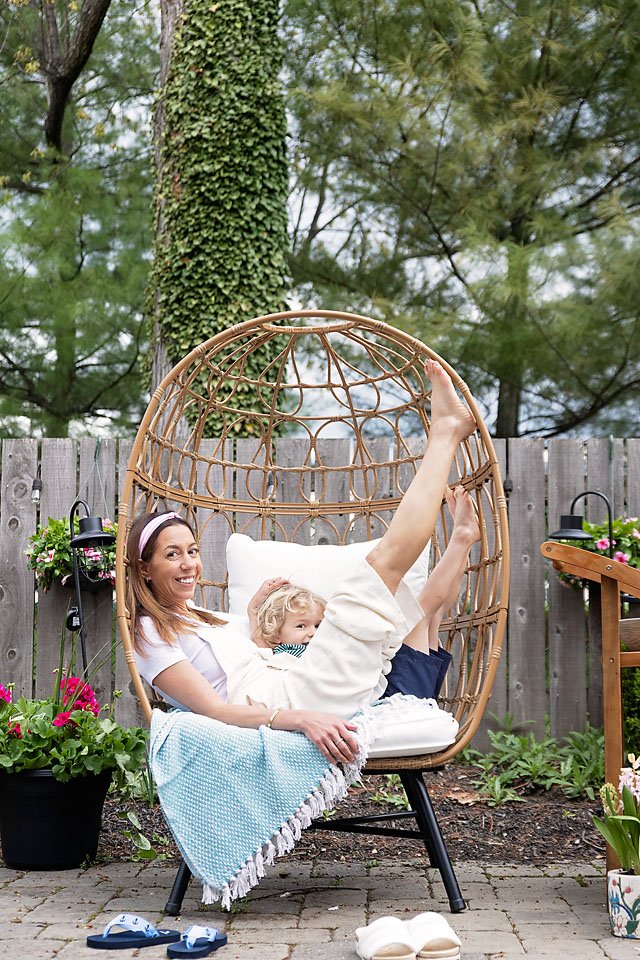 Shop the entire space here: