Earlier this spring we dropped a Gibsonlook x The Motherchic tank dress that sold out super fast! What's the appeal? It's one of those dresses that works on different body types and hugs in all of the right places. We decided to bring this dress back in a big way and added four new colors that are bright and fresh for the upcoming summer season. Another reason this dress is a closet staple is that it can be styled many different ways. Pop on a blazer and wear it to work, slap on some heels and wear it on date night, lace up your sneakers and you are ready to run errands, but make it cute. The dress runs true to size and is bump friendly (just size up if you are pregnant). The skirt portion of the dress is meant to be fitted and the ruched detail makes it very flattering. If a bodycon style dress makes you nervous, you can always layer a jacket or cardigan over this dress – it's really a great canvas for lots of layering and accessories! Check out our new colors below and remember to use code MOTHERCHIC15 to save 15% off your order!
Navy White Stripe
Dress (use code MOTHERCHIC15) | Headband | Bag | Shoes
Ivory Black Stripe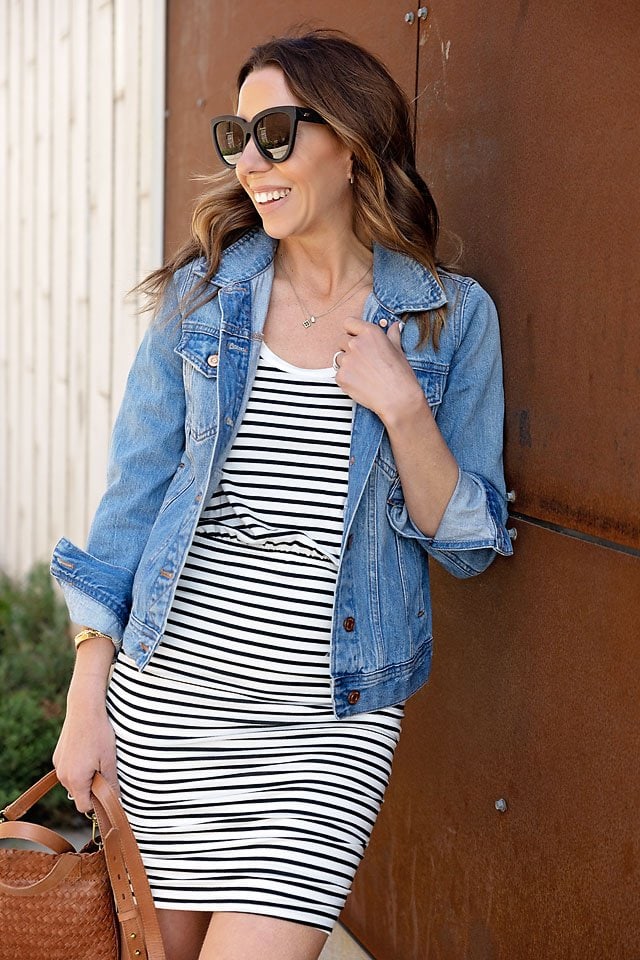 Dress (use code MOTHERCHIC15) | Sunnies | Bag | Denim Jacket
Coral Chic
Dress (use code MOTHERCHIC15) | Blazer (use code MOTHERCHIC15) | Bag | Shoes
Light Blue Ivory Stripe
Dress (use code MOTHERCHIC15) | Shoes | Bag (sold out)
Check out all of these gorgeous women wearing the original colors! These girls range in height from 5'1 to 5'9 and size XXS – L.
Check out my latest Gibsonlook x The Motherchic Drop here!