If you have been following along with me over the years than you know I like to showcase a variety of styles! We all love those amazing high-end pieces, but I truly believe there is a time to splurge and a time to save! For instance, classic items like a great pair of jeans, a timeless little black dress or the perfect pair of pumps are totally worth spending a little extra on! But trends come and go so fast, and that might be the time to save! And as much as we all live to save we still want to make sure we are getting good quality and style! So I found 5 save and splurge styles that are perfect to have in your spring and summer wardrobe this year. I'll leave it up to you decide which to save on or which to splurge!
Workout Joggers
It's pretty unbelievable that these two are different products and at such different prices, but they are! I've tried on a lot of joggers and these Camo Joggers from Amazon are so similar to the Athleta Salutation joggers. The fabric on the Amazon pair is slightly different, but overall the fit is very similar.
Shop The Save | Shop the Splurge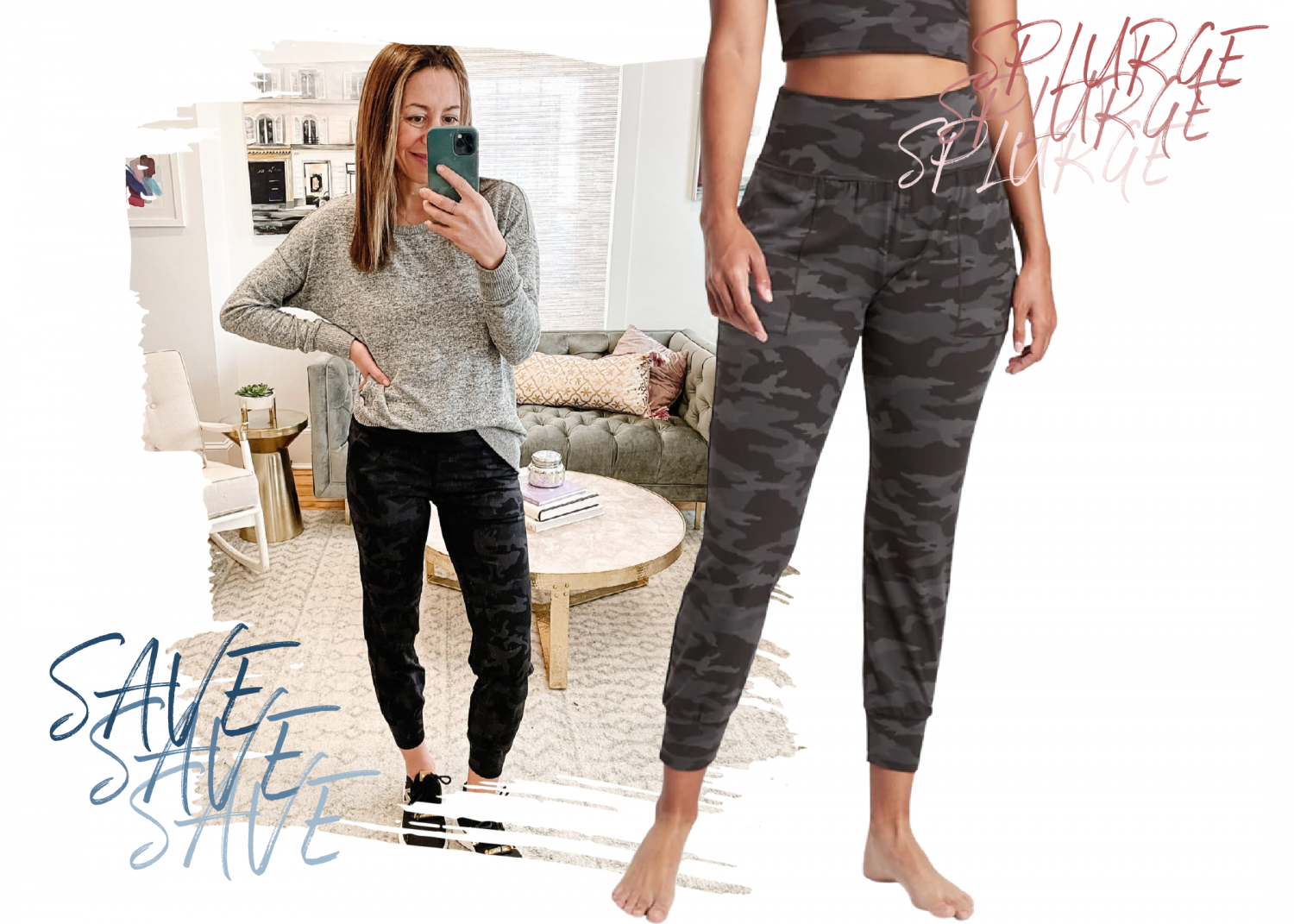 Braided Heels
Currently trending: Braided Heels! If you want to test out this trend, then try these Quilted Heels by The Drop or you may need to get on the waiting list for the Dolce Vita double strap pair.
Shop The Save | Shop the Splurge
Denim Joggers
I, for one, was happy to see denim make it's way into jogger form. While this trend may not be for everyone, you can definitely try it out with the save version. There are lots of fun iterations and colors to play around with!
Shop The Save | Shop the Splurge
Puffy Platform Sandal
I have been living in these Sam Edelman slides, but was super happy to see this save version from The Drop. And, yes, they are equally as comfortable.
Shop The Save | Shop the Splurge
Running Shorts
I've been testing out lots of running shorts lately since the weather has finally shifted here. These soft waistband shorts from Amazon are perfect for a quick mile or two! The Lululemon pair is made of the same soft material all the way through and are a slimmer fit. I love that both have the back key pocket!
Shop The Save | Shop the Splurge
---
Check out more of my current Amazon Favorites