*Thank you to The Home Depot and Shopstyle Collective for sponsoring this post*
…. and it feels so good. As in, I feel like a real adult. Not that bar carts are equated with adulthood, but I just feel like the addition of the bar cart makes my house seem more grown up. Does any of this make sense? No. Ok, let me explain. You know when you first buy a house and you get lots of hand me downs and you are so grateful for them but after a while you realize your home has very little personal style. Over the years I have chipped away at little spaces around my home to swap out those hand me downs for pieces that are a better representation of me. I mean my family. OK really just me. You do remember that I live with 5 messy boys. If I clean the gobs of toothpaste off of their bathroom sink, I get all decorating authority, but I digress.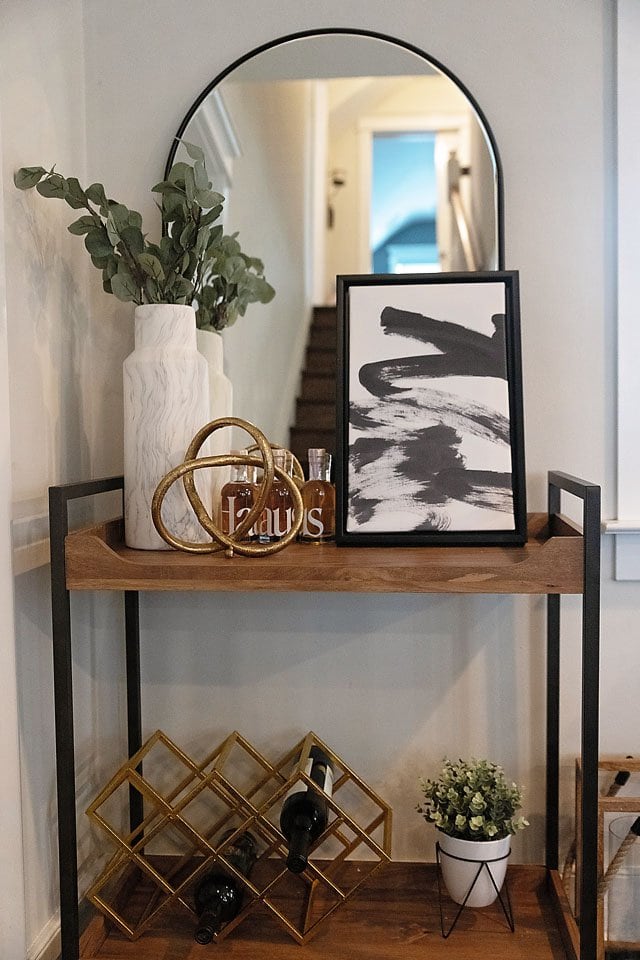 For the past 8 years, this nook was filled with an old media console that had glass doors (one slightly cracked) and was filled with china that I never used. Nope not once, except for the time my nieces came over and used it to have a carpet tea party. I would walk down the stairs every morning and think ugh, this thing has got to go. Fast forward 8 years and I finally figured out what I wanted. Enter the chic, sophisticated bar cart. Now I walk downstairs in the morning and think, ahhh, I have arrived. It's clean, it's styled, it's not cracked, and it doesn't hold anything that's useless. Now if only it could make my coffee for me!
Another reason I am loving having a bar cart is how I can style it! It was fun to mix in different decorative objects and make it my own. The double shelves allow me to layer in chic pieces to enhance the design but also still let the bar cart serve it's purpose! I really like playing around with height and I tried to keep the look modern, while softening the look with some greenery. A pop of gold in a structural element helps to bring it all together. I look forward to revamping the bar cart as my design style changes with the seasons!
Shop the Look Below
If you are looking to refresh a nook or even an entire room The Home Depot has everything you need: start to finish! And with their Memorial Day Savings there are deals up to 30% off select furniture, decor and kitchenware. Check out all The Home Depot deals here! Usually I go to Home Depot for the amazing section of outdoor plants, but this time I stayed for their awesome variety and selection of decor. With Father's Day approaching soon it will be worth another trip to check out their selection of grills, power washers, and other DIY essentials.
Shop My Favorite Memorial Day Savings Below