A few weeks ago I had an idea. I texted my husband and told him I think we should book a trip to Charleston. I am not sure why Charleston popped into my head, but I'm pretty sure I just envisioned a map of the east coast and picked a place that was halfway between Pennsylvania and Florida. I wanted to visit a place that was warm, had great restaurants with a coastal vibe and that was just a quick flight away. Charleston checked all of those boxes. Philly people, it really is SO easy to get to! The flight was just over an hour and the town of Charleston is about 20 minutes from the airport. I haven't been away from my kids in over a year and I thought a three night trip was all I could handle before separation anxiety kicked in. Huge shout out to my parents and babysitter who took them to their 87 games and kept them safe and happy while we enjoyed this quick getaway! Now let's get to the Motherchic guide to Charleston!
I am always wary of telling people what to do on vacation because I think there is something special about creating your own experience. However, I wanted to share some of the places we ate, where we stayed and what we did in case you have Charleston on your bucket list and need a place to start. The bottom line – it's a beautiful city rich in history and amazing architecture. The amazing restaurants and great shopping are just added bonus.
We stayed at Hotel Bennett and it is a gorgeous boutique hotel with all of the bells and whistles. We added in the Kings Club experience to have access to the club level (unlimited drinks, breakfast, lunch, snacks and beautiful rooftop city views). In retrospect we probably didn't take advantage of it to make it worthwhile, but if you are going for a special occasion it's a nice perk! The rooms were gorgeous – a mix of classic and modern and it has three restaurants on site including a swoon-worthy coffee shop. Although I got many hotel recommendations, I ultimately chose Hotel Bennett because it has a pool. Since we chose to stay in the city versus the beach, I wanted the option to just sit and chill poolside with a book and cocktail.
Wearing:
When someone tells you there is a place that has the best burger in town, you can't NOT try it! Even though I am gluten free and ate my burger with no bun, it was still a crazy good burger at Little Jack's Tavern!
Wearing:
Going to Harken Cafe was recommended to us by a local so we knew we had to go. Yes, there was a line out the door, but well worth it. Not only is the cafe photo-worthy, but the coffee is strong and the pastries are to die for. We sat down and had a full breakfast and even though the frittata was great, we couldn't stop talking about the side salad with pickled veggies.
Wearing:
We weren't organized enough to schedule a tour, but if you are into them, they have tons and most are lead by horse and carriage. We gave ourselves a self-guided tour of the city by just walking… and walking… and walking. No really, we logged an average of 9 miles per day! One reader DMed me and told me to go to Rainbow Row and it was definitely an #instagrammoment.
Wearing:
One of the best parts about traveling to Charleston from Philly is that if you take the 8:30am flight you can be in Charleston in time for brunch! We stumbled upon The Darling Oyster Bar and even though it was packed, we finally got seats at the bar. Their bloody mary's are not only work of art, but also a legit meal. I'm talking king crab leg, huge claw, jumbo shrimp and a hush puppy all in one drink! The oysters are ala carte and of course they have shooters, but if they aren't your thing there are plenty of other options. My husband had the lobster roll and I got shrimp and grits. Tip: going shopping on King Street after having a drink (or two) is v fun 😉
Wearing: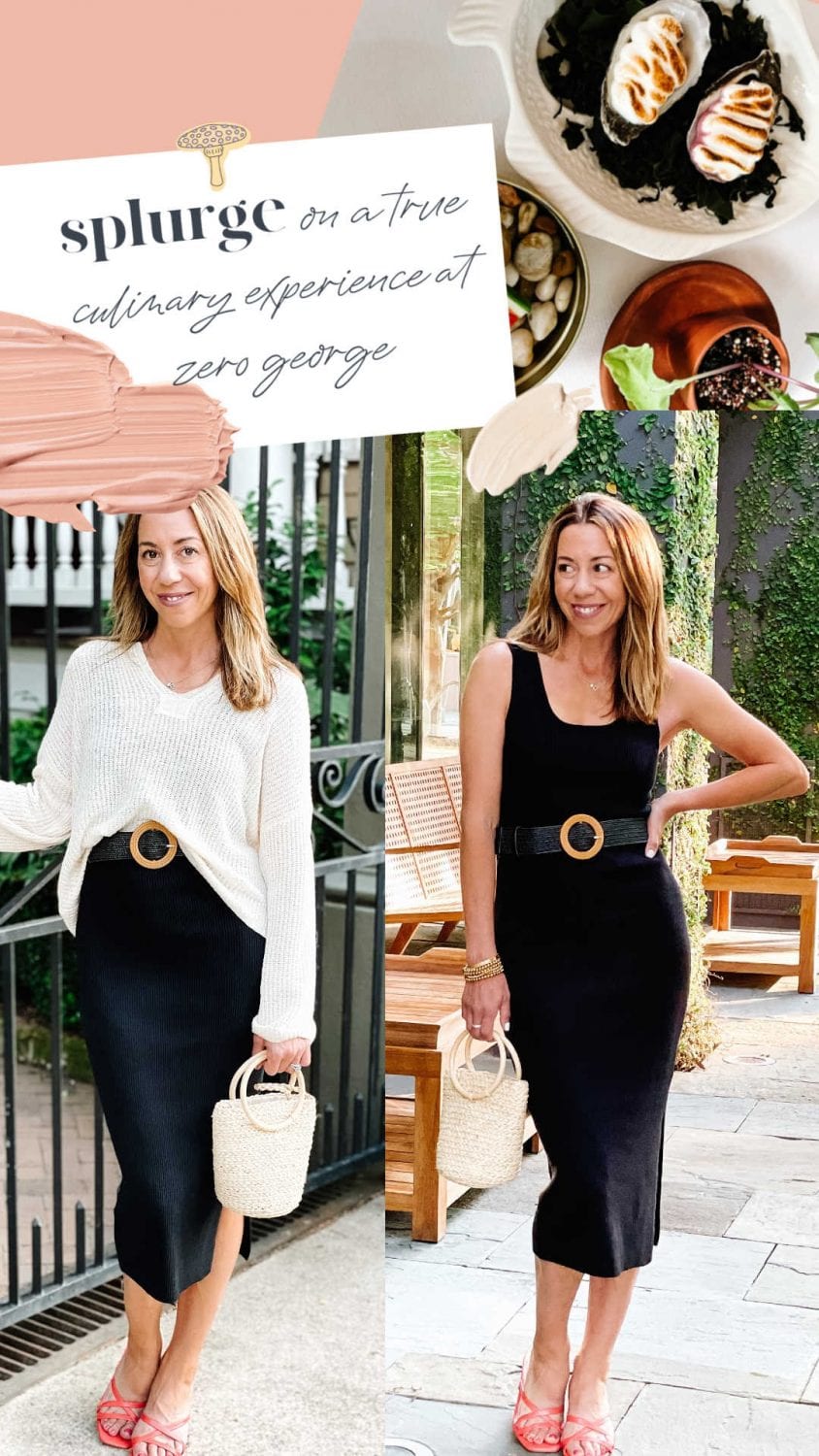 If you are a foodie and looking for a true culinary experience with a multi-course tasting menu, save room for Zero George. We ate everything from oysters with marshmallow mousse, to caviar, to halibut to a potted turnip. SO. MANY. FLAVORS. The restaurant is part of a 16 room boutique hotel that also came highly recommended. If you are a true food lover who loves the art of creating, you should definitely check out the cooking school at Zero George. We didn't have time for this, but it's on my list if (when) we go back!
Wearing:
FiG which is short for "food is good" is a must! If you are not the adventurous foodie but want a great meal with an incredible wine list and amazing service, get yourself a reservation at FiG. Tip: Most of the restaurants have long waits and reservations are hard to come by, BUT if you make an account at resy.com you can become notified when a reservation opens up. I got a reservation at FiG by using this feature.
Wearing:
Like I said before, I wanted a hotel with a pool so we could just sit and relax. We did reserve a cabana because the pool area is small and seats fill up. The cabanas were a bit pricey, but we justified it since this was our first solo trip in a very long time! The cabanas come with 2 chairs, a covered seating area, tv, stocked mini fridge with water, soda, and essential oil towelettes. You can also order drinks and food from the poolside servers. We had a great time chilling/reading/meeting new people who were also on vacation.
Wearing:
And if you want it all in one place, in sum…..