I am always on the lookout for new trends, but the making of a great wardrobe starts with my favorite basics. From tees to tanks to camis I rounded up a few favorites. As always these look great with denim but I also provided a few other photos to help with outfit inspiration. I offered sizing and fit notes for each item, but if you have a question on anything leave a comment below!
My Favorite Basic Tee
I often get asked what my favorite basic white tee is and this Amazon Essentials tee always comes to mind. I used to be an avid Madewell Whisper Tee wearer, but some readers noted that it easily would get holes around the hem. This crew neck tee comes in a two pack with a variety of combinations. It has over 20k reviews so you know it's been tried and tested. This tee is mostly cotton with a bit of spandex for stretch which is easy for wash and wear. The easiest way to wear this tee is with a great pair of jeans, but I also find myself gravitating towards this tee with shorts and joggers. I wear size extra small here.
My Favorite Basic Loose Tee
For something a bit more casual (and with a pocket) this easy tee is the perfect option. It comes in a variety of stripe and solid options – due to the stretch of the fabric hanging dry is best to keep it looking fresh. I wear a size small here.
My Favorite Basic Rib Tanks
It seems that rib tanks have taken over as the essential summer tank. Every retailer has come out with their own iteration. Whether it's price, fit, quality or trend – they all have their pros. I have found a variety of favorite basic rib tanks with lots of styling options below.
The Aerie No BS High Neck Tank
This tank became a quick favorite and it may be due to the cute stripe tie dye pattern. With a price tag under $20, the Aerie High Neck Tank has a nice substantial fabric and longer length. The back is not a racer back so a normal bra usually works here.
The Aerie No BS Rib Tank
The Aerie No BS Tank is a classic. The neckline is not too low and the fit is slim. The trim around the neck is daintier than the other versions giving it a less sporty vibe. This tank works best with a racer back bra and can be worn so many ways.
The Target $8 Tank
I am pretty sure one of these $8 Target Tanks has wound up in everyone's cart at some point. The fabric has a really nice stretch, but I find this version to be on the shorter side. Best to wear with higher waist shorts or skirts. The fit is slim here, but true to size. I wear size extra small.
The Amazon Tank
This high neck rib tank from Amazon also comes in at the under $20 price point. It has a great amount of stretch and a slightly longer length. I prefer the black color here and feel that it is easy to dress up and down.
The Madewell Brightside Tank
If you are looking for a substantial white rib tank than the Madewell Brightside Tank is the best option. The fabric is not see through, although I always recommend wearing a neutral color bra. My go to bra is the True & Co Convertible. This tank is the most expensive of the tanks, but also the highest quality. This length is also on the shorter side, so best paired with skirts or high waist pants.
My Favorite Basic Henley Tank
It's amazing how a few buttons can really change the look of a tank. This Henley Tank from Amazon adds that little extra something to an outfit. I did not find the neckline to be as low as in the photo on the website, but I am closer to an A cup. Depending on your chest size this tank may fit a bit different. For reference I wear a size small here.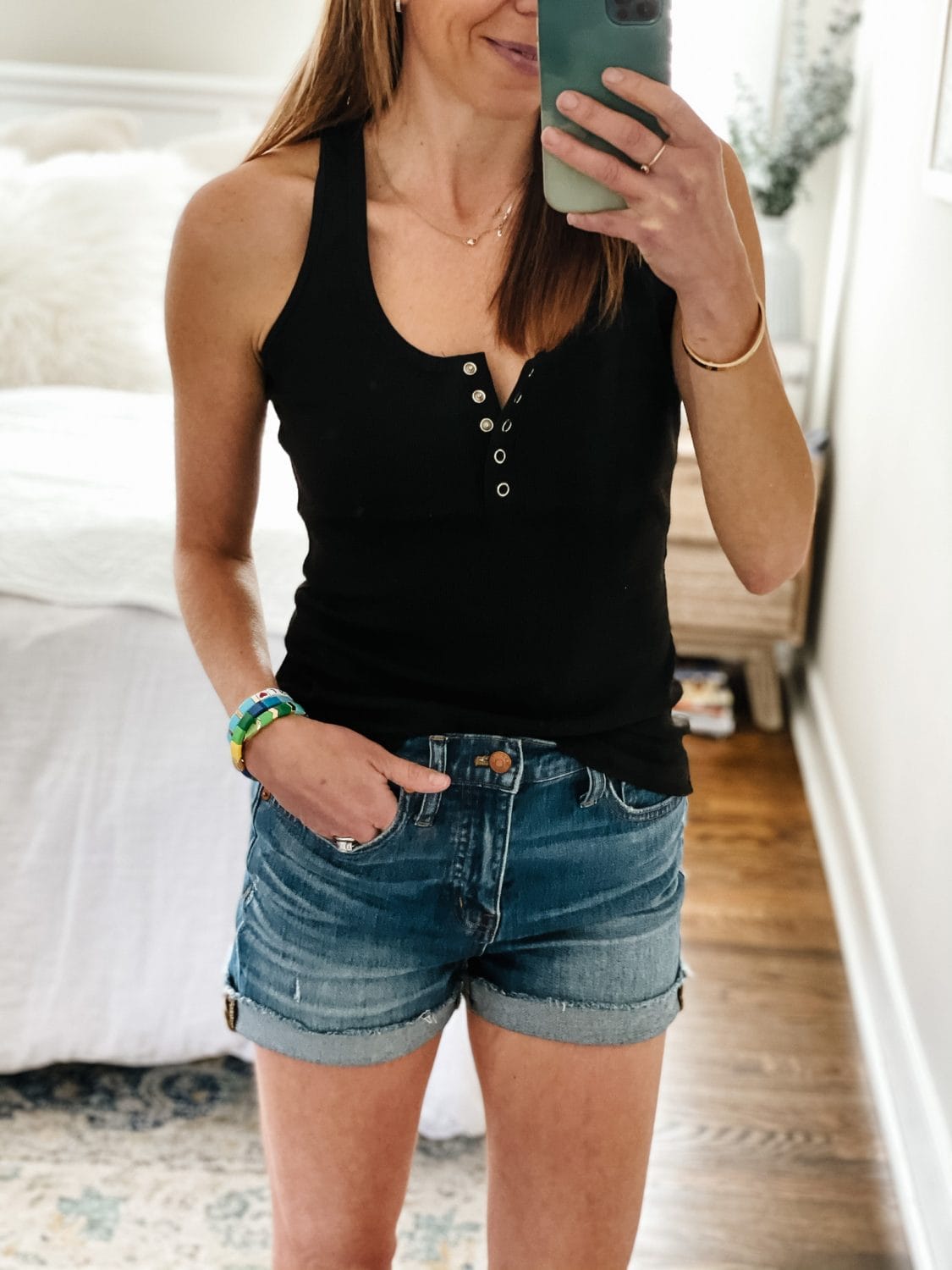 My Favorite Basic Loose Tank
This loose fitting tank has been hands down a reader favorite this year. I am surprised I haven't gone back to get a few more colors. I love that I can take it from the sidelines to feeling like I am dressed to the nines with a quick shoe swap. The fit is loose around the body and the length is on the longer side. For reference I wear a size small.
My Favorite Basic Refined Camisole
A silky cami is a definite must-have in my closet. It is the perfect top to throw on for a quick date night, girls night, or even for the office. This adjustable strap tank is one of my favorites. The fit is very loose and perfect for a little tuck! I wear a size extra small for reference.
My Favorite Basic Knot Tank
It seems like every few months I go back and get a new color of this knot tank. The waffle fabric and knot make it easy to wear all year round. The length hits about mid bum and the overall fit is loose. This is the perfect tank for when you need a little something extra. For reference I wear a size small here.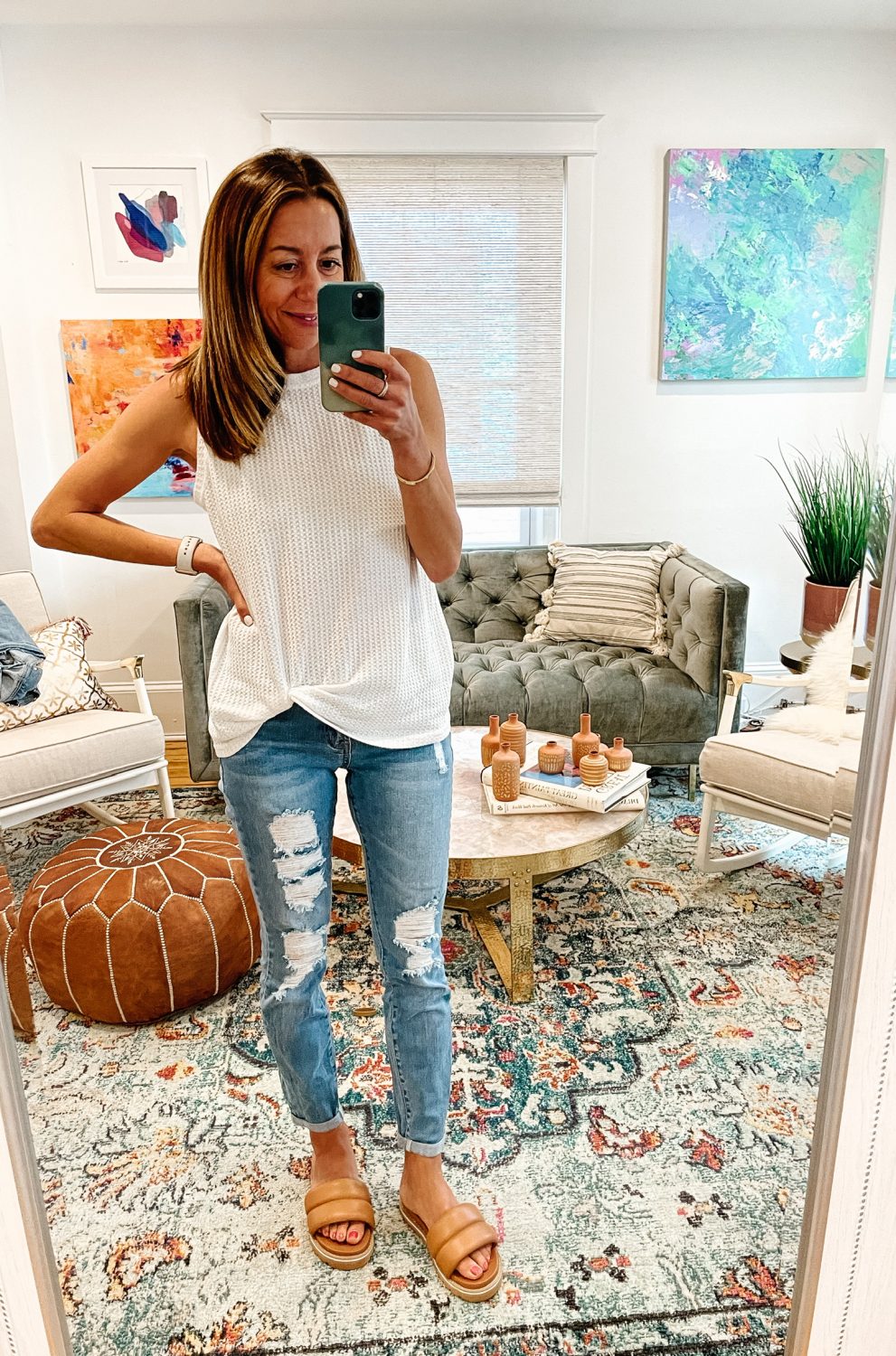 Shop more favorite basic tees and tanks below