Thank you to Vuori Clothing and ShopStyle Collective for sponsoring this post.
There is something very special about watching the dads watch their sons play little league baseball. As a self-proclaimed baseball mom, I thoroughly enjoy the games, but even if I'm just speaking for my own husband, the dads seem to LIVE for this stuff. Maybe they are living vicariously through their boys and it reminds them of their little league days or maybe it is just awesome watching someone you created doing something they love – probably a combination of both.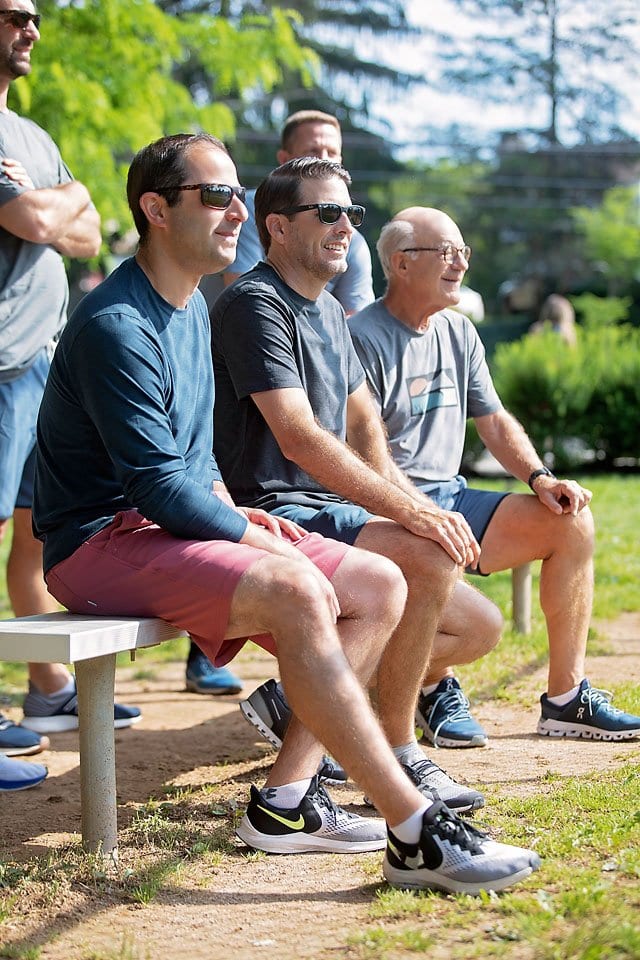 I sit on the bleachers and taking it all in, the sun, the passion of the players (both highs and lows), the friendly banter amongst spectators, the nervous pacing that happens when your kid is pitching, the collective team chants from the dugout, it's a scene I experience at least 6 times per week. The dads seem to congregate along the fence for the ultimate front row seat, spitting sunflower seeds, analyzing, taking videos, back-up first base coaching because they can't help themselves. In my casual observation, there are two things most of the dads have in common. First, the smiles on their face. Pretty sure there is no where they would rather be. And second, as I scan the fence… Vuori, Vuori, Vuori, Vuori. One dad started wearing it (I won't mention names), and it slowly trickled down the chain link.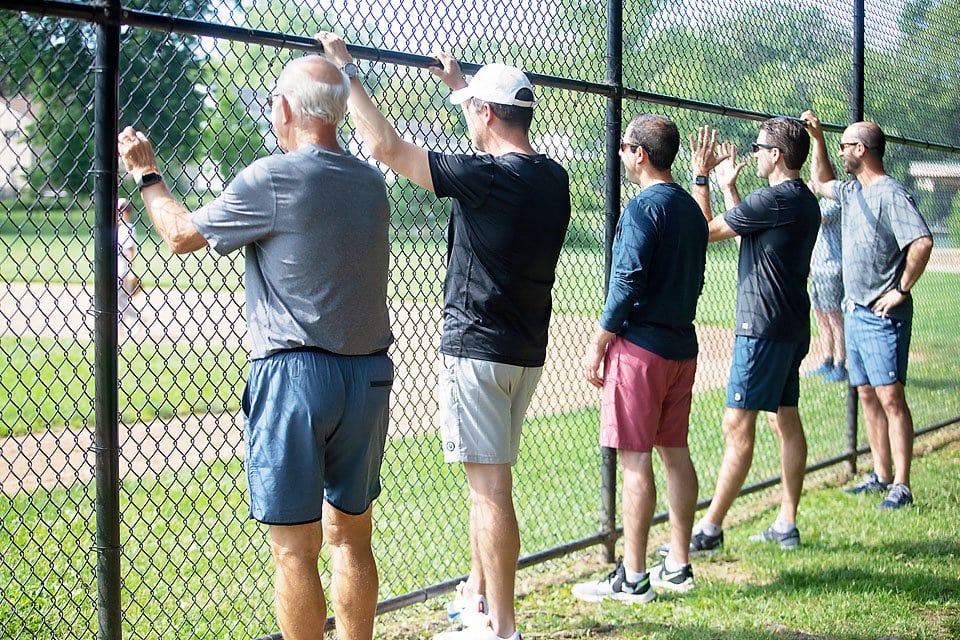 I can't say I blame them. I'm going to credit the women for this one being that the Vuori Performance Joggers are a Motherchic community MUST have. Not going to lie, sometimes I even sleep in mine. The guys are quickly catching up with our obsession and Vuori-everything is becoming the standard weekend uniform. And yes, even my dad (the grandfatherchic) wears it!
What's the hype? The durable fabric feels like second skin and is ready for anything from high impact workouts to, well, leaning against a fence watching a game. Vuori pieces have that California-cool vibe and the brand prides themself on ethical standards of manufacturing. I asked 6 dads who know and love this brand very well to share their Vuori favorites!
Meet Bill
Wearing:
Strato Tech Tee (size medium) | Kore Shorts (size medium)
Q: How do you feel about "twinning" with the grandfatherchic?
A: The man, the myth, the legend, what else can you say about the grandfatherchic.
Q: OK in all seriousness, tell me where you wear your Vuori?
A: I love nothing better than wearing my Vuori while coaching my son's baseball team. Perfect for those hot summer days.
Meet Coach a.k.a The Grandfatherchic
Wearing:
Vuori Logo tee (sold out, more logo tees here) | Banks Shorts (size large)
Q: How do you pronounce Vuori?
A: I probably pronounce it wrong 😑I say "Vee Or E".
Q: As a "senior influencer", what do you want people in your age demographic to know about this brand?
A: It's important to not only think young; you also need to dress young. In other words wearing Vuori will help keep you looking and feeling fresh and youthful.
Meet Brian:
Wearing:
Tradewind Performance Tee (size medium) | Banks Shorts (size medium)
Q: Who wore Vuori first – you or your wife? And who has more?
A: My wife wore it first, but I definitely have more now. Once I bought the first pair of joggers, I just kept buying more stuff.
Meet Steve
Wearing:
Tradewind Performance Tee (size XL) | Banks Shorts (size XL)
Q: If you could only wear one Vuori piece for the rest of your life, what would it be and why?
A: That's a trick question because all their clothing is great! But if I had to pick one, I'd go with the transit joggers—they have a clean, classic look that is comfortable and they are easy to wear. When I wear them I feel like the cool dad!🤣🤣
Meet Eric
Wearing:
Long-Sleeve Strato Tech Tee (size L) | Kore Shorts (size L)
Q: What is your favorite Vuori piece and be honest, how many times per week do you wear it?
A: Definitely the Ponto Shorts. I wear them least 5 days a week both as leisure shorts laying around at home and when going out.
Meet Paul
Wearing:
Tradewind Performance Tee (size L) | Kore Shorts (size L)
Q: Who wears Vuori better? You or your wife 😉
A: Just depends on the situation… for sport, no question I can't hold a candle to Lindsey … but I wore my Vuori shorts to a fancy restaurant in Charleston with an untucked collared shirt. I'm not sure she could (or would want to) pull that off!
Vuori lives by the tagline "Investment in happiness". Their coveted Banks Shorts are $68. Wearing them to a Little League game, priceless. If you are looking for a Father's Day gift that will rock his world, look no further!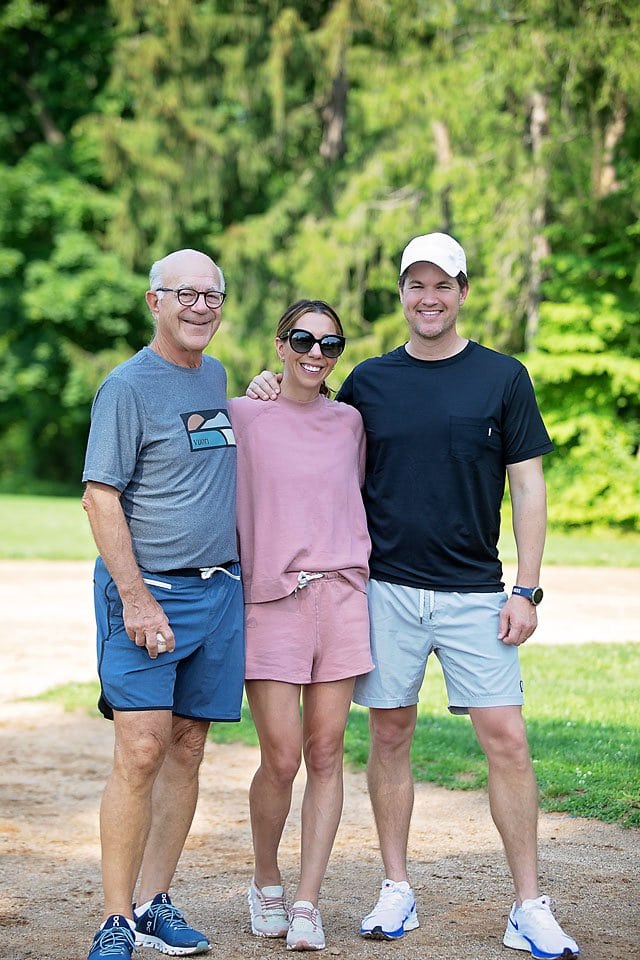 A few more Vuori favorites below….
And let's be real about who introduced these handsome dads to the brand? The other half of the cheering section 😉
Vuori Performance Joggers (shown in Sierra Heather and Pale Heather Camo)
And where did all the guys go says the mom left carrying all the bags?!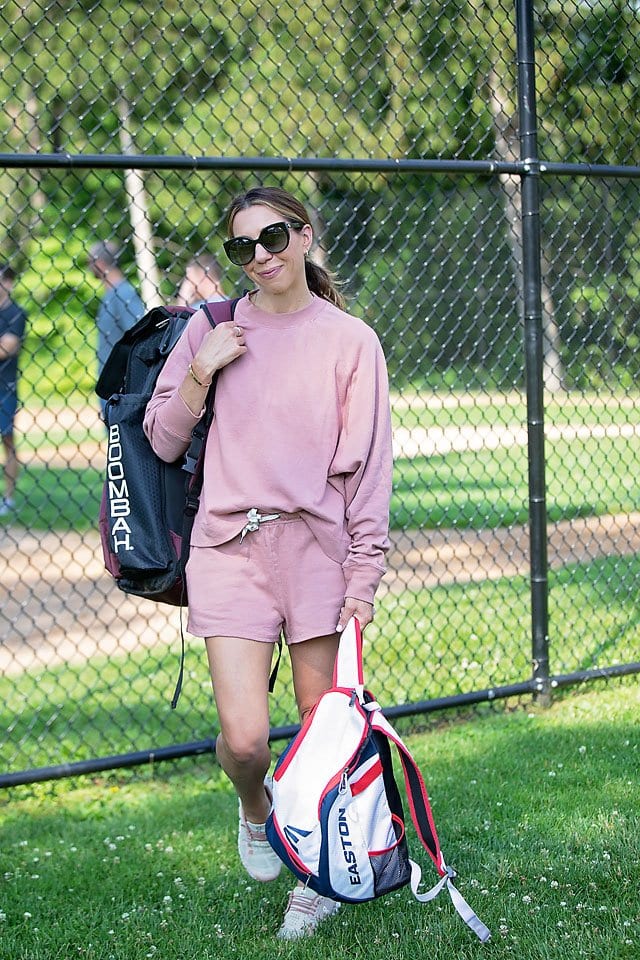 Huge thanks to this awesome crew for helping me share my love for this brand in this post!