More and more I hear about people headed back into the office – so you may need to refresh your workwear wardrobe. The first thing I wanted to get my hands on was the perfect commuter bag. Not only is this bag perfect for every day carry – it can withstand the wear and tear of the frequent traveller. The Tumi Laptop Backpack features a durable nylon fabric (with leather trims) and the perfect amount of pockets to keep you organized. Now that I've found the perfect bag – it's time to refresh the rest of the wardrobe. A few not so basic blouses, a great pair of black pants, and a walk-able shoe are the starting points of a great capsule workwear wardrobe.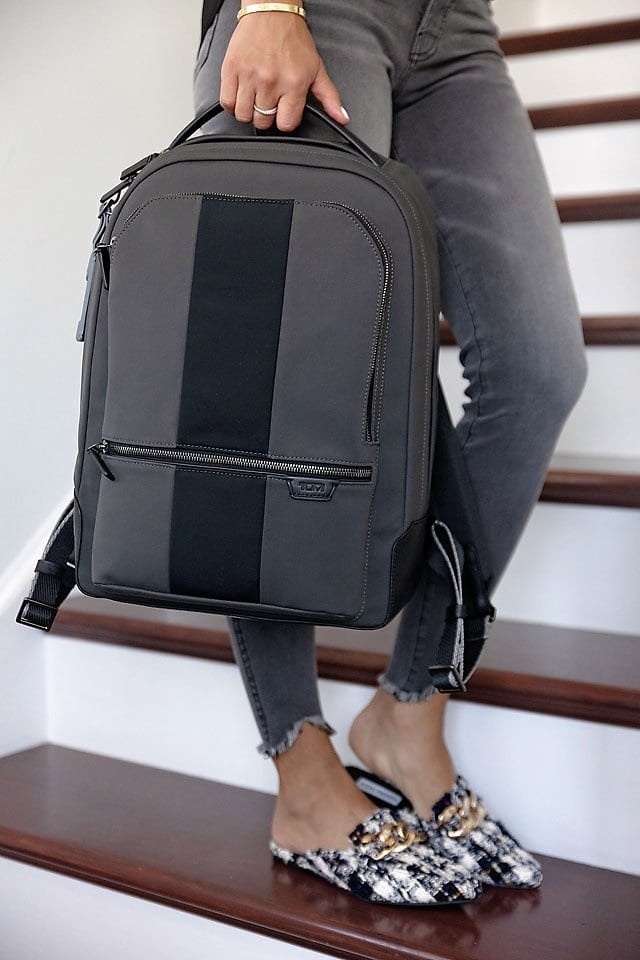 Wearing
Workwear Capsule Wardrobe
At first glance, this capsule wardrobe may seem very basic. But that is the point of a capsule wardrobe – to build up your basic "go-to" pieces. The Nordstrom Anniversary Sale has no shortage of amazing basics. Each of these items can be mixed and matched together or with other items in your wardrobe. Having a great basic collection will allow you to have more versatility and more options within your current wardrobe. Let's check out what makes each of these items so special.
Wide Strap Tank// Not only is this top bra-friendly, but its roomy enough to be tucked or left un-tucked. Pair with a pencil skirt or even a pair of clean denim.
Silk Button Down Shirt// This is my "when in doubt" option. A button down shirt is always so timeless and can make anything feel more dressed up. Pair with wide leg pants or with a short suit for a fun fashion look.
Crew Neck Sweater// A slim fitting sweater is the perfect layer under a blazer, but also looks great with a printed skirt with a belt to cinch the waist.
Long Cardigan// Perfect for offices that tend to be on the cooler side. I love that this length can be paired with a midi dress or a great pair of slim fitting pants.
Black Pants// A clean pair of tailored black pants are the perfect work wardrobe staple. Need I say more!
Asymmetrical Skirt// Tired of the pencil? Me too. That's why I love the addition of this easy flowing skirt. Pair it with a graphic tee or pop on a chunky sweater.
Knit Tank Dress// An LBD is a classic in any capsule wardrobe. This slim fitting style can easily be layered with a blazer or belt, but also looks great on its own!
Open Blazer// Similar to the cardigan this blazer is an easy layer. It looks great over pretty much anything, but adds a refined touch.
Mules// These walkable flats are actually comfortable. The chain link detail adds a little extra flare for the workplace.
Sling-back Heel// An easy twist on casual Friday – a pair of denim with a sling-back heel is a winning combination.
Bootie// I love these for a little more ankle coverage – especially in winter. But I also love that a black leather bootie can dress up a printed dress – feels very Anna Wintour!
Shop the Capsule and More Workwear Favorites below
How to Wear the Capsule…