One of the prettiest times of year to capture a portrait of the fam is arguably fall. If I am being totally honest, my kids cringe at the thought of taking family pictures, but that isn't going to stop me. Through the arguments over outfits to the tantrums about not wanting to smile, I just keep telling myself they will thank me someday! While I may not have the execution of the photo down to a science where everyone shows up happy and smiling, I can help with the "what to wear" debacle. Below I've curated several family photo outfit mood boards with different color schemes and capturing different retailers as well.
Moodboards…
Family Photo Outfit Idea: Fall Hues and Classic Blues
One tip I always like to share is to mix prints and solids in similar color families to make a cohesive look. For the look below, I styled the family around the pretty plaid dress and selected pieces with the background colors for the other members of the family. I do find it easiest to start with one piece and work the rest of the family in from there. No judgement if you start with what you are wearing 😉
Shop the mood board….
Family Photo Outfit Idea: Put it in Neutral
Ivories, blues, khakis, and olives… these are always no brainer colors when it comes to family photo outfit planning. Also, have fun with shoes! Kids don't always love dress up shoes, so let them wear fun booties or sneakers so show more of their personality. Also, when wearing white, make sure it is something with texture so it doesn't get lost in the photo.
Shop the mood board:
Family Photo Outfit Idea: Print & Texture Mixing
Plaids and snake print and glitter, oh my! Different textures help make outfits in your photos pop, especially when everything is in the same color palette. The dress below may look plain, but the ruffle detail on the sleeves and effortlessly flowy satin fabric will look gorgeous in those wind-blown photos.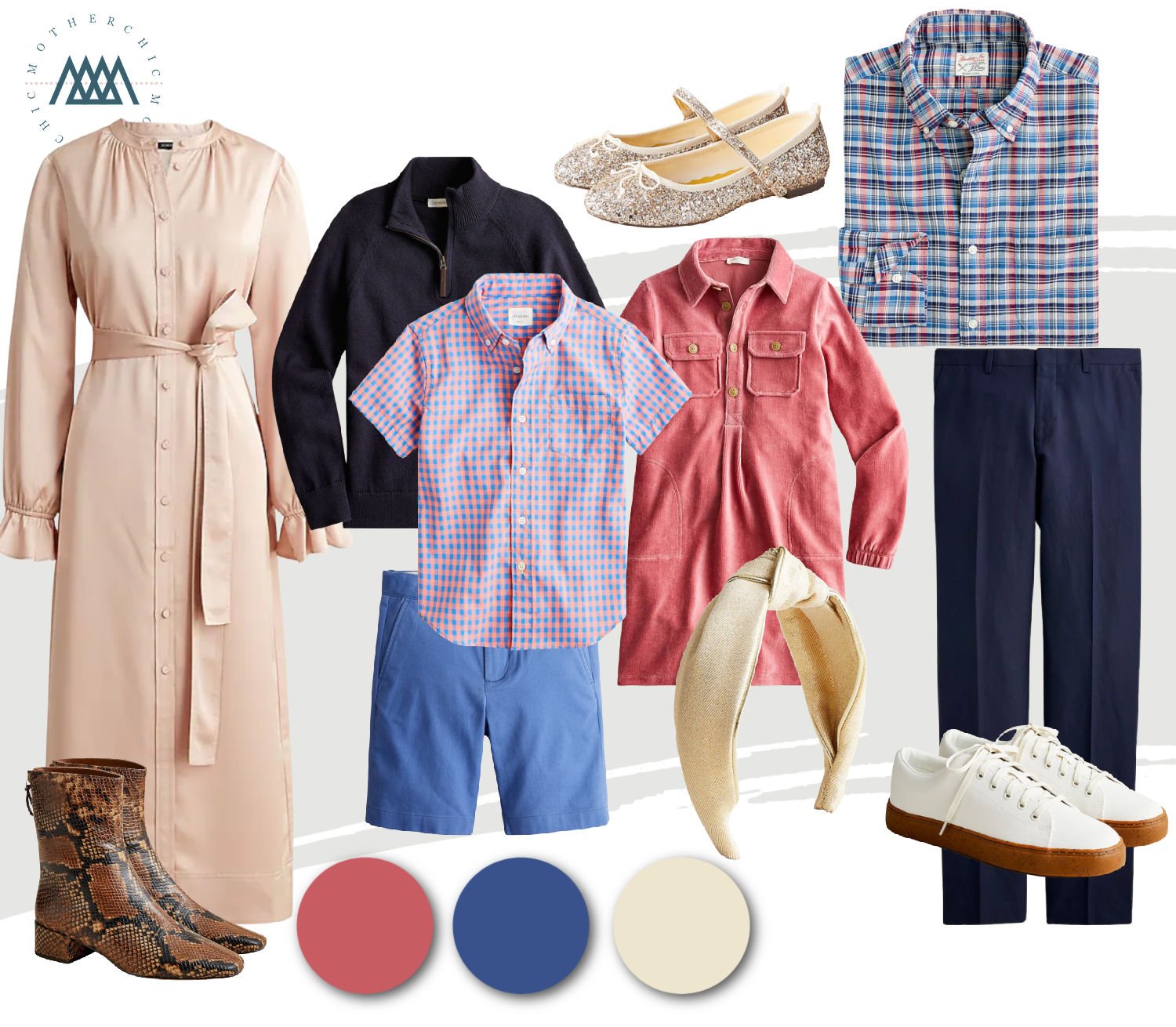 Shop the mood board…
Family Photo Outfit Idea: Cool, Casual & Fun
Is the family not up for dressing up for photos? No problem! Let everyone dress in what they are comfortable in while still looking put together.
Shop the mood board…
Family Photo Outfit Idea: Shades of Spice and Neutral Tones
This color combo screams fall. When deciding on what to wear for a family photo, keeping things simple doesn't have to be boring. Each look is classic and sharp! Shades of orange are toned down with soft neutrals and everyone's favorite denim.
Shop the mood board….
Family Photo Outfit Idea: Black & White With A Pop of Pink!
Black and white attire has always been considered formal attire. But the times have changed. Pairing black and white is not only classic and chic, it's sometimes unexpected when thinking about when planning family photo outfits. It is a great way to let the scenery and the people in the picture receive all of the attention. Try adding one color be it bright or pale to make a statement! We are loving what the hint of blush is doing here.
Shop the mood board……
Want more family photo outfit inspiration? Check out more posts here!