There is no place like home for the holidays, except for grandmom's home! Am I right? And whether or not you will get to her house this holiday season we still want to let her know how much she means to us. Finding the perfect gift for grandmom is a great way to show her your love. Even though we all know our grandmother will appreciate any gift just because it comes from us. I am willing to bet that she will say she already has everything she needs and she just wants to spend time with family. This year, let's give her that and then some. We put our thinking caps on and thought of our own mothers and grandmothers to come up with the ultimate gift guide to spoil her this year! Check out our Grandmother Gift Idea List of 2021!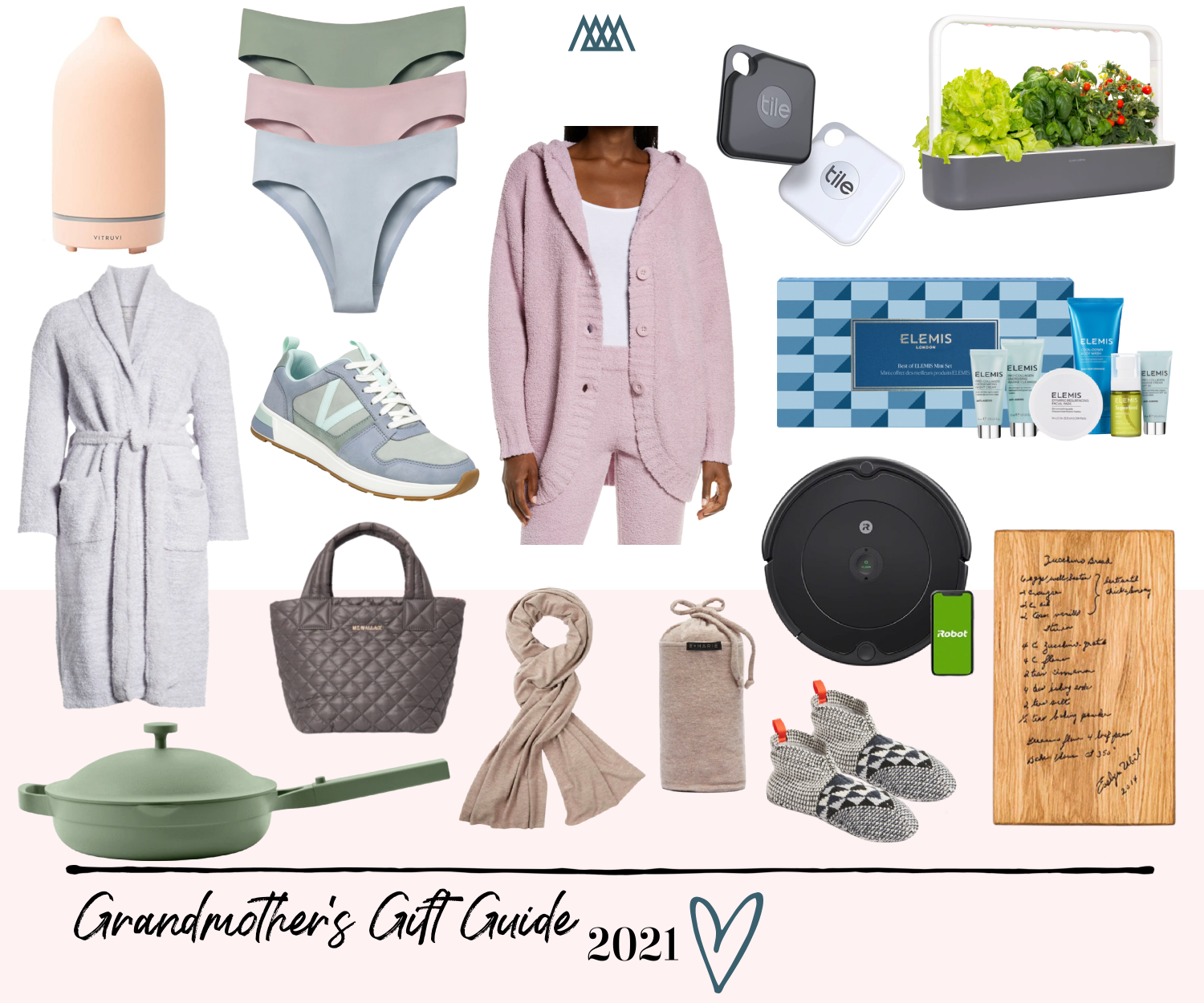 Vitruvi Stone Diffuser– This Stone Diffuser is not only a beautiful decor piece but it doubles as a safe candle alternative. Grandmom can choose her essential oils and can customize the scent to fit her routine and mood. It's like bringing the calmness of a spa right into her home!
Barefoot Dreams CozyChic Robe- Grandmom will feel like she is wearing a hug from you when she wears this cushy robe. It has the signature Barefoot Dreams softness that Grandmom won't want to take off. If your grandmom doesn't love robes, she can cozy up in Barefoot Dreams Throw Blanket to feel the love!
The Always Pan– There is nothing like a home cooked meal at grandmom's house. The Always Pan is the gift that will keep on giving everyone those amazing homemade meals only she can make! We all love the that it's non toxic, non stick and easy to clean. I can bet she will love that she can get rid of all of her old pans because the Always Pan is 8 pans in 1!
EBY Seamless Briefs – For those how aren't familiar, EBY, (pronounced "ebbie") stands for Empowered By You. The brand is dedicated to making body-glorifying seamless underwear while also empowering and enabling women. Their underwear is weightless, seamless and so pretty! They come in variety of colors and styles. EBY's high waist style provides their signature, seamless fit. Because nobody likes a panty line. Even grandmom!
Vionic Rechelle Lace Up Sneakers- For the sporty and fashion forward grandmom! Vionic sneakers are known for their orthotic comfort and support. Grandmom will feel like she is walking on cloud! For those who prefer a slip on more casual slip on their Zinah Slip-On sneaker has a sleek look with an elastic panel making for easy on and off!
Bombas Slipper Socks– Our favorite socks are now slipper socks. And while you grab a pair for grandmom you might want to get an extra pair for yourself! They have a cozy linking and gripper soles and come in two cute patterns. If her toes are extra chilly, these microwavable warming slippers make a great gift too!
MZ Wallace Mini Metri Tote– A classic bag for a classy lady! MZ Wallace and it's signature quilting is a stylish bag for any Grandmom! They are easy to clean, which you know grandmom will love and the styles are endless. If your grandmom doesn't like to carry too big of a bag this Micro Metro Crossbody is the perfect size for carrying her essentials! You know, pictures of you and the grandkids!
UGG Hooded Travel Cardigan – This cozy cardigan isn't just for travel, but it does make for the perfect layering piece! It's ultra soft knit and hood will make grandmom feel like she is wearing her favorite blanket but looking chic while at it! And speaking of favorite blankets, UGG's Whistler Throw Blanket is super plush and a best seller!
Travel Blanket – For the traveling grandmom, this versatile wrap makes a perfect counterpart to have on hand for any type of travel. It can easily convert from scarf to pillow, blanket or shawl. When she is ready to take a little nap on the plane or train this pure sleep mask will have her sound asleep in no time!
Tile Pro – Let's just start off by saying it's not just grandmom who loses her keys, but when she does the Tile Pro comes in handy to quickly find keys, her phone and any everyday items. Just add the tile to her much needed items. Get an extra one for you so you can quickly be alerted to anything she has lost and quickly become her favorite!
Click and Grow Smart Garden– For the grandmother with a green thumb (or even one without). The smart garden is the perfect gift for the grandmom who likes to or always wanted to grow her own fresh herbs or vegetables. It's self watering and has an LED light to provide the perfect amount of vital light. This smaller version is perfect for the grandmom who wants to slowly dip her toes into growing her own herbs and veggies!
Best of ELEMIS Mini Set – If your grandmother appreciates good skincare then this set makes the perfect gift! The limited edition collection includes six of ELEMIS' bestselling skincare essentials. She will enjoy ELEMIS Energizing Marine Cleanser and their Pro-Collagen Oxygenating Night Cream that will have her waking up to more hydrated, radiant and firmer-looking skin! You can use code Lindsey20 for a discount!!
IRobot Roomba – If there is one person who could use a break from vacuuming, it's grandmom! The Roomba works on those tough-to-reach spots to give grandmom a much need break. It runs quietly while picking up all the dust dirt and grime! The Roomba will save her so much time while keeping the house clean.
Personalized Recipe Cutting Board – Grandmom doesn't have to be a professional chef or baker to love this gift! Find a favorite recipe of hers and have it personalized on this cutting board. It will make for the perfect display in her kitchen and she will think of you every time she looks at it! Bonus!
More Grandmother Gift Ideas….
Clothing Gift Ideas…
Gifts for Home….
Shoe Gifts…
Personalized Gifts….
Beauty Gifts….
Consumable Gifts….
Other fun gift ideas….