I would have to say that grandfathers are one of the hardest people to shop for. If your dad is anything like my dad, he is a simple man who likes what he likes and doesn't like to many "things". Each year my dad comes out with his holiday list (it's actually pretty adorable) and asks for the same 5 things. Soft t-shirts, books, golf balls, and last year he threw us for a loop when asked for this Jack Black Turbo Body Spray. Wow, dad, really branching out! Although it's true, he would be happy with just seeing your face, I came up with some gift ideas that range from practical and useful to fun and playful. Here are our gift ideas for grandfathers this year….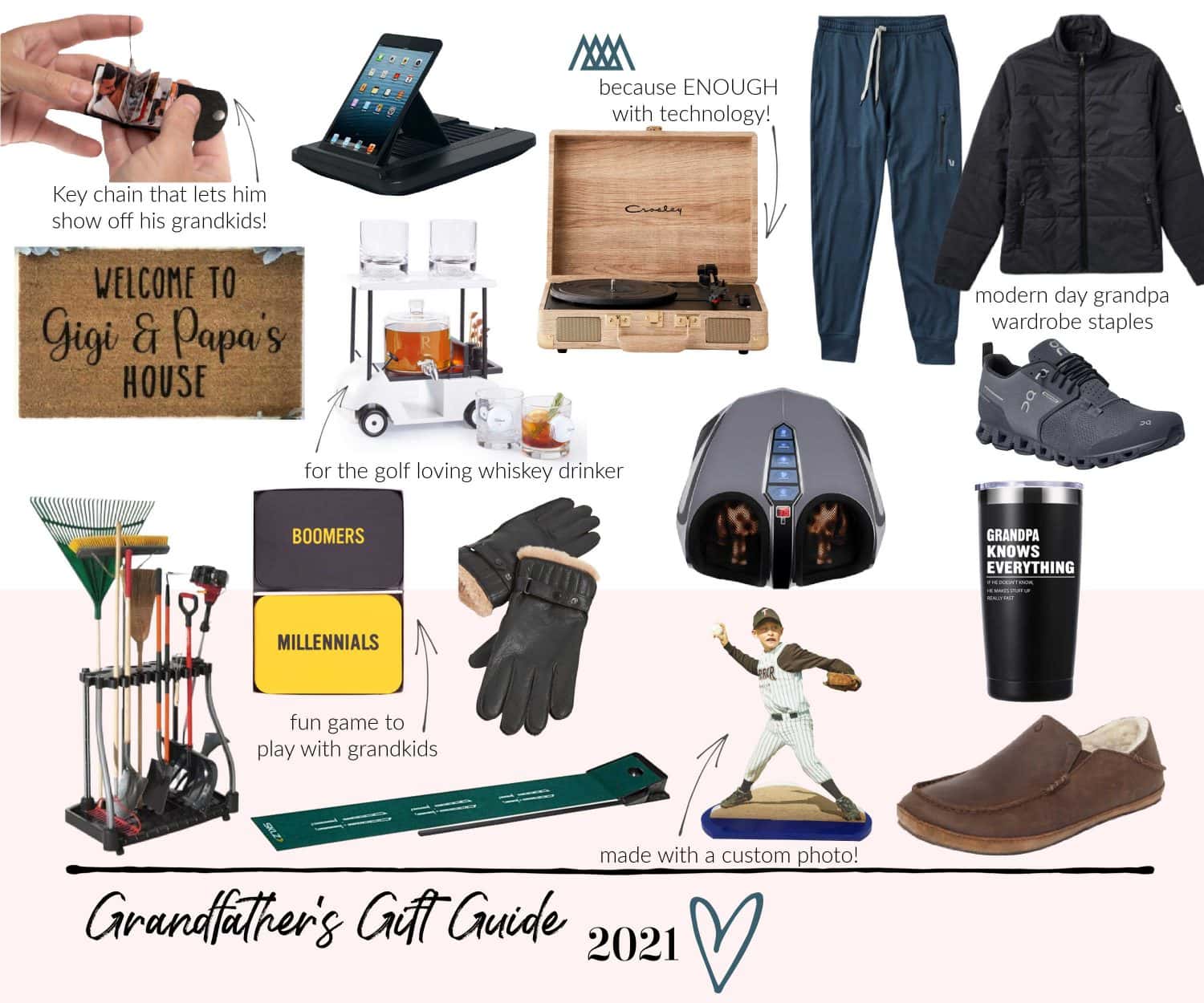 Mini Photo Key Chain // Personalized and oh so special! Fill it with pics of the family so he can show you all of at a moment's notice!
Custom Door Mat // Nothing beats seeing your grandparent name in writing! Make it official with a custom door mat to welcome guests.
Millennials versus Boomers Game // Fun game gift for a millenial to give to his grandfather – they can play together and bond!
Padded Laptop Stand // Because even grandpa likes to Netflix and chill…
Garage Tool Organizer // If grandpa is newly retired, he might want to dedicate Tuesdays to organizing. Send him to my house next!
Record Player // A great gift for the man who enjoys the simple things in life and is appreciates something a little "old school". Buy him a few of his favorite records and your gift is perfection.
Vuori Joggers // You know my thoughts on these. And yes, grandfathers look amazing in them too!
Golf Cart Decanter Set // Ok this gift is pretty specific, but I imagine it perfect for the whiskey loving golfer who has a vacation home in Florida and likes to entertain! Anyone? Anyone?
Grandpa Knows Everything Mug // Because it's so true!
Vuori Jacket // We all know men rarely shop for themselves. If he has been wearing the same jacket since he attended YOUR soccer games, he may need an upgrade.
On Cloud Sneakers // My dad has and loves these!
Foot Massager // Pairs perfectly with his favorite easy chair.
Slippers // These top rated slippers have a flexible bottom so you can wear them on or under your heel.
Custom Photo Sculpture // A fun personalized gift idea! Whether it's a baseball player or a ballerina, it's a gift that is sure to make him smile!
Putting Green // A little gadget to help him improve his golf game. Oh, and the ball automatically rolls back!
Leather Gloves // Staple grandpa gift – always goes over well!
More Gift Ideas for Grandfathers….
Clothing and Shoes….
Tech Gift Ideas…..
Things He Never Knew He Needed….
Books & Games….
Grooming Gifts….