One of my favorite pant silhouettes are joggers. There is something so cool, yet relaxed about the fit. You won't be surprised to know that I am loving the new faux leather jogger trend! Faux leather joggers are where comfort meets the chic/edgy/cool factor. This style can be worn casually for everyday street style or dressed up for an edgy look that is perfect for a night on the town. They are a great alternative to jeans and even your faux leather leggings. The jogger style gives you those laid back vibes while the faux leather gives you instant, effortless style. This is one trend not to miss out on this season! Check out a few ways I am styling faux leather joggers for everyday and those fun nights out…..
Here are some faux leather joggers I love……
Cardigan and Booties
A button-up cardigan isn't so buttoned up these days! The v-neck style lends for a less stuffy look. Style Tip: Try for a cropped or mid-hip button up cardigan. Keep the last button unbuttoned for an effortless look.
Cardigan |Faux Leather Joggers (mine sold out, similar here) | Booties (old, linking similar )
Chambray and Heels
A chambray button down is a wardrobe staple. It is a great way to pull denim into your look when not wearing jeans. Style Tip: Keep the look relaxed. If you want, add a half front tuck or keep it out. Pair with heels to dress up your style instantly. This look is so good for a fun night out with the girls!
Chambray Top (another option here) | Faux Leather Joggers (mine sold out, similar here) | Heels
Hooded Sweater and Fashion Sneakers
Looking for a chic outfit for the weekend? Don't be afraid to dress down your faux leather joggers. Style Tip: It can be a sweater hoodie or a regular hooded sweatshirt. Throw on your favorite fashion sneakers and a fashionable look comes together in a snap!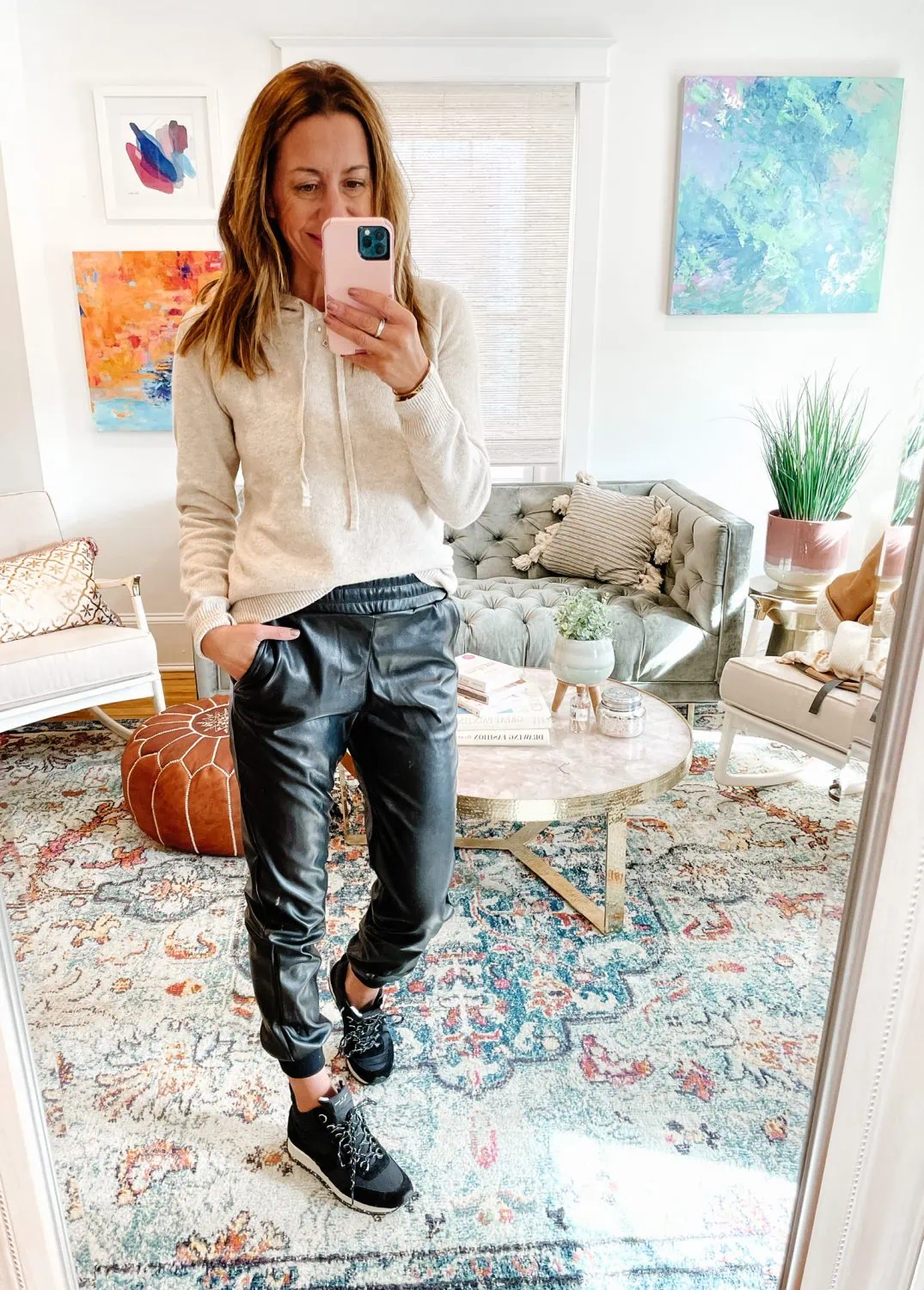 Hooded Sweater , another option here | Faux Leather Joggers (similar here) | Sneakers
Cami and Heels
Ok date night, I have my outfit and I am ready for you! Don't be surprised when you get best dressed when wearing this look. Style Tip: A drapey cami softens up the edginess of the faux leather joggers. Have fun and step into your favorite heels. Try leopard print, snakeskin or even a pop of color!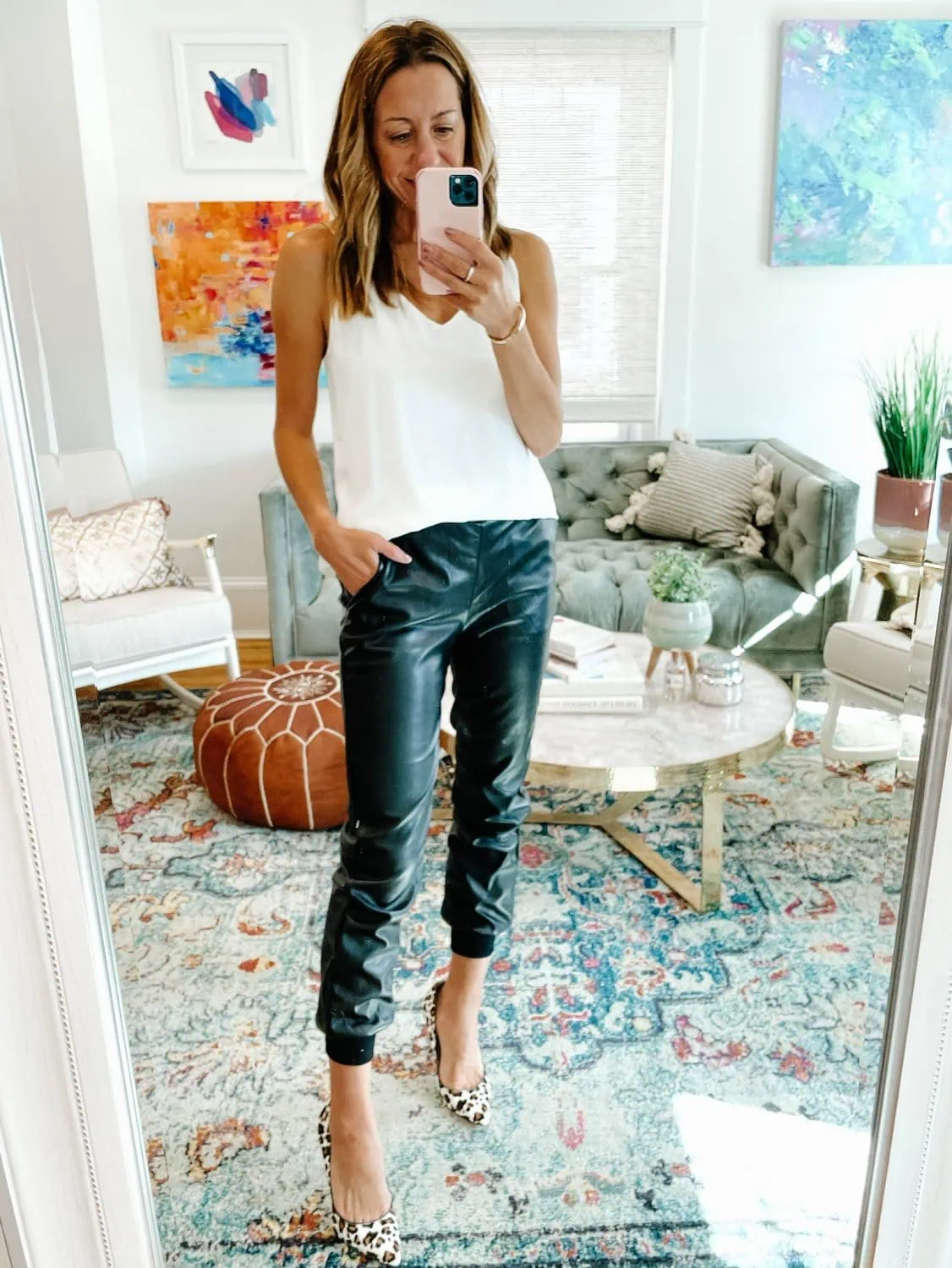 Cami | Joggers (similar here) | Heels
Cable Knit Sweater and Booties
Nothing is more classic than a cable knit sweater and cable knit is a huge trend this season. If you have one in your closet already or are looking to update, a cable knit is a great match with faux leather joggers. It's where classic and trendy come together! Style Tip: Give your cable knit a little front tuck, pull on your booties and take this look to lunch, dinner, and maybe even the office, depending upon your office dress code of course!
Cable Knit Sweater (another option here) | Faux Leather Joggers (mine sold out, similar here) | Booties (old, linking similar