Last week when I arrived in Chicago to photograph this collection, it took a half city block for me to ask, "Why did we choose Chicago, again?" What can I say? I don't like to be cold. Last night the photographer sent us the images and before I even got to the third photo I texted the group: "Ok NOW I know why we chose Chicago." Maybe it's the cityscape, maybe it's the gorgeously festive holiday collection…. it's probably a combination of the two, but these pieces were meant to shine. The entire Gibsonlook x GLAM collection embodies that "most wonderful time of year" feeling and includes pieces from all out glam to understated fabulousness. The best part about sharing an entire collection is that the pieces are meant to be worn in combination with each other. I highly recommend investing in more than one piece simply so you can create several outfits by wearing them together and with pieces you already own.
A few important things to note:
You can use code MOTHERCHIC15 on the entire collection
The collection generally runs true to size unless otherwise noted.
There will be no restocks, so if you love it, don't wait!
Shipping is free over $75.
I fully believe in buying the outfit and THEN making the plans.
When Gibsonlook asked me about design ideas for this collection without hesitation I knew I wanted to do a maxi dress. Is it just me or are most winter dresses short?! Again, this goes back to my issues with being cold, but I wanted to create a long dress, easy-to-wear dress that didn't need much else. On its own, it is truly enough. This dress has the most amazing movement, a little volume in the sleeves, a wrap style silhouette and is absolutely perfect for holiday parties, winter weddings, family photos, the list goes on.
Shop the dress HERE
Use code MOTHERCHIC15
Fit Tip: Size down if between. Both the XXS and the XS fit me, but I liked the way the XXS fit the chest area on me better. If you are smaller chested you could size down.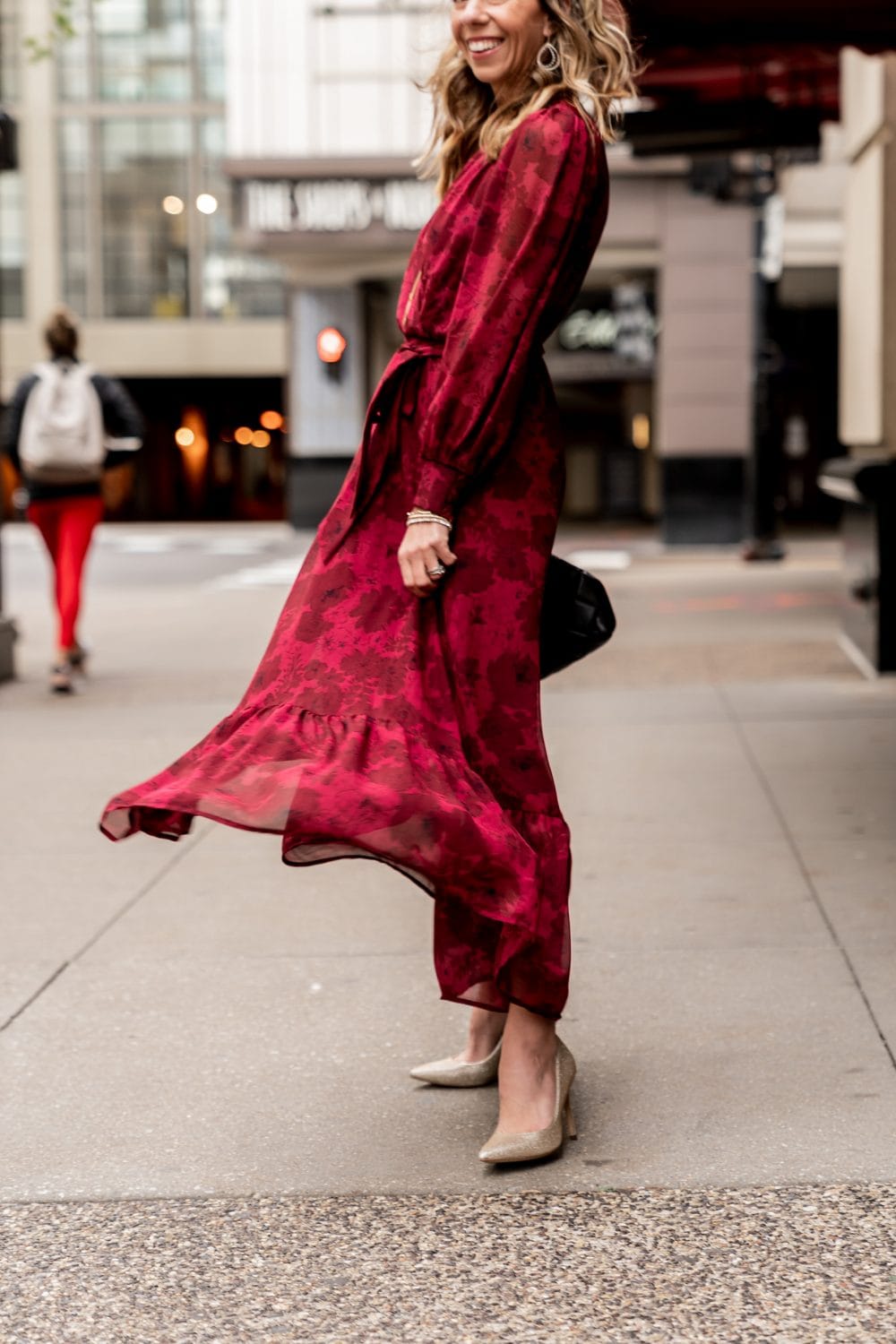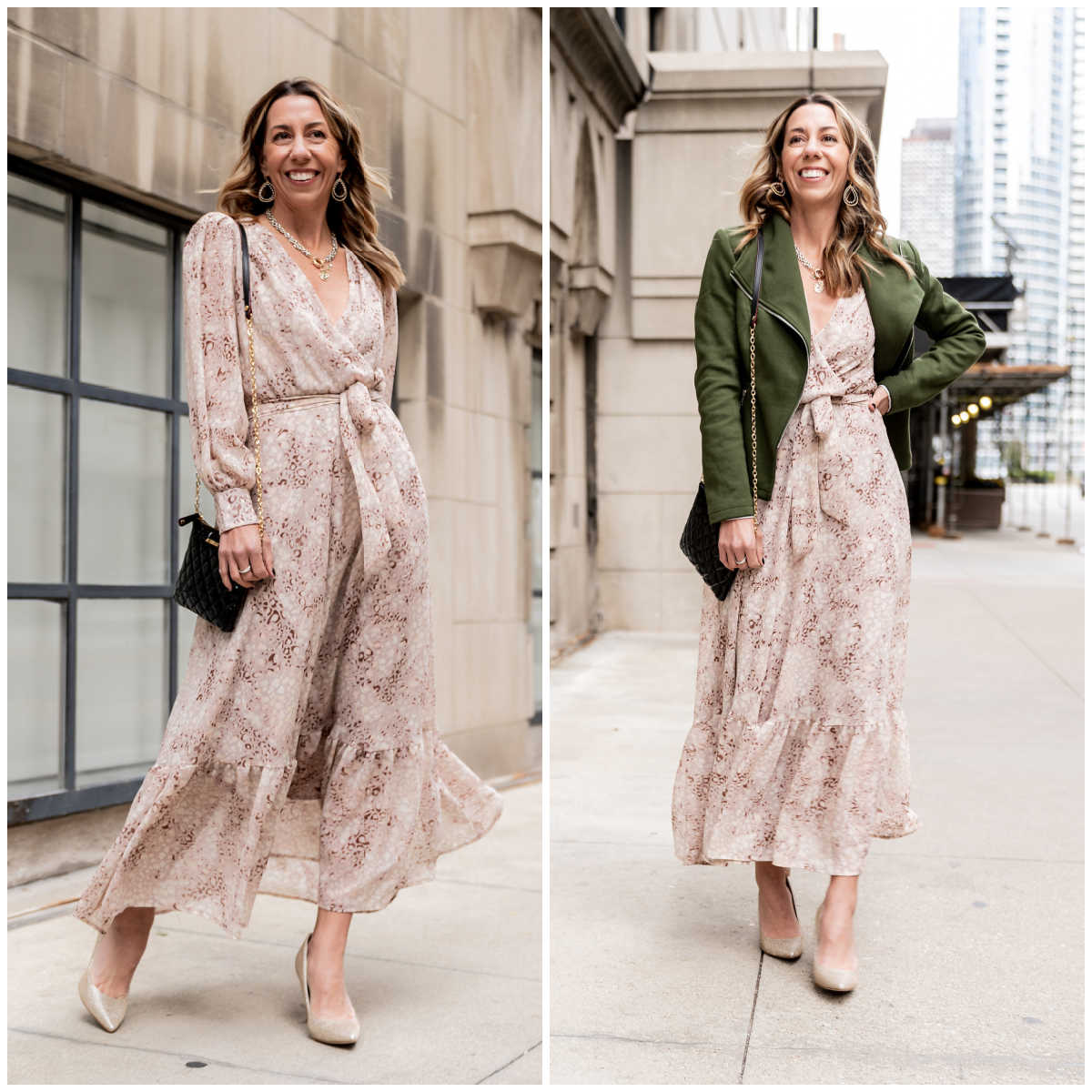 These next two Motherchic "Lindsey" pieces were designed as a set, but will also work with many other piece in the collection and with items you already own. I need to start with the trousers because they are just… honestly, I have no words. I am completely in love with how they turned out. They will make your legs look a mile long (best if worn with a small heel), and are the epitome of chic. No really, if you looked up "chic pants" in the dictionary, these would be there. If they are not it's only because Webster hasn't heard about them yet, but I digress. They truly look incredible on so many different body types.
The one shoulder top is ready for a party. Dress it up by wearing it as a set with the wide leg pants, or dress it down with your favorite jeans. It comes in three colors, the gold and rose have a touch of shimmer, and the black is a flat color (no shimmer). All of the fabrics on these pieces are VERY soft to the touch and feel amazing on.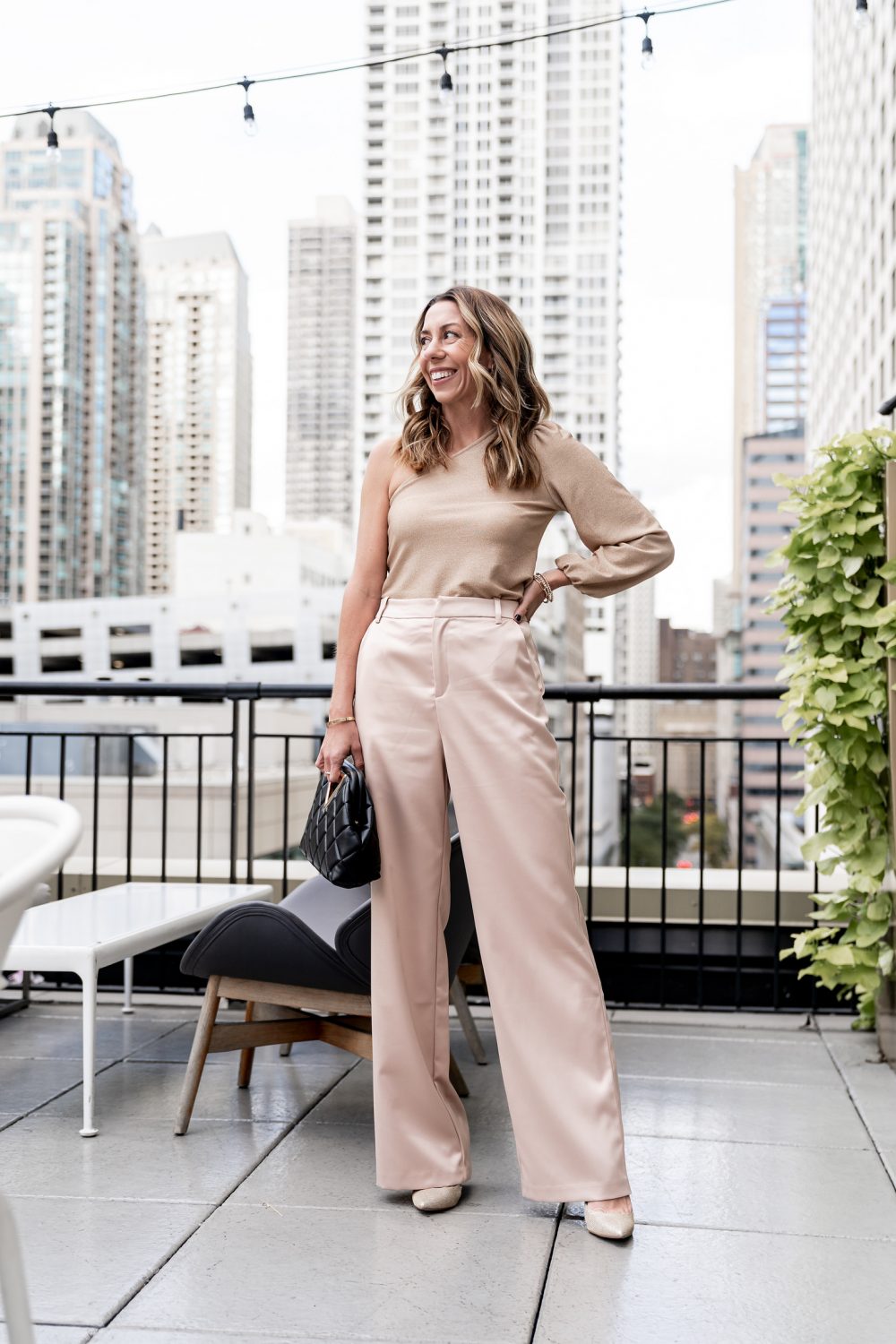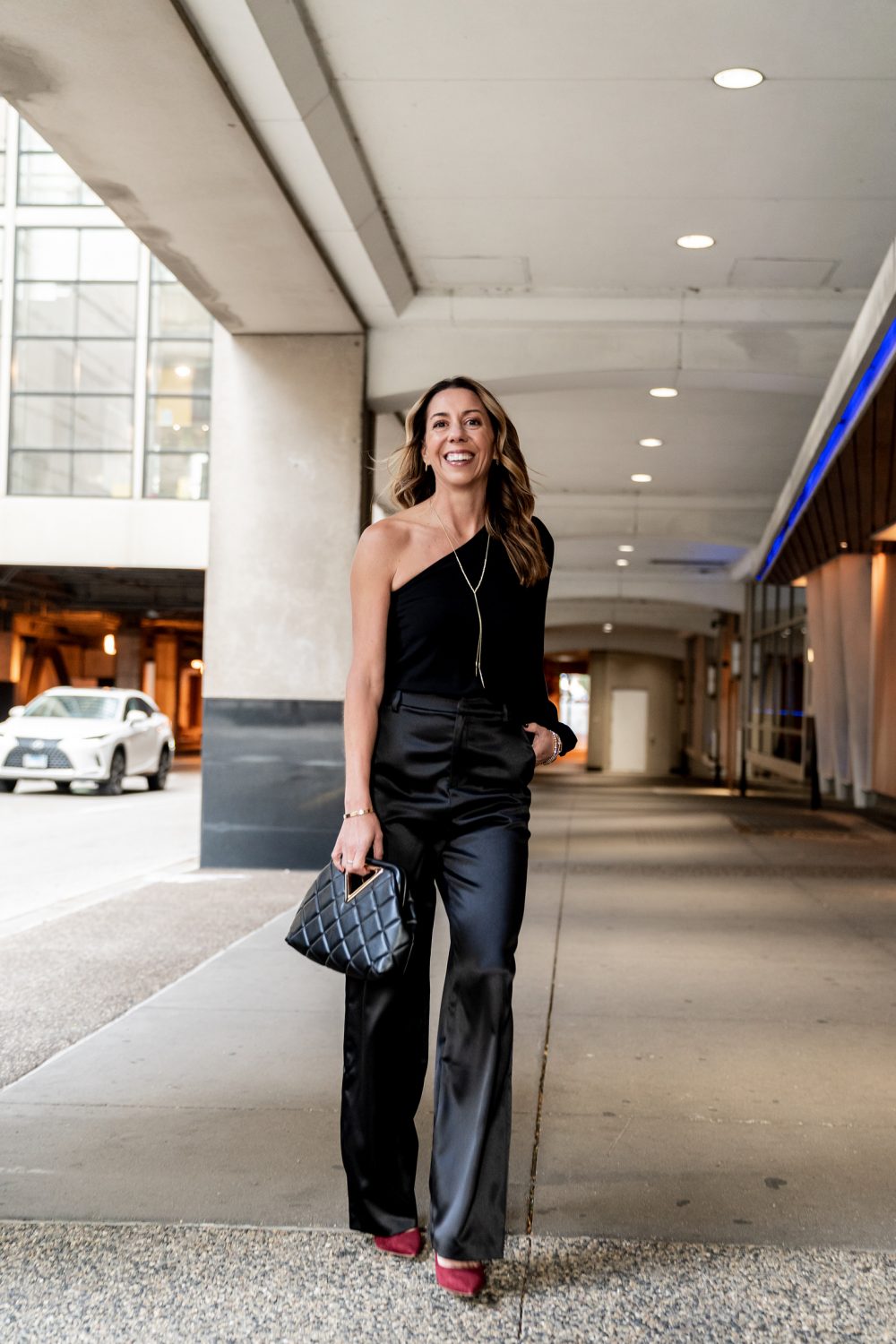 One Shoulder Top | Stovepipe Trousers
Stovepipe Trousers Styled with Other Pieces in the Collection:
Sweater |Stovepipe Trousers | Bag | Surplice Bodysuit
Satin Tank | Velvet Blazer |Stovepipe Trousers
More Gibsonlook Glam Pieces….
The most fun part about doing a group collection is being able to spend time with women who are part of it. We had the best time in Chicago together and I am excited to share some of their pieces with you below…..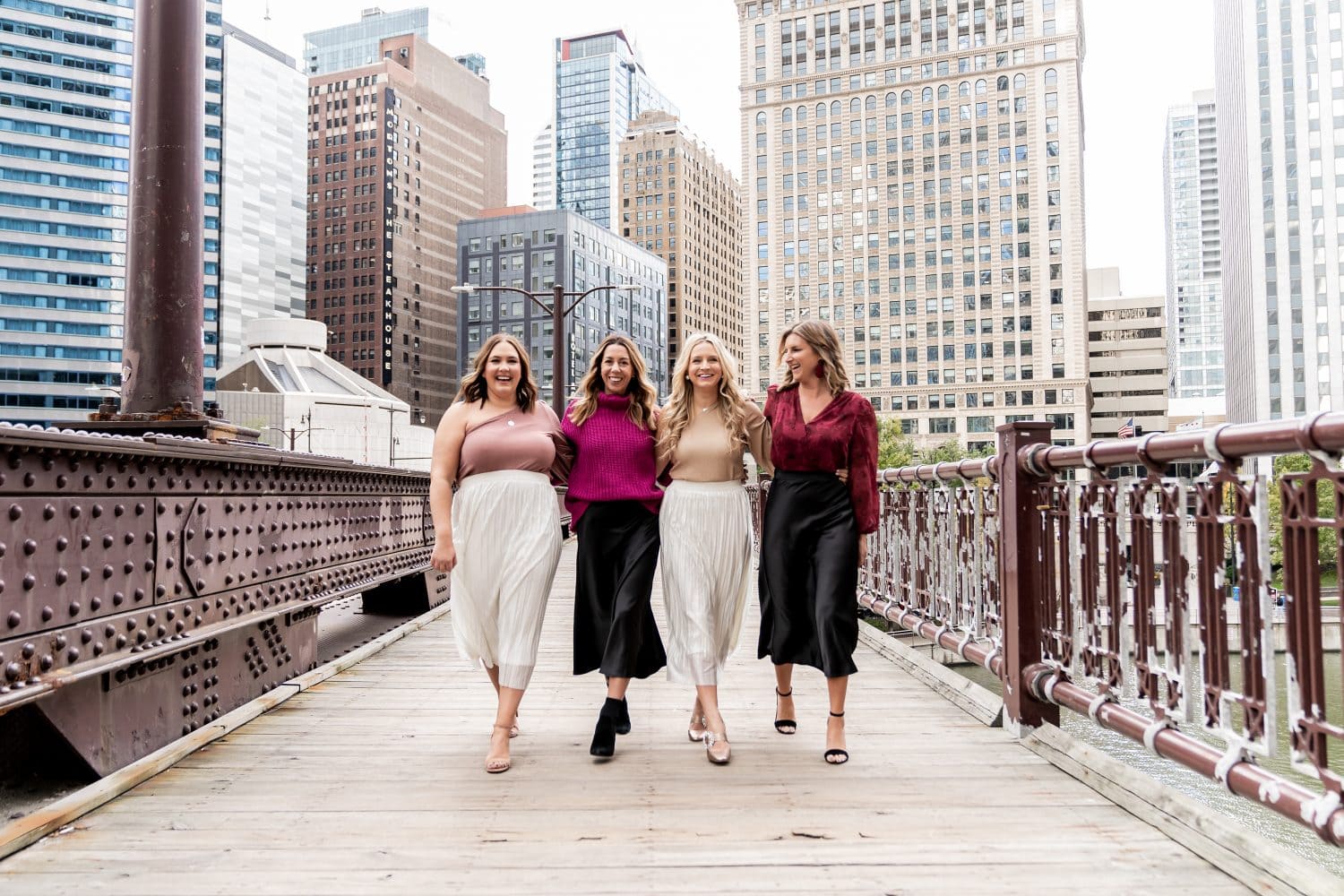 Tops (from left to right) One Shoulder Top | Sweater | One Shoulder Top | Surplice Bodysuit
Left to Right:
Sequin Top +Stovepipe Trousers | Drape Front Dress | Polka Dot Top + Pleated Skirt | One Shoulder Top +Stovepipe Trousers
Sweater |Stovepipe Trousers | Shoes
Also wearing: Pants | Booties | Bag
Cut Out Rib Knit Dress | Headband
Make sure you follow along on Instagram where I will do a full video try-on of all these pieces. I can't wait to see you all wearing them and making wonderful memories this holiday season…. looking absolutely GLAM!!