Thank you to ELEMIS and ShopStyle Collective for sponsoring this post.
I've been singing the praises of this luxury, European skincare line for years. If you have ever been tempted to purchase something from ELEMIS, but not quite ready to invest, now is the time. The ELEMIS Black Friday Sale is live and it's SO good. You can save 30% off your purchase with code CELEBRATE. And celebrate indeed – especially if you are looking for an amazing anti-aging line. I have tried many of their products over the years and while they are constantly innovating and bringing new products to the table, there are a few products I think everyone should try: The Dynamic Resurfacing Pads, the Pro-Collagen Cleansing Balm, and the Pro-Collagen Marine Cream. These three best sellers are tried and true and when they hit empty, I immediately buy them again.
Dynamic Resurfacing Pads // The Dynamic Resurfacing Pads are one of the most effective products out there for skin radiance, cell turnover, reduced dark spots, and even skin tone. These pads are non-drying and so gentle you can actually use them twice per day. The results are immediate, but with most things skincare related, consistency is key. Warning: they are addictive!!
Pro-Collagen Cleansing Balm // Using this cleansing balm is my favorite way to wash my face. Ihas the consistency of silky gel and when warmed between your fingers it literally melts on your skin. It removes make up and impurities while also hydrating the skin leaving it feeling crazy soft and glowy. The cleansing balm comes with a washcloth that you simply soak in some warm water, wring it out and wipe it away.
Pro-Collagen Marine Cream // The Pro-Collagen Marine Cream is what I wear on my face during the day. My skin immediately feels smoother and more "plumped". This product absorbs quickly and is a great base for makeup – non-greasy! If you are looking for something with SPF for daytime, you can find that option here.
** Save 30% off your purchase with code CELEBRATE. **
Below are some additional ELEMIS products that are definitely worth buying especially during the Black Friday Sale.
Dynamic Resurfacing Skin Smoothing Essence // This product gives your skin that "glass-like radiance". Apply it after cleansing and toning to help reduce pore size and and brighten the complexion..
Dynamic Resurfacing Peel & Reset // This double sided product is a more intense treatment that can be use a few times per week. Phase 1 helps to shed surface layers of this skin to promote cell turnover. This product targets age spots, large pores and dull skin. Some tingling may occur so be sure to patch test! The Phase 2 soothes the skin and hydrates it after the Phase 1 treatment.
Pro-Collagen Neck & Decolette Balm // Don't forget the neck! I have been vigilant about using this product as I get older. It is a vitamin rich balm that hydrates and nourished the more gentle skin on your neck and chest. It helps soften wrinkles and gives the skin a firmer look.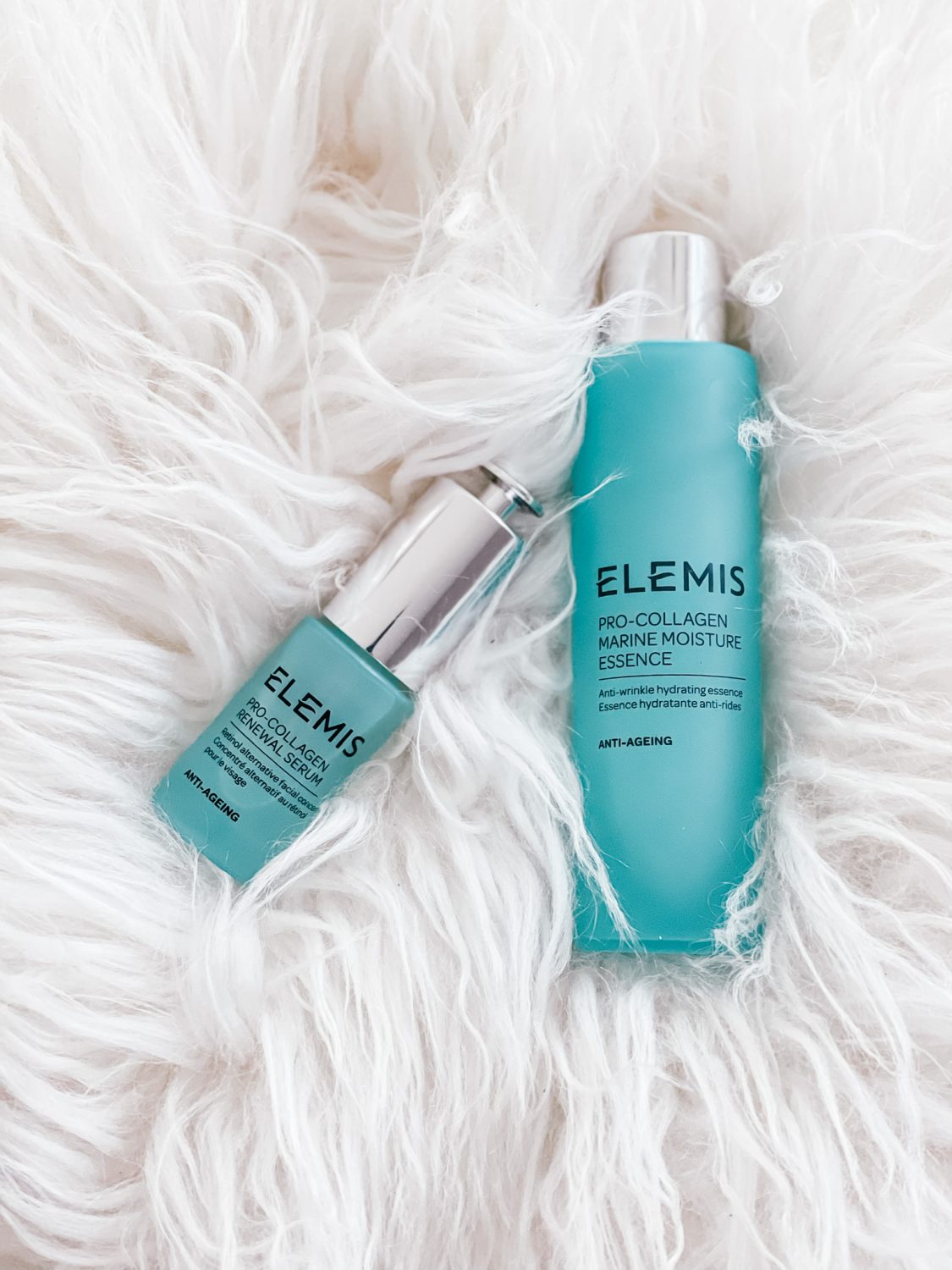 Elemis Pro-Collagen Renewal Serum // This serum helps to reduce fine lines, skin texture, reduce pore size and help even out skin pigment without drying/irritation effects of retinol. It also helps with the firmness of your skin and I can say that with consistent use my skin feels tighter.
Pro-Collagen Marine Moisture Essence // It instantly plumps the skin and is clinically proven to double the skin's moisture content. When your skin is amply hydrated, it reduces the look of fine lines and wrinkles and gives a dewy, youthful glow.