Thank you to Nordstrom and ShopStyle Collective for sponsoring this post.
You learn a lot sitting on the sidelines of a soccer game. You learn which parents are loud and which parents are quiet observers. You learn which parents are super prepared and have LOTS of snacks for attending siblings. You learn what people had for dinner last night and how early they woke up to get to the game. You learn how people take their coffee and how to find the closest Wawa. There are no limits to the conversations on the sidelines of games. While our eyes are typically focused on the kids at play, I sometimes can't help but to let my eyes wander in the name of fashion. You can also learn a lot about that. At our last soccer game of the season, two moms were wearing the cutest coats that quickly became a topic of conversation. Cotopaxi. I had never heard of it, but was immediately in love. With some quick research I found that it was a sustainable, B Corp Certified brand that also donates a portion of their revenue to non-profits working to improve the human condition. Okay. That's a brand I can get behind. Not to mention, the stripes, the colors, it's hard to wear and NOT feel happy. Also worth noting, the brand guarantees each product for 61 years which speaks to the quality of their pieces.
The entire look I am wearing is from sustainable brands that Nordstrom carries. You can check out their entire sustainable section here – I was so happy to learn that many of their in-house labels (Treasure & Bond, BP. and Zella are in that section as well!). Each brand in Nordstrom's sustainable category is made from sustainably sourced materials, is made in a factory that meets higher environmental standards, or gives back with to various organizations with purchase.
If you are looking for a gift for someone or just a fun, winter look for yourself, this is an outfit I feel really good about for more reasons than just cute-factor ;)……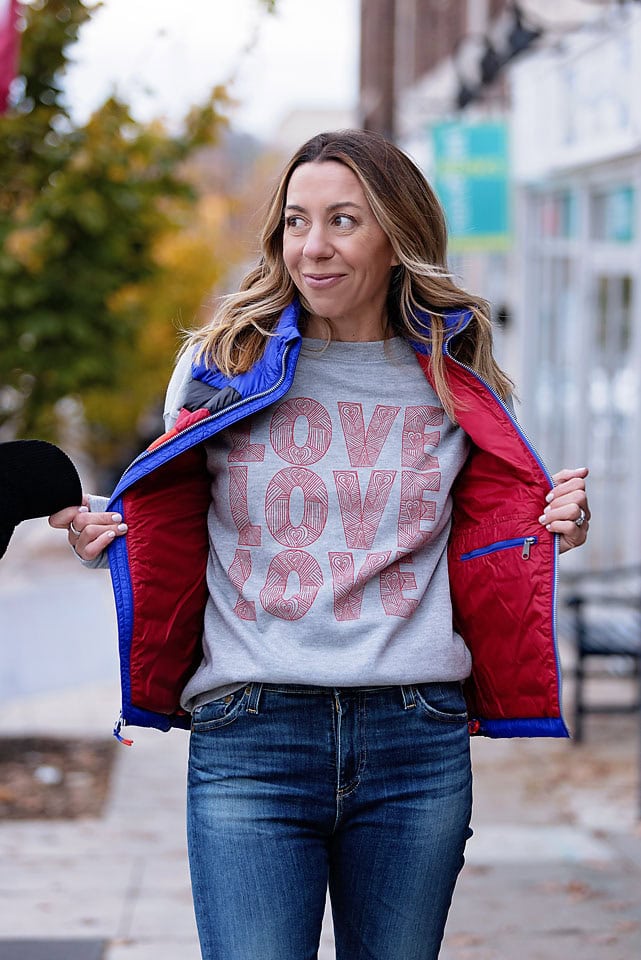 Wearing:
Cotopaxi Vest | Treasure & Bond LOVE Sweatshirt | AG Jeans | Veja Sneakers | Treasure & Bond Hat
More Cotopaxi Pieces I Love for Him and Her
More Sustainable Pieces from Nordstrom……