I always find it fascinating to dive into the Motherchic analytics at the end of each year and see which products were the most popular. A few trends to note: basics are always a great investment, accessories take your look up a notch, and if its soft, seamless, or sparkly it's usually going to go over well. One of the top, TOP items is completely sold out – but it gives me so much joy seeing so many of you wearing the Motherchic bag (and yes, we are doing another restock in the new year). Here are the top items from 2021 in the Motherchic Community….
Distressed Boyfriend Jeans + Dressy Cami
You know I love my jeans! And apparently you all do too! This pair was a Motherchic top item of 2021.
A dressy cami instantly elevates your look. It's also great for layering! And this one just happened to make The Motherchic's top items of the year!
Best White Tee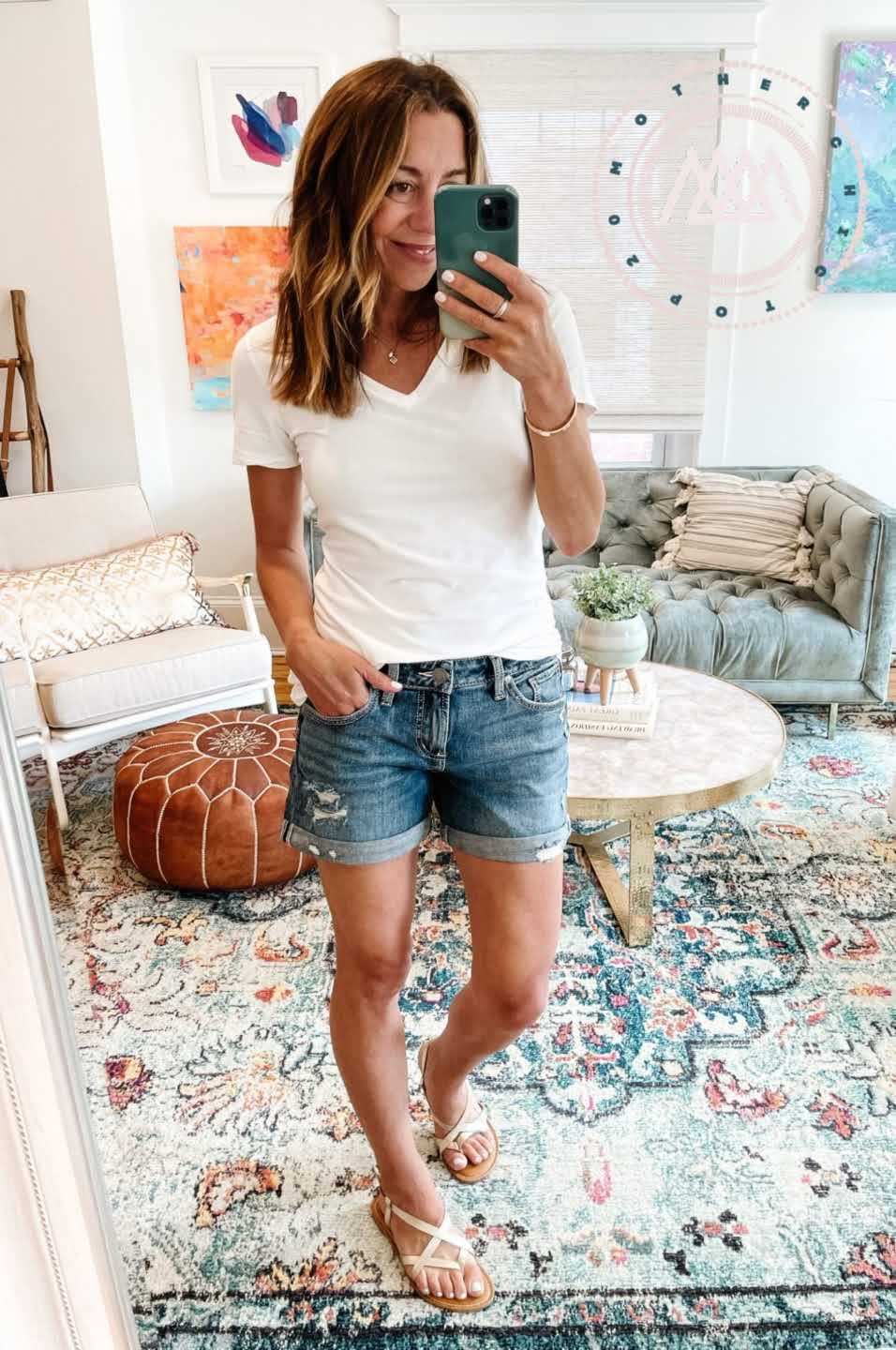 One question I get asked a ton….What is the best white, non see through tee? This is it! And it is also a Motherchic top item for 2021! Shop the 2 pack of tees here.
Blazer
This blazer is hands down of my favorite closet staples. It instantly elevates any outfit, is perfect for work (and zooms), it looks perfect over a cami for date night or a graphic tee for an everyday casual look. Also wearing, these jeans, this cami, these heels, and this bag.
Woven Belts
I would have never guessed that this belt (comes in a 4 pack) would land among not only the top 20, but in the top 5 favorite items this year! Check them out here.
Running Shorts
Wishing I was here…. in one of my favorite pairs of running shorts on a hot, hot day! These were a top 20 Motherchic item this year and helped motivate me to get out and run! Shop them here.
Vuori Joggers
Whether you are lounging, sipping champagne, running errands, momming so hard, or working out…. these joggers are worth every penny. Wearing them as I type this! Shop them here. Highly recommend the boyfriend style too!
Underwear Organizer
Who knew this would make the list this year? I will say, opening my underwear drawer really makes me feel like I have my life together. Shop it here.
Luuf Mattress
You can't put a price on a great night's sleep. The Motherchic Community continues to love this made in USA product that is delivered right to your door. My kids all sleep on Little Luufs (pictured) and my husband and I have the luxury firm king bed.
Special Discount through 12/31/21: use code MOC50 for 50% off all mattresses and accessories (the tencel sheets are incredible)
Legging Friendly Tunic
I know we all love to live in leggings, and this tunic is the perfect cozy piece to pair with. This one is so good you might want to grab 2 colors!
Check out the rest of our top 20 list below…
P.S. The Nordstrom Half Yearly sale is live! Full post with top picks right this way!