January seems to be the month of playing catch up while also trying to slow down from the rush of the holiday season. If you have been going through every nook and cranny in your house re-organizing, decluttering, donating, rinse, repeat, then this post is perfect for you. We have captured a winter capsule wardrobe that includes outfitting ideas around different occasions. The capsule includes basic items to keep, luxe item to invest in and seasonal trends to try. This capsule is all about layering items to create easy stylish looks in a snap.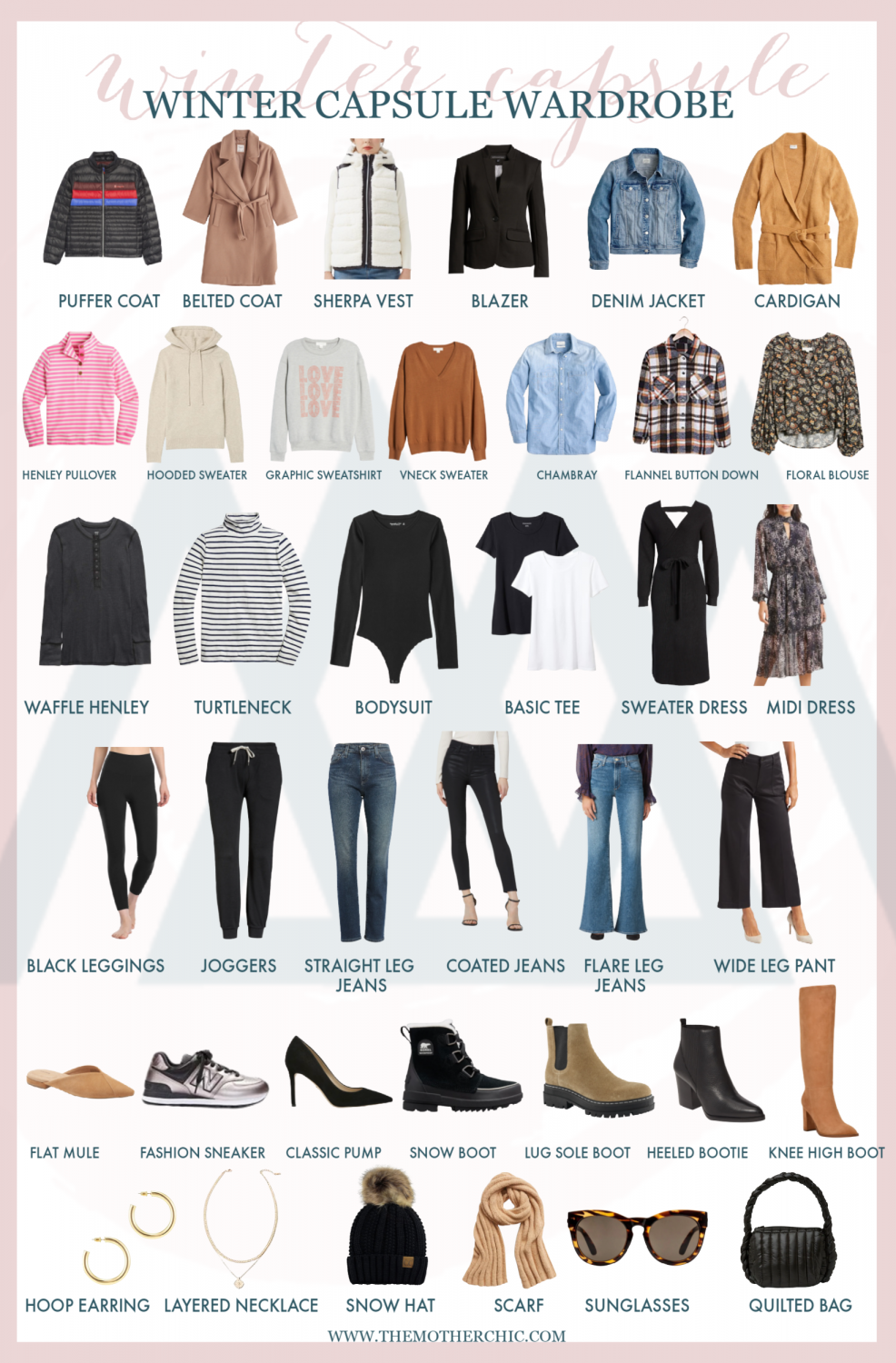 Click the image to shop the entire wardrobe capsule
---
OUTERWEAR + LAYERS
Puffer Coat// I am usually one for a simple winter coat, but with so many throw back styles this is one place to have a little fun! As the last layer of your outfit this is the place to make the statment.
Belted Coat// A dressier coat definitely an investment piece. I am partial to a belted style that creates a fit point and doesn't feel to overwhelming.
Sherpa Vest// This sherpa vest is such a fun layer. While it is versatile it also creates a totally different look for an outfit. This is definitely a trend to try this season.
Blazer// This soft knit blazer is a best seller for good reason. It has the comfort of sweatshirt and the tailoring of a chic blazer. This is a must have for anyone working in an office.
Denim Jacket// A denim jacket is a season-less staple. Once you find the one for you it will become a go to item in your closet. I like a slouchier fit so I can roll up the sleeves and layer over sweaters or dresses. I also love pairing a denim jacket with leggings or joggers for an easy casual look.
Cardigan// If you thought I had a lot of jeans, you should see how many cardigans I have. I love that this one is feels pulled together and not sloppy. To update your cardigan try pairing it with a wide leg pant or jean.
---
TOPS
Henley Pullover// Every year J.Crew factory comes up with a fun button up sweatshirt and this one takes the cake. Just because this is a capsule wardrobe doesn't mean it can't be fun!
Hooded Sweater// I love this combo of comfort, sporty yet chic. Dress this down with joggers or try a layered look with a open flannel.
Graphic Sweatshirt (similar HERE and HERE) // The graphic tee may take a break during the winter, but the sweatshirt is an easy replacement. Bonus point for this one being my go-to for Valentine's Day.
Vneck Sweater// Another staple item I would recommend is a basic vneck sweater. I like the v-neckline because it actually adds an elongated look. This particular one is a little longer in the length so it is easy to also pair with leggings.
Chambray// The chambray shirt is something I always go back to when I feel like I have nothing to wear. I love the denim on denim look for a timeless look.
Flannel Button Down// The flannel shirt has made a huge comeback. I recommend sizing up in your favorite flannel and style it more like a jacket! Pop it over a tee with jeans for an everyday look.
Floral Blouse// We had to add some print to this capsule and the blouse was perfect. The small floral seems more like a texture and really helps to elevate a basic look. It is workplace appropriate but also can be styled casually with denim.
---
TEES and DRESSES
Waffle Henley// This layer may not get that much attention hidden under sweaters, sweatshirts and coats, but it does the job! The material is slim and fitted, but perfect for keeping the warmth in.
Turtleneck// Something about a stripe turtleneck reminds me of my grandmother. Who was a CLASSIC! I love this layered under a vest or a denim jacket.
Bodysuit// As skinny jeans have transitioned to straight leg jeans a slimmer top is a must. Enter the bodysuit. If you haven't tried one now is the time.
Basic Tee// This one doesn't need much explanation other than it is my favorite basic tee. The perfect amount of thickness, not too slim and the perfect neckline. It's only a bonus that it comes in a two pack!
DRESSES
Sweater Dress// Sweater dresses sometimes have a drab feel to them, but this wrap style is the total opposite. It even has a cute cut out at the back – which can take it from the office straight to date night.
Midi Dress// If you have any event this winter this dress is pretty perfect. So easy to dress up with heels for a winter wedding or baby/bridal shower. It can even be dressed down with a simple denim jacket and booties.
---
BOTTOMS
Black Legging// One can never have too many pairs of black leggings. We love to workout in them, lounge in them and run around town in them. Why? Because they are so comfortable and so easy and fun to style!
Joggers// Vouri joggers are my favorite and I am not afraid to say it! They are not only soft and comfortable but the style is spot on making them look super chic no matter what you wear with them.
Straight Leg Jeans// If you are giving your skinny jeans a break but still love a slim style, this pair of straight leg jeans are for you! They have a polished look while still giving you those cool denim vibes. They are ideal for dressing up for a date night or everyday casual.
Coated Jeans// Your skinny jeans just got an upgrade. These coated jeans are meant to fitted to give you that painted on sleek look. But don't think of these as your weekend jeans, balance them out with a sophisticated blazer and a modest blouse for stylish and professional look for the workplace.
Flare Jeans// The 70's called and they are so happy that flare jeans are back in business! A high waist balances out a perfectly flared leg giving you that cool, vintage vibe! Add a slim fitted shirt to accentuate your waist or go for a boho look with a floral blouse.
Wide Leg Pant// Looking for that perfect pair of pants that can take you from work to weekend? This modern wide leg trouser will Instantly update your look. They have a super flattering fit and the cropped length allows for multiple shoe options!
SHOES
Flat Mule// A neutral colored mule is a staple piece that pair perfectly with many looks. The pointed toe is sharp and the cushioned sole offers comfort for everyday wear!
Fashion Sneaker// You know I love my fashion sneakers and this metallic pair from New Balance does not disappoint. Comfortable and oh so stylish, get ready for compliments and to wear them on repeat!
Classic Pump// What is more timeless than a pointed toe pump? A great pair of pumps can not only give you height but they also give you a sophisticated feel. A cushioned sole allows for comfort in the workplace while the sleek silhouette go great with all of your weekend styles!
Snow Boot// It's time to rethink your winter boots. Sorel has taken winter boots and given them some major style. And it doesn't have to be snowing to rock these boots. They are great for everyday wear this winter!
Lug Sole Boot// Lug sole boots are having a major moment. You get the classic chelsea boot style while the lug sole gives the boot some serious edge. Pair with slim and skinny jeans and even your favorite leggings for an effortlessly cool look.
Heeled Bootie// A bootie is not only a fall and winter staple, they are also great for the workplace. An ankle bootie is a stylish and effortless shoe to wear with denim, trousers and dresses.
Knee High Boot// Everyone's favorite knee high boots take on a western vibe. The block heel allows for comfort and and the pointed toe will have you stepping out in style!
---
ACCESSORIES
Hoop Earring// Hoop earrings are classic and always in style! And the New Year might have you needing a new and fresh pair! Hoop earrings are one accessory that looks great with any outfit!
Layered Necklace// Layered necklaces have been super popular the past few years. But the New Year has dainty and chunky styles coming together as one! Add a layered necklace to your outfit to instantly elevate!
Snow Hat// Baby it's cold outside and a snow hat is a must all winter long. It not only keeps you warm but it is also a cute piece to cure a bad hair day!
Scarf// Don't think of a scarf as an outerwear accessory, it can also double as an outfit accessory. A scarf is a great addition to a basic sweater or knits to give you look that extra something!
Sunglasses// Finding the perfect pair of sunnies isn't easy. A classic tortoise frame with a slight cat eye are the perfect pair to take you from work to the weekend! So chic!
Quilted Bag// Is it just me or does this bag go with everything!! It is fashion forward, street sleek and oh so chic! It is the perfect bag for work, everyday and all those fun weekend plans!
---
Fash-leisure Outfits
Everyday Casual Outfits
Workwear Outfits
Date Night Outfits