It's hard to ignore how much the state of the world has affected pretty much every aspect of our everyday lives including the way we dress. Most of 2020 was the year of loungewear. We embraced comfort while ditching anything with structure, style, or……buttons. If it didn't have an elastic waistband, it was likely buried in the back of the closet with other necessary items like heels (remember those?), going out tops, and work pants. Then came 2021 where we tried to make up for lost time. Slouchy denim replaced slouchy sweatpants (because, baby steps), sweaters with cutouts replaced oversized hoodies, and sneakers replaced slippers. Now it's 2022 and our outlook is still somewhat uncertain. Our closets are equally confused. Are we going out? Are we staying in? Are we going to school? Are we going to work? Are we going to dinner? Are we going to have parties? I have no clue. As a style blogger, I do know that fashion can play an important part in our everyday life when it comes to confidence, sense of self, and productivity. While we are all in different places with different comfort levels, the new year is always a good time to give yourself a once over and make some tweaks if needed. As you make changes in your life, how does that affect what you wear? Or how does what you wear affect your life. Before this gets any deeper, let me reveal a few style resolutions for 2022 that might resonate…
Turn Athleisure into Fash-leisure
Cropped Pullover | Leggings | Boots
Athleisure defines wearing activewear during your everyday life. Leggings are not just for working out and joggers are most definitely not for jogging. But why stop there? If you are a leggings all day everyday kind of girl, how can you make it more styled? Enter: Fash-leisure.
---
Embrace Accessories
This year we had a lot of accessories that made it to the top 20 items of 2021 – so it got me thinking about how accessories can really help to make an outfit. A fun statement earring, a pop shoe, a funky belt, these are all things that readers have asked for more of! They are usually one size fits most and an accessible way to update your look! Here are a few items that I am excited to try out in 2022..
---
Wear More Color
Cardigan | Tee | Jeans | Boots
Wearing bright colors might seem like an easy task to some. But if you are one who has a tendency to stick with neutrals when dressing this might be more of a fashion challenge. We all love that crisp white button down, that perfect LBD and gray, gray just goes with everything! But this New Year, why not embrace some bold and vibrant colors? Even pastels are a great break from your go to neutrals. This is the year to have fun with color! J.Crew Factory is always good for a pop of color and also Tuckernuck!
---
Try New Denim Silhouettes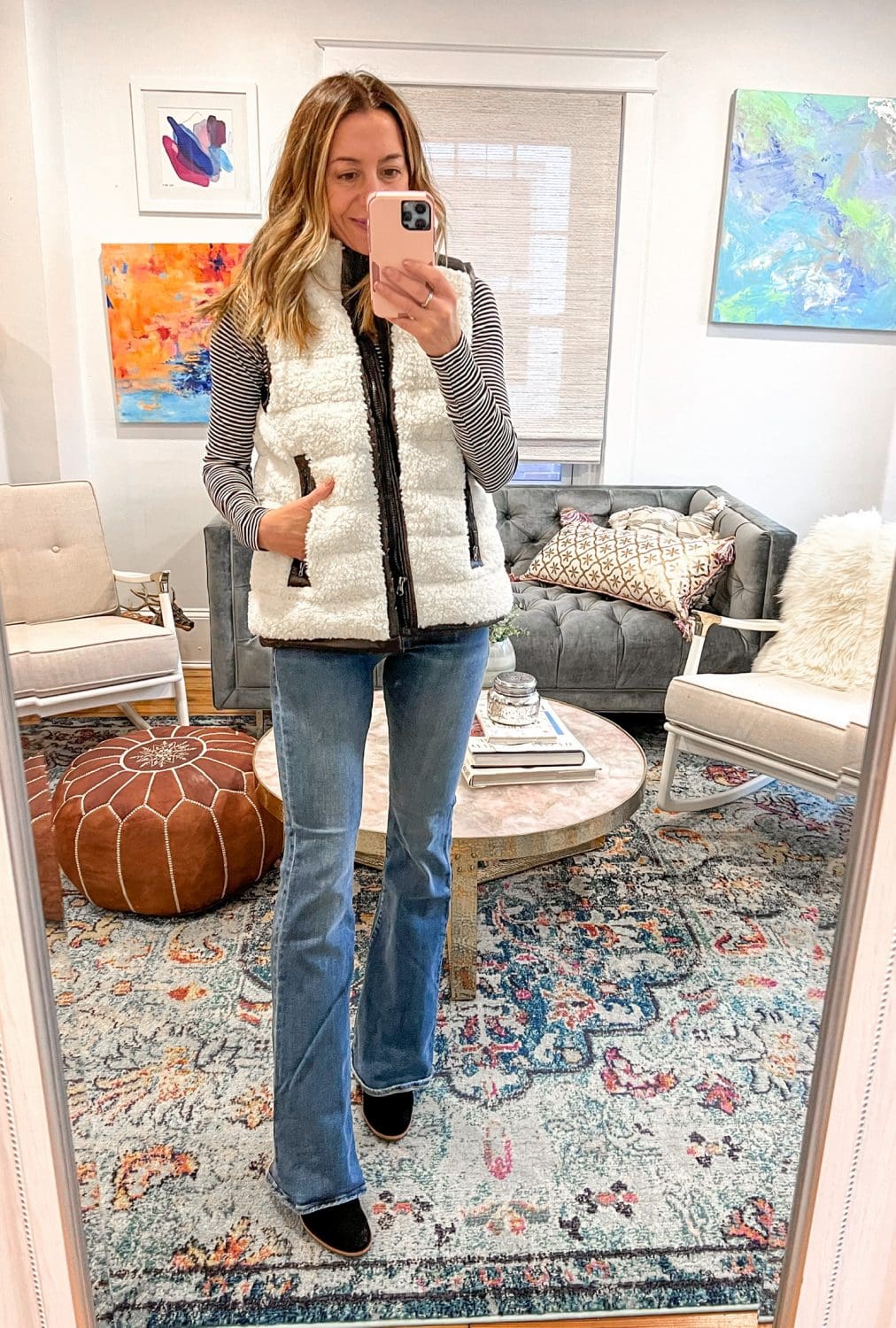 Flares (save version here) | Turtleneck | Vest | Booties
Let me just say something first – I will FOREVER wear skinny jeans. I'm just not trying to wear them every single day. And it's not because somebody told me not to, it's because it's fun to try new things. Here are some flattering styles to add to your denim collection….
---
Seek out Sustainable
Sidestroke Bikini Top | Mesh Bikini Bottom
Sustainable styles and brands are more fashionable than ever. With so many companies seeking out better and cleaner resources it makes sustainable styles much easier to find. And so many categories are included like swimwear, activewear, outerwear and accessories. A few newer brands that I am keeping my eye on are Boden, Amour Vert, and Sézane. But there are also a few of my favorites that I already shop: Everlane, Summersalt, Alternative and Girlfriend Collective. Checkout a few more favorites below…
---
Invest in Classics
Whenever I invest in a purchase I always ask myself, "In 20 years is this still going to look good?" If the answer is yes, then it is probably a classic item – a trench coat, structured bag, or fine jewelry. But there are still a few items that may be more trend driven that I choose to invest in – a great pair of denim or a fun fashion sneaker I know I will get a lot of wear out of. I am sure if I was still in the workplace I would be investing in a great pair of heels or tote bag over sneakers and jeans. But knowing what is going to get the most wear is where I choose to invest the most in. Here are some classic pieces to check out…