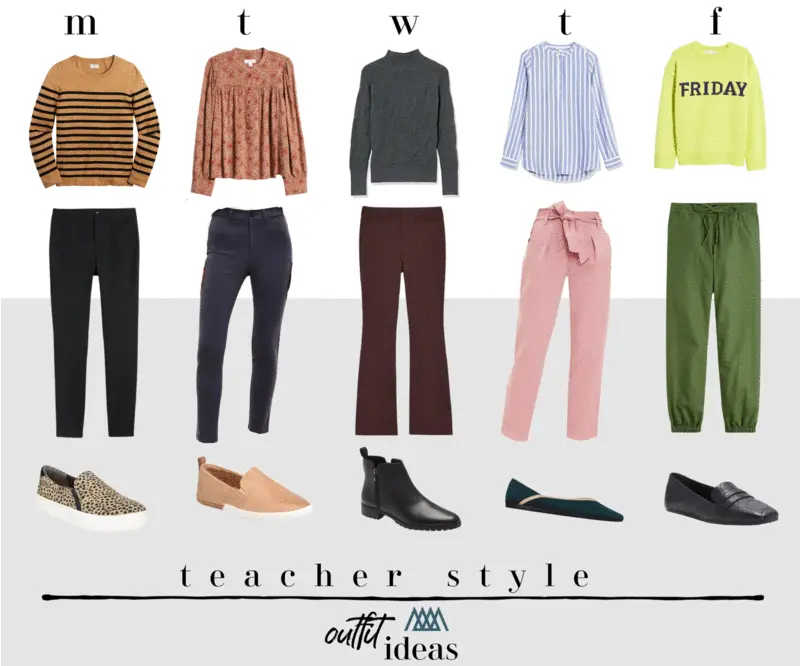 Today we are exploring a new kind of capsule wardrobe – this one is geared towards a more casual work place setting: Teachers! This capsule can be manipulated for any office or workplace that isn't super formal, but also doesn't allow denim. As a former teacher I know the importance of a great pair of pants. Comfortable enough for all day wear but also a great fit for sitting criss cross applesauce during story time. And then comes the shoes – with hours and hours of standing all day these shoes have to be comfortable. I know the power of a good shoe insert can really help for extra arch support. And to top it off – Tops are meant to be fun and show a little personality. Let's explore how these items can be mixed and matched below. We also put together our top picks for coats under $200 because we know the car line and recess duty can get cold!!
---
Tops
Tops are were you can really express your fashion personality – preppy, feminine, casual, or quirky! Have fun with texture, prints or graphics.
Shop More Top Ideas Below
---
Bottoms
My advice for any teacher is find the best pair of pants for your shape and then buy them in every color! I've highlighted a few different silhouettes below that work with a variety of tops. From joggers to skinnies to bootcut styles there is a bottom style for everyone. There are so many new jogger styles on the market and a lot of them have a more streamlined feel which make them more appropriate for the workplace. I would definitely try to pair these with a dressier top or shoe to pull the whole look together.
Shop More Bottom Ideas Below
---
Shoes
As mentioned above – comfort is key! So I asked my readers (teacher's specifically) which shoes are the best! And maybe not surprisingly Sketchers were among the top recommended. I love that slip on sneakers have also become more fashionable and seem to be a good replacement to a basic flat. A bootie with a small heel also provides much needed support throughout the day.
Shop More Shoe Ideas Below
---
Layers
Car line and recess duty call for some heavy duty coats! Here are our favorites under $200.