Have you ever experienced a situation where you what you see on a website isn't exactly the same as what you actually receive? Interestingly enough there is a whole process for shooting items for a website. Before I bore you with all the details – let's skip to the good part. Amazon sells…. everything. Some of my favorite purchases have been from Amazon and some of my least favorite as well. Through my own trial and error, I've narrowed down the hundreds and thousands of brands offered on Amazon to a few of my favorites. Hopefully this will help to navigate the funky color names and shady, photoshopped images that we run into from time to time. I've put together my favorite Amazon brands – starting with their very own in house brands! Check out some head to toe looks below…
Everyday Casual
As a mom of four rowdy boys I am constantly on the go from the moment I drop them at the bus. My everyday outfit usually consists of some go to basics with a little twist. I put this look together from some of my favorite Amazon brands plus a few other well known brands that are also offered on Amazon. Daily Ritual is perfect for basic tops, sweaters and dresses. Daily Ritual is a go-to for me because of their soft fabrics that are easy to wash. Goodthreads is another Amazon in-house brand that has a more casual feel. Goodthreads is more centered around denim, structured tops and dresses.
I paired my Daily Ritual Tunic and Goodthreads Cardigan with my tried and true CC fleece lined hat. I may have 3 or 4 colors in this hat now! I also love that Amazon carries one of my favorite bag brands: Thinkrolyn. These eye catching bags are perfect to fit my everyday necessities.
These CRZ Yoga faux leather leggings are perfect for running around all day. Finish the look with a comfy pair of kicks in another favorite brand: New Balance.
More brands for everyday staples:
Daily Ritual….
From outerwear, to updated basics in fun prints, to one and done rompers, everything I've purchased from Daily Ritual over the years has been amazing quality and budget friendly.
Shop these Daily Ritual pieces below:
---
Amazon Essentials…
For basic items I love Amazon Essentials (including my favorite white tee below!). They have everything from outerwear to maternity to kids!
Items Linked from Amazon Essentials Below (left to right)
Orange Puff Sleeve Sweater | Maroon Cable Knit Sweater | Fuzzy Vest | Stripe V-neck Sweater | Cardigan | Patterned Jacket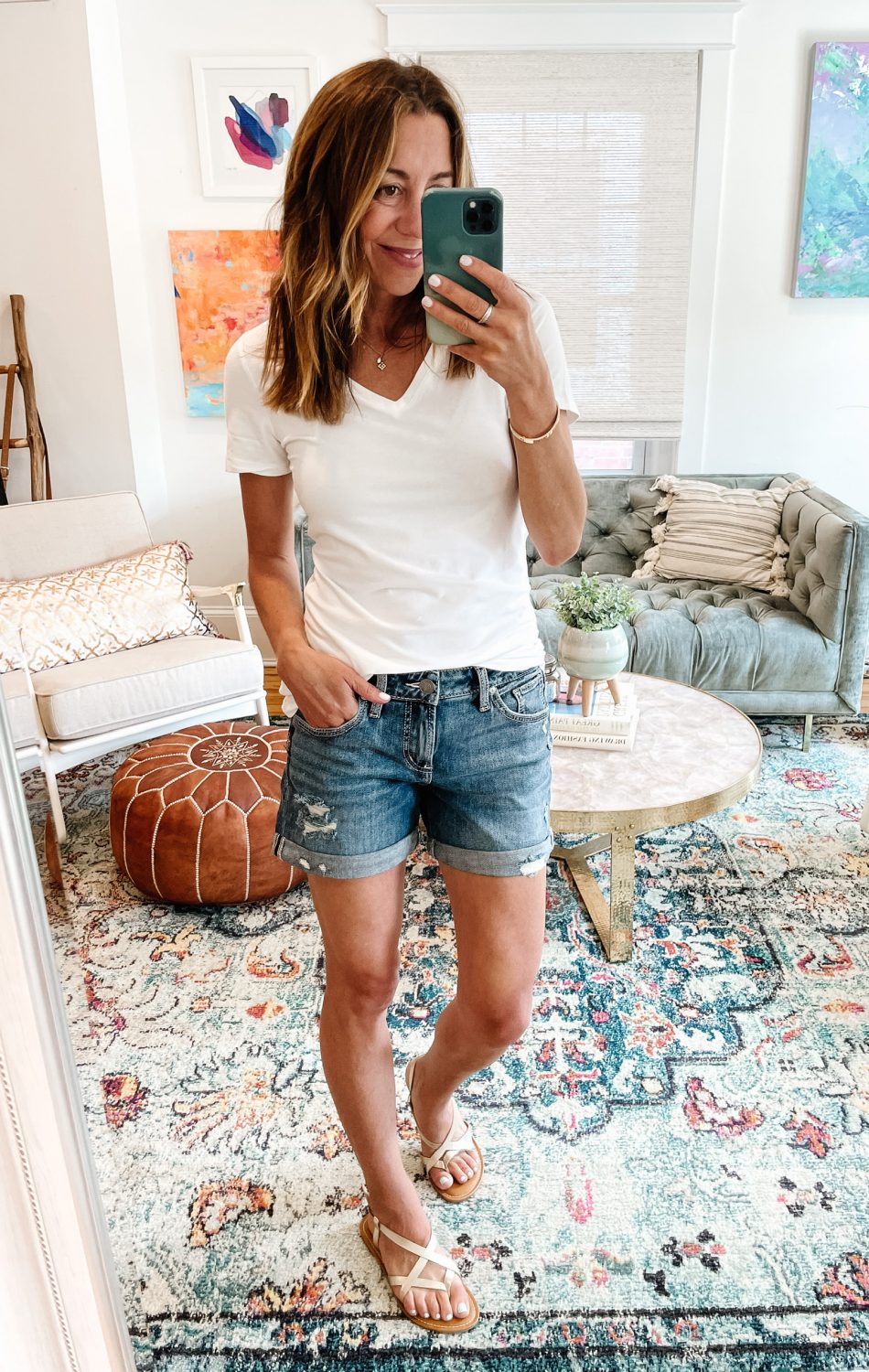 Amazon Essentials Tee | Shorts
Shop more favorites from Amazon Essential below
Dress it Up:
Is it spring yet? I am ready to de-layer and break out the dresses! This Kirundo Dress is the perfect transitional piece and it comes in a lot of colors! Kirundo has all the dresses, top and jumpsuits you need to keep you feeling fashionable. Time and time again I reach for this Lola Mae bag to take me from day to night! Lola Mae has an on trend assortment of small crossbody bags at the most reasonable prices. They have also started to carry the cutest removable straps.
More brands I love for dresses on Amazon….
Goodthreads
Goodthreads has always given me major Madewell vibes. It's a touch of prep, a little vintage, and effortlessly cool. Most of their pieces have fun patterns and eye catching silhouettes. This another in-house brand with top notch quality. While I love their dresses, they are also known for their denim – have and love this pair!
Shop these Goodthreads looks below:
---
Zesica, R.Vivimos, Milumia
Ok these are three brands I gravitate towards when I need a fun vacation dress. The quality is not as good as the other brands featured, but they are they types of pieces that look way more expensive than they are in reality. When people ask you where you got it, they will be stunned when you said "I got it for $30 on Amazon…."
Left Dress | Middle Left Dress | Middle Right | Right Dress
Fashion Finds:
As mentioned previously I love Kirundo for Fashion Finds – but I also included a few other favorite go to brands below.
The Drop….
The Drop is the perfect place to find a balance of fashionable basics and trend driven items. I love perusing their staples as well as their recently dropped new line!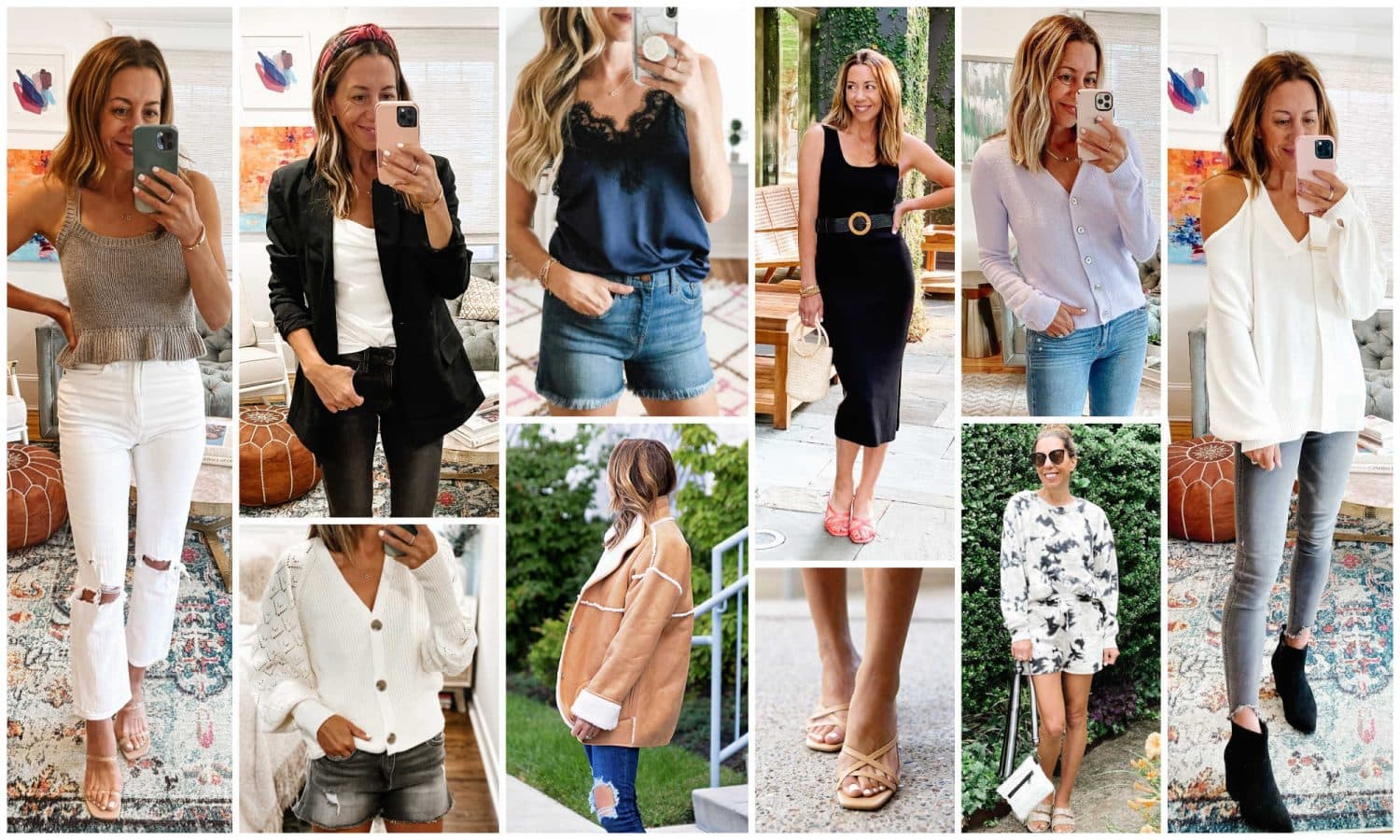 Shop these Drop pieces below…
BTFBM…
BTFBM is another label that has affordable pieces and decent quality. I would say The Drop has superior quality, but I've been happy with the pieces pictured below.
White Quilted Top | Black Dotted Dress | Pink V-neck Top
Shop more Fashion Finds below
Activewear
There are a few brands (six to be exact) when I think about awesome activewear on Amazon. Baleaf, Colorfulkoala (seriously the best legging ever), Core10, Blooming Jelly and CRZ Yoga. They are all brands I've been wearing for years and I know many readers have come to love as well.
Shop these pieces below:
Shop more Activewear finds below
Outerwear
Ok outwear from Amazon definitely deserves it's own post and luckily I have just that. Read this post for all of my top brands for coats, jackets, shackets and more…
Swim
Swimsuit shopping can be daunting, so let me do the hard work for you! Here is another full post with all my favorite (and budget-friendly) swimsuits from Amazon.