Thank you to Zappos and ShopStyle Collective for sponsoring this post.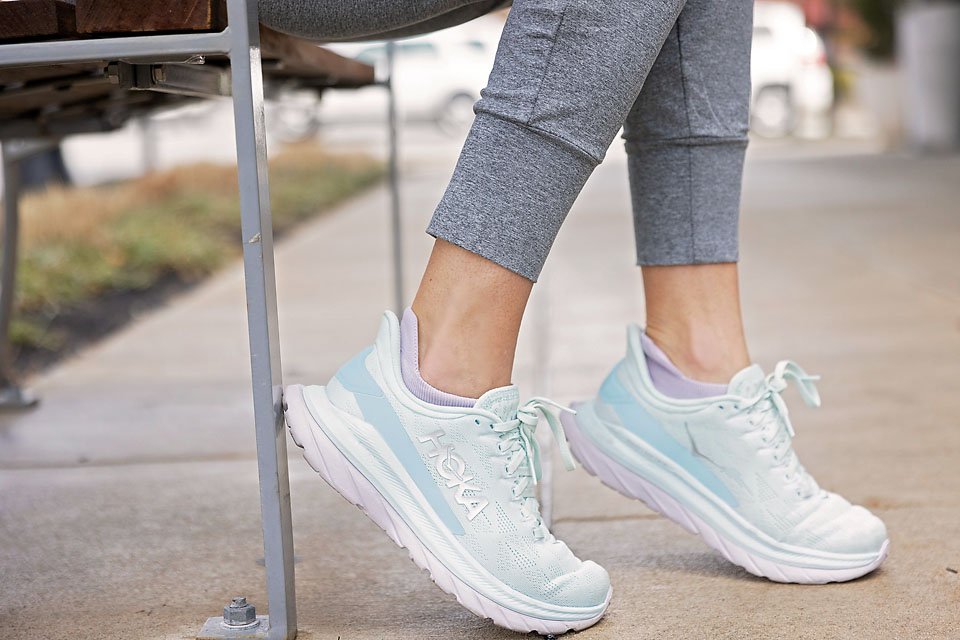 To be completely transparent, I resisted the Hoka craze for a longtime. They seemed like a whole LOT of sneaker and I wasn't sure I could commit. Then it got to the point that everywhere I went I was seeing Hokas. It was as if they were taunting me…. "You know you are intrigued, lady. Come on over and check us out." And I'm not going to fully admit that this next part of the story sealed the deal, but it didn't hurt either. A few weeks ago I was at work and taking our puppy out for a walk. A group of college students live next to my office and they were coming down the walkway from their house toward the sidewalk in front me. They stopped to gush over the dog and as I looked down to make sure he wasn't nipping their ankles what did I see?
Hokas, Hokas, Hokas, Hokas.
All of them.
I almost tripped over the leash. They sauntered off to their car, because that's what Hokas will do for you and I stood their putting the pieces together. I know 75 year old men who wear Hokas. I know 44 year old women who wear Hokas. And now I know not one, but four 20 year old college girls who wear them too.
You win. Take my money.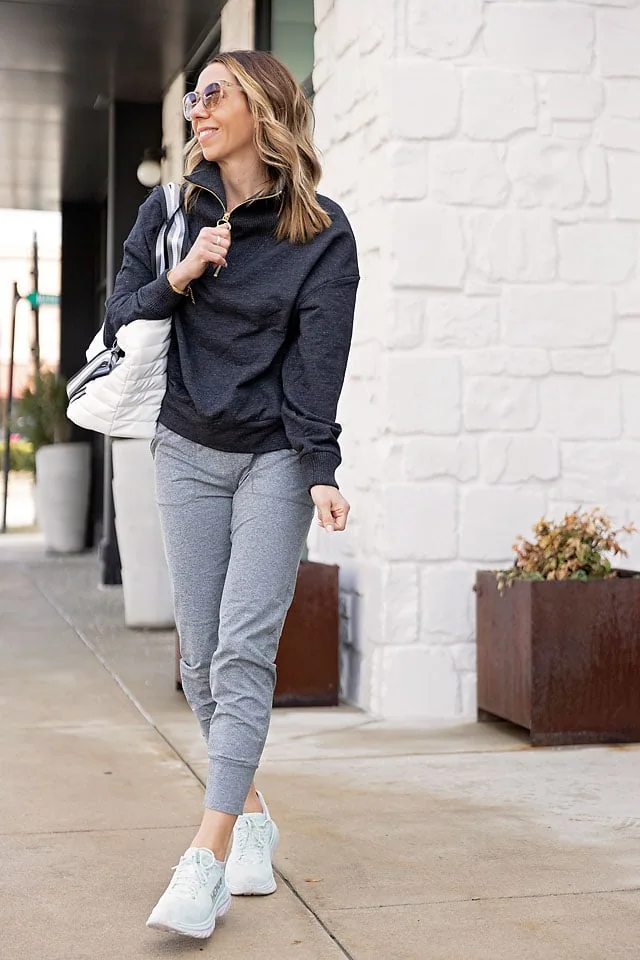 I went on Zappos and debated what color for way too long before going with something bright and fresh for spring. I had no clue if I would run in them, walk in them, strength train in them or just run errands in them. I didn't know what I didn't know. In true Zappos, form they arrived in a minute. I let them sit there in a the box for a few days which I later learned was a few days I will never get back. When I finally decided to slip them on, it was for my afternoon walk to the bus stop. I am trying not to be dramatic, but I'm pretty sure I floated there. The best way I can describe how Hokas feel is like it's walking on cushy semi-circles. The "cush" factor is next level. If you put on your old sneakers and then put on your Hokas, your old ones will likely feel like bricks. And I LOVE my old sneakers, but I'm telling you, these Hoka-lovers knew the secret way before I did.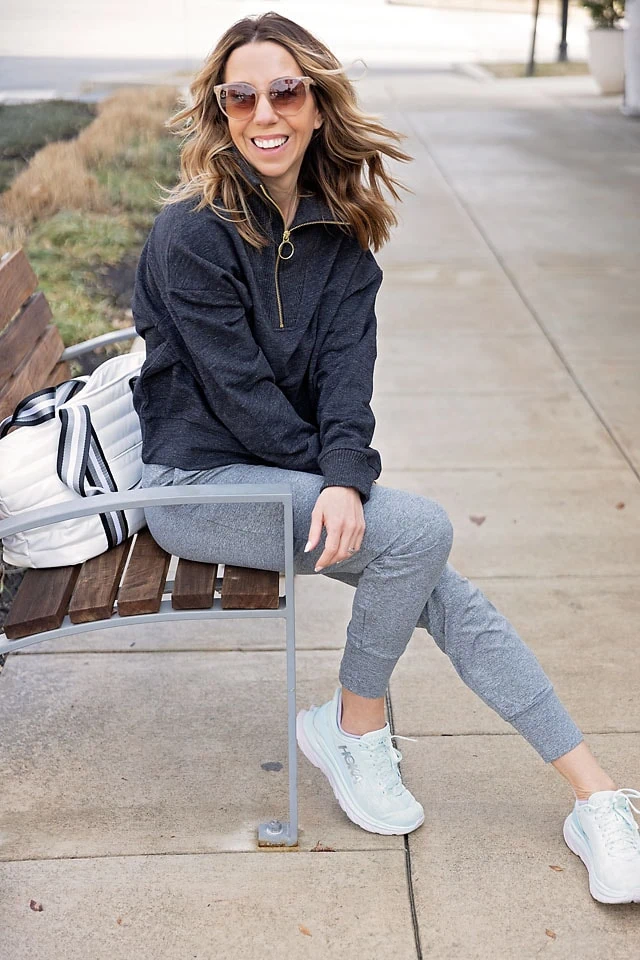 Wearing:
Varley Quarter Zip | Varley Joggers | Hoka Mach 4 Sneakers | Think Royln Bag | Le Specs Sunglasses
And now I have officially become my mother. When I pass someone wearing Hoka's I feel like we are friends. I stop and talk to them about their shoes, "OMG so good, right? How long have you had them?" Or if I'm in a rush, it's like I still need to acknowledge that we are in the same "club" and give them a little nod and point to the shoe…. like the good old fashioned Jeep Wave but for sneakers.
Ok so what else do you need to know? I think they run true to size and they have different styles for different needs. I have the Mach 4 which is apparently their tempo run sneaker. While I only have experience with this style, I will say it is VERY light. I assumed they would be heavy because they have substantial construction, but was pleasantly surprised that they are very airy. All of their shoes have a substantial base for a crazy smooth ride.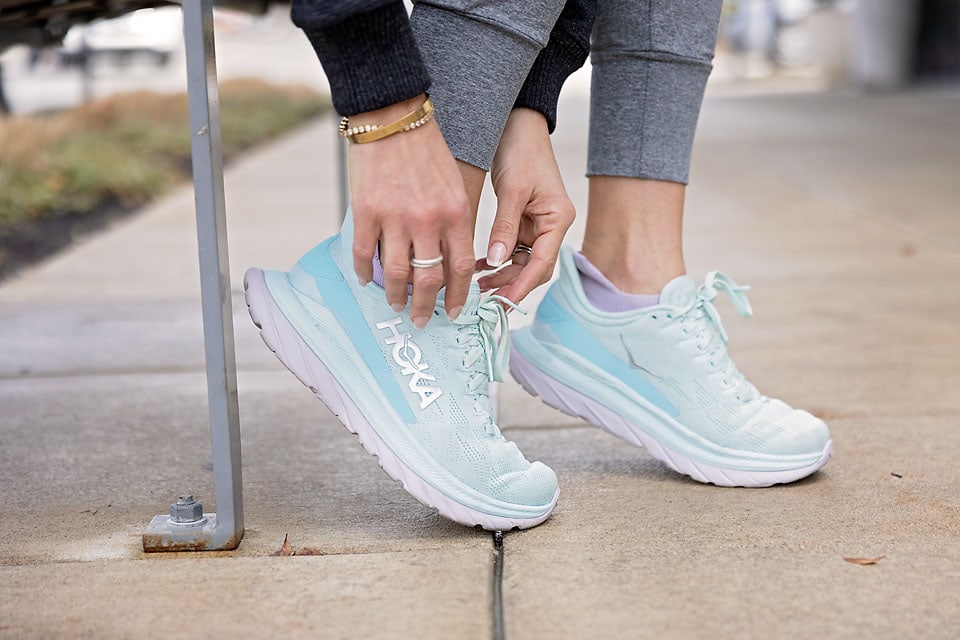 After some quick research I found that the style with the most cushion is the Bondi 7, the most versatile sneaker is the Clifton 8 and their most stabalizing sneaker is the Arahi 5.
The hardest part is choosing a color. I'm already contemplating my next pair. I might go bright and punchy (love the white/blazing orange combo). I want my Hokas to be seen in all of their cloud-like glory.
Shop the Post
More Hokas to check out….