Finding the perfect white denim might be tricky, but it is not impossible. I know the frustration of trying on dozens of pairs only to end up empty handed. Spring of 2022 is bringing so many great denim styles that I was able to round up my favorite white denim picks pretty easily. With regular denim silhouettes changing away from skinnies, it was only natural to see that shift in white jeans. We've rounded up four styles of white denim that we are loving (and think you might too) and how to wear them.
Skinny Fit White Denim
Ah, the classic skinny. I hope you didn't pack yours away because regardless of what TikTok is saying, skinny fit white denim will always be a classic in my opinion. This style is perfect to pair with light layers and breezy tops to add balance. Style Tip: Try an ankle fit so you can showoff your favorite spring and summer sandals!
Jeans | Cami | Cardigan (wearing beige) | Shoes
Straight Fit White Denim
Straight fit denim are the skinnies relaxed cousin. You still get that tailored and streamlined fit, just with more ease. A straight fit denim gives you that no fuss, on-trend vibe. This style is perfect with anything from classic button-ups, basic tees, fashion sneakers and cool sandals.
Jeans (run TTS) | Chambray | Sandals
Jeans (run TTS) | Top | Sandals
Wide Leg Fit White Denim
A wide leg jean might be the most comfortable of all the styles. Wide leg denim styles are polished and the perfect way to accentuate your waist. A wide leg white denim style can easily be dressed up or down. Style Tip: If your office allow for denim, a wide leg style is are ideal. Pair this style with a timeless loafer for work and take them out with your favorite heels on the weekend!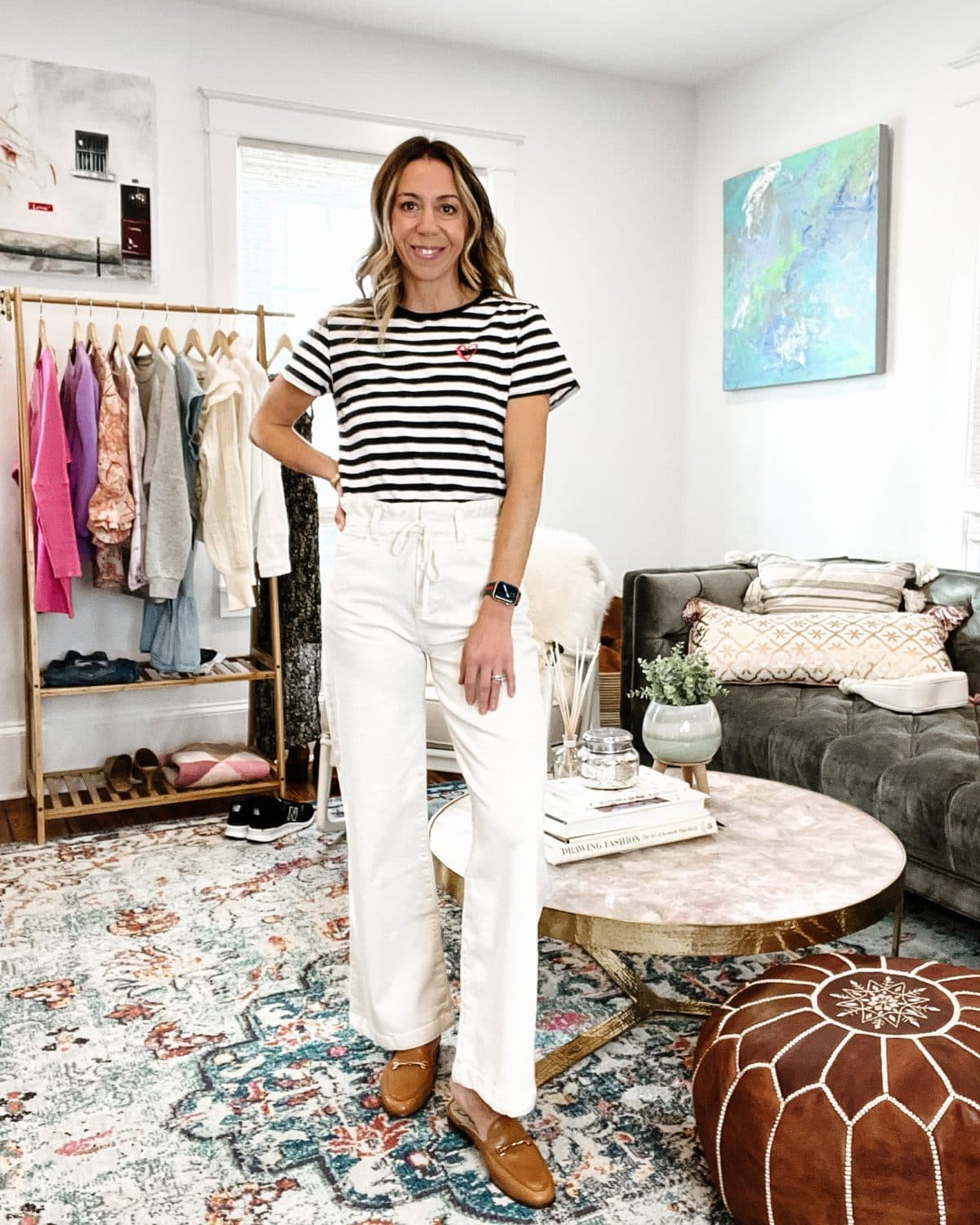 Tee (wearing xs)| Wide Leg Jeans (wearing 25) | Flats
Flare Fit Wide Denim
Flare jeans are having a moment and it's not just for blue denim. I try not to play favorites when it comes to my denim but the flare fit might be my top choice! I love the boho, 70's inspired style and not to mention how a flare leg can also elongate the legs. Who wouldn't love that? Style Tip: If you also love a retro style, pair your flare denim with springs "it" shoe, clogs!
More White Jeans We Love