Thank you to Nordstrom and ShopStyle Collective for sponsoring this post.
I recently dialed into a fashion-related webinar and listened to a speaker who was reporting from Milan Fashion Week. While I simply enjoy fashion, listening to someone who can speak about it with such eloquence makes their words hold a little more weight. The speaker had very strong opinions on trying denim silhouettes that are NOT skinny. I cried a little inside. Then I looked at my stack of skinnies, promised I would be back soon, and added a pair of wide leg jeans to cart.
I experimented with styling wide leg jeans because it does take a little more thought than skinnies that work with pretty much anything. With wide leg styles it's all about achieving a balance. When wearing pants that have a bit more volume on the bottom, the easiest style solution is wearing a fitted top so your frame is not overwhelmed with fabric. It just works. However, it's not the only way to wear wide leg jeans – you can play around with other top styles as you will see I did below. A puff sleeve or a cap sleeve also works if they cinch a bit at the waist. Easy tees and tanks also pair nicely with wide leg jeans – play around with tucking/knotting to create a fit point if the balance seems off.
For this post, I wore the same pair of wide leg jeans for consistency. This pair by MOTHER is a splurge, but I love the fit/feel of this brand, they are Made in USA and are known to make all bums look 👌, but I digress. They run true to size, but size down if between. We shared a bunch of wide leg styles at all price points at the bottom of this post!
Bodysuit + Wide Leg Jeans + Oversized Blazer
This fitted bodysuit creates a streamlined look with the wide leg jeans. Pop on a chic oversized blazer for a high fashion feel.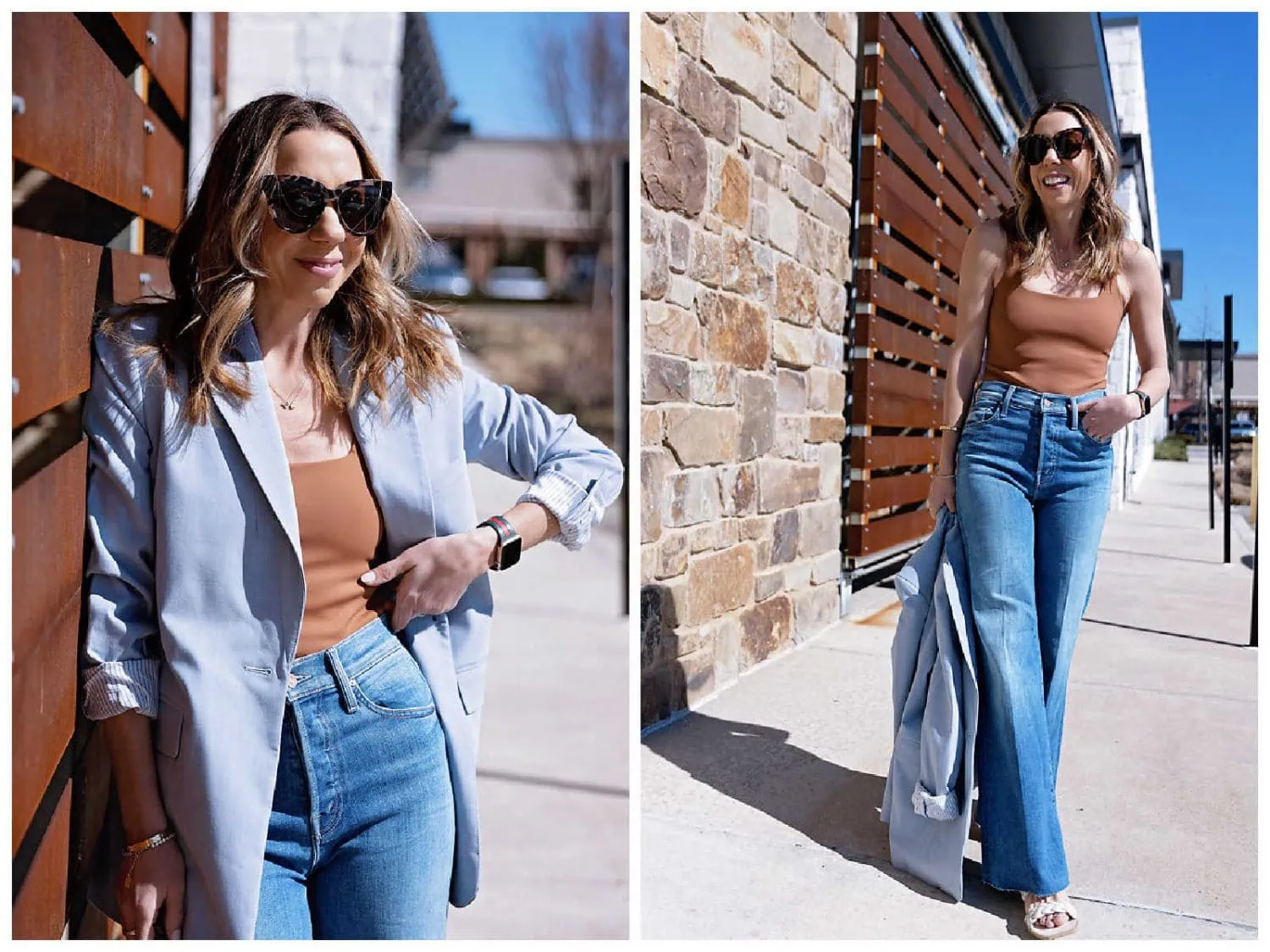 Bodysuit | Jeans | Blazer | Sandals | Sunglasses
Fitted Top + Wide Leg Jean + Walkable Heel
When in doubt, stripes! This classic pattern makes a wide leg jean feel effortless and timeless.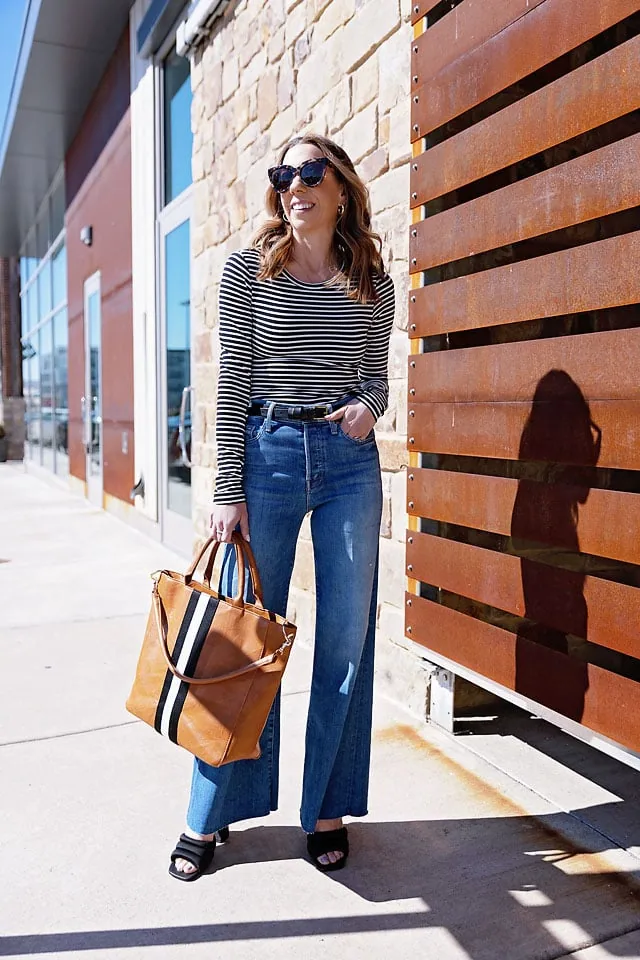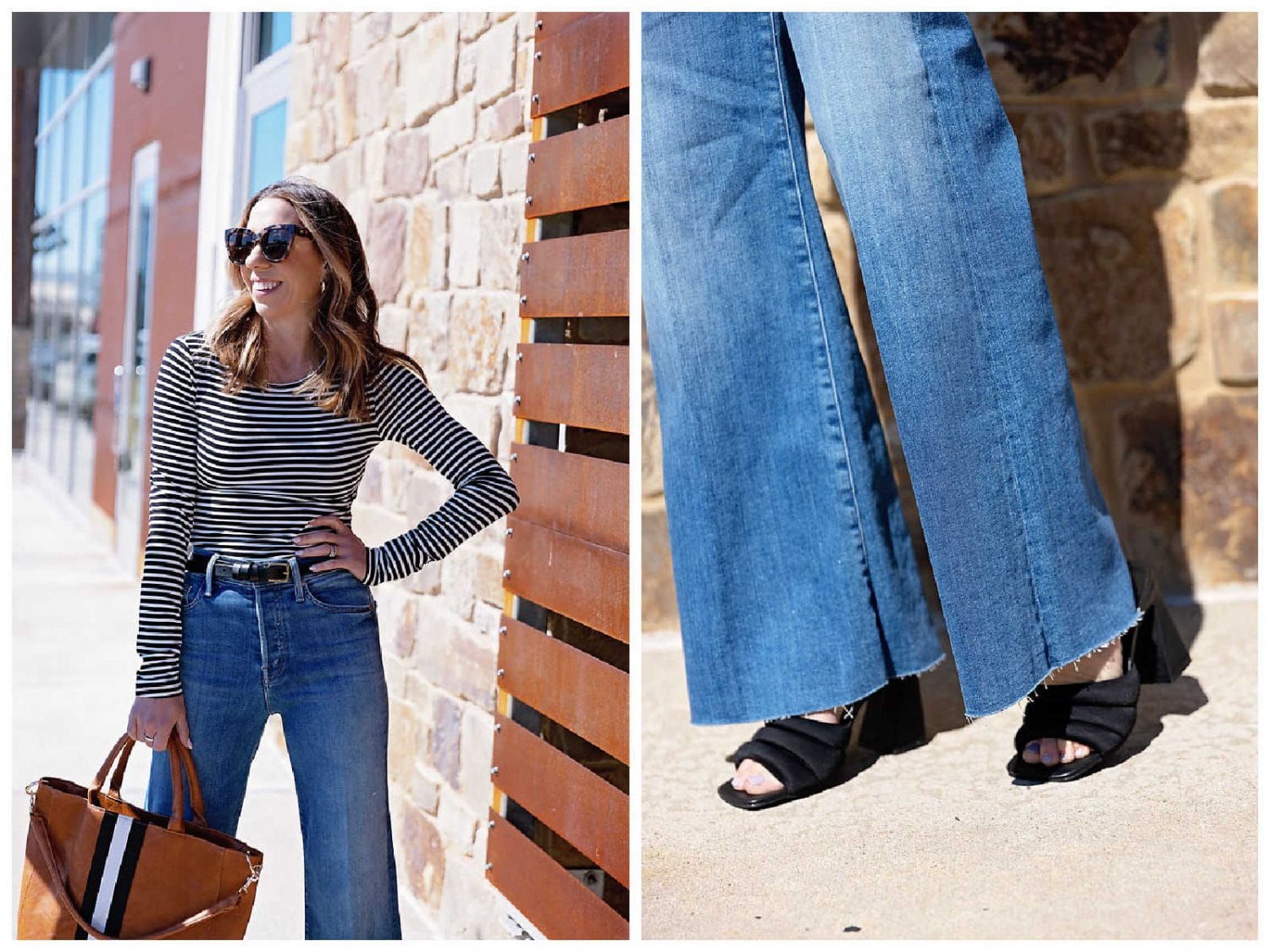 Long Sleeve Tee | Jeans | Belt | Sandals
Voluminous Vest + Wide Leg Jeans
This chunky knit vest is a great top for someone who has wider hips. The volume on top helps to balance the volume on the bottom. I haven't experimented with this style yet, but I loved the comfort and addition of texture.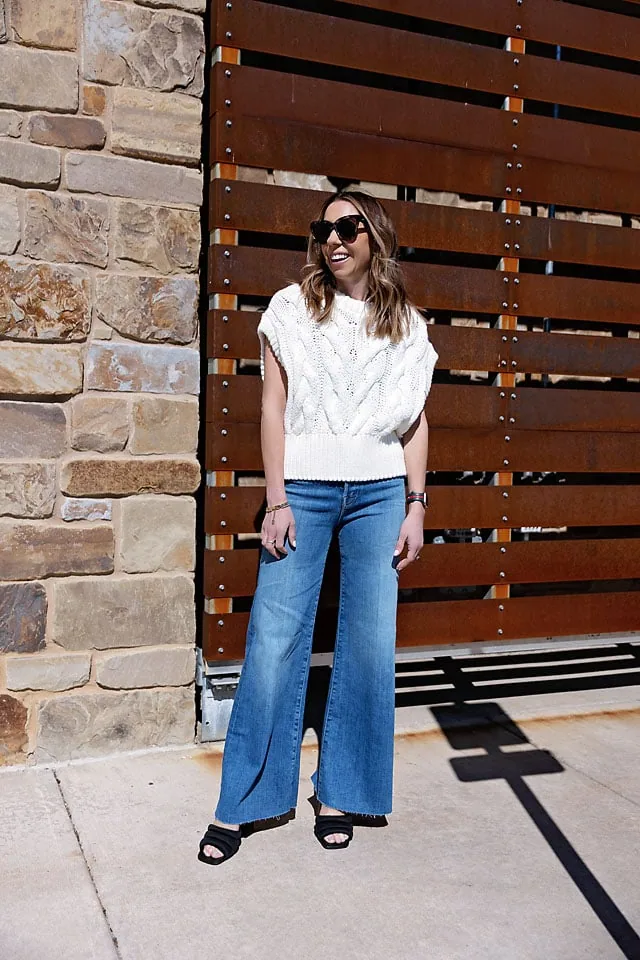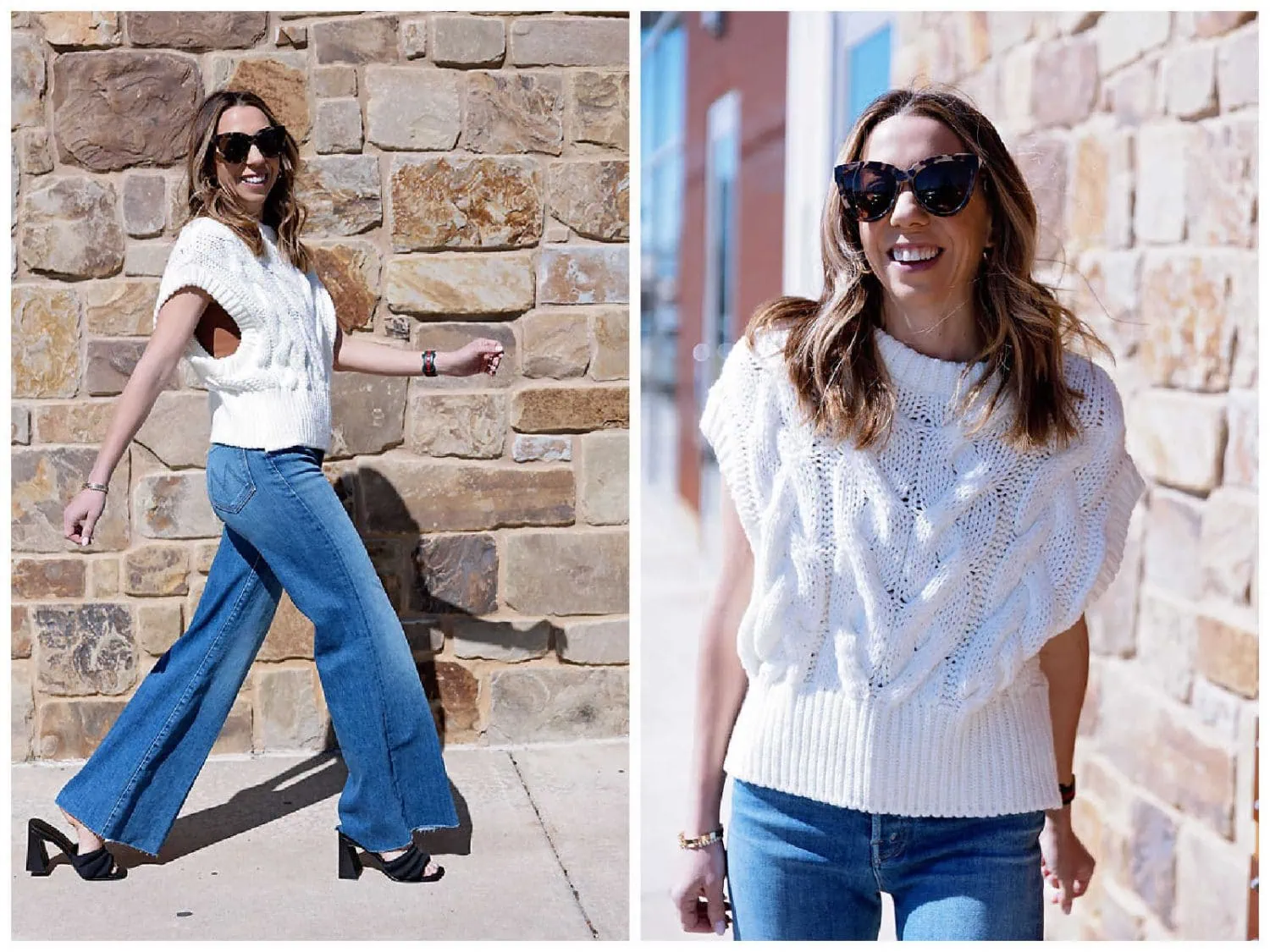 Sweater Vest | Jeans | Sandals
Puff Sleeve Tee + Wide Leg Jeans + Dressy Sandal
This perfect little puff sleeve adds a hint of femininity. It feels perfect paired with a simple sandal. Date night anyone?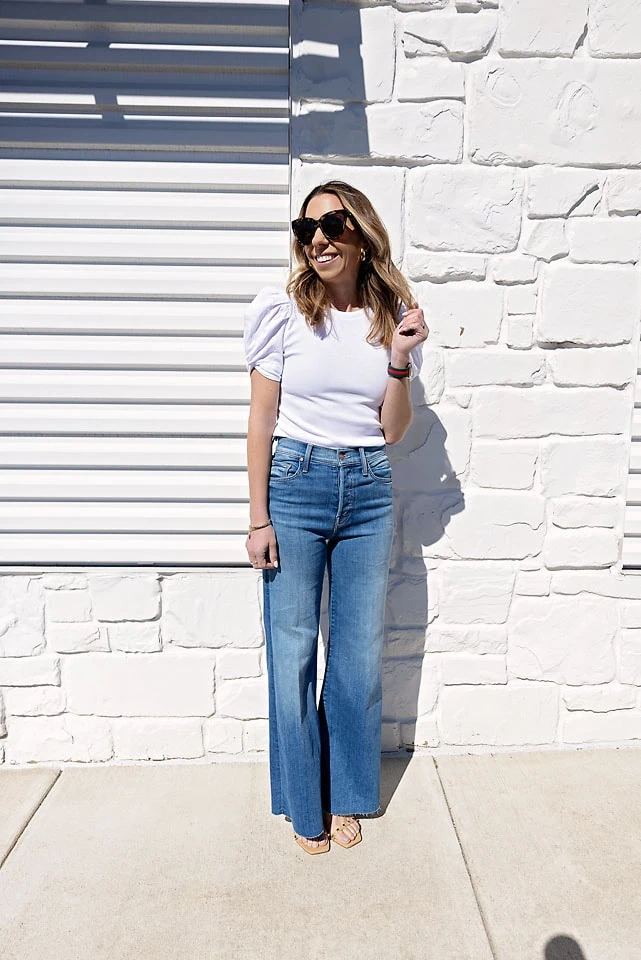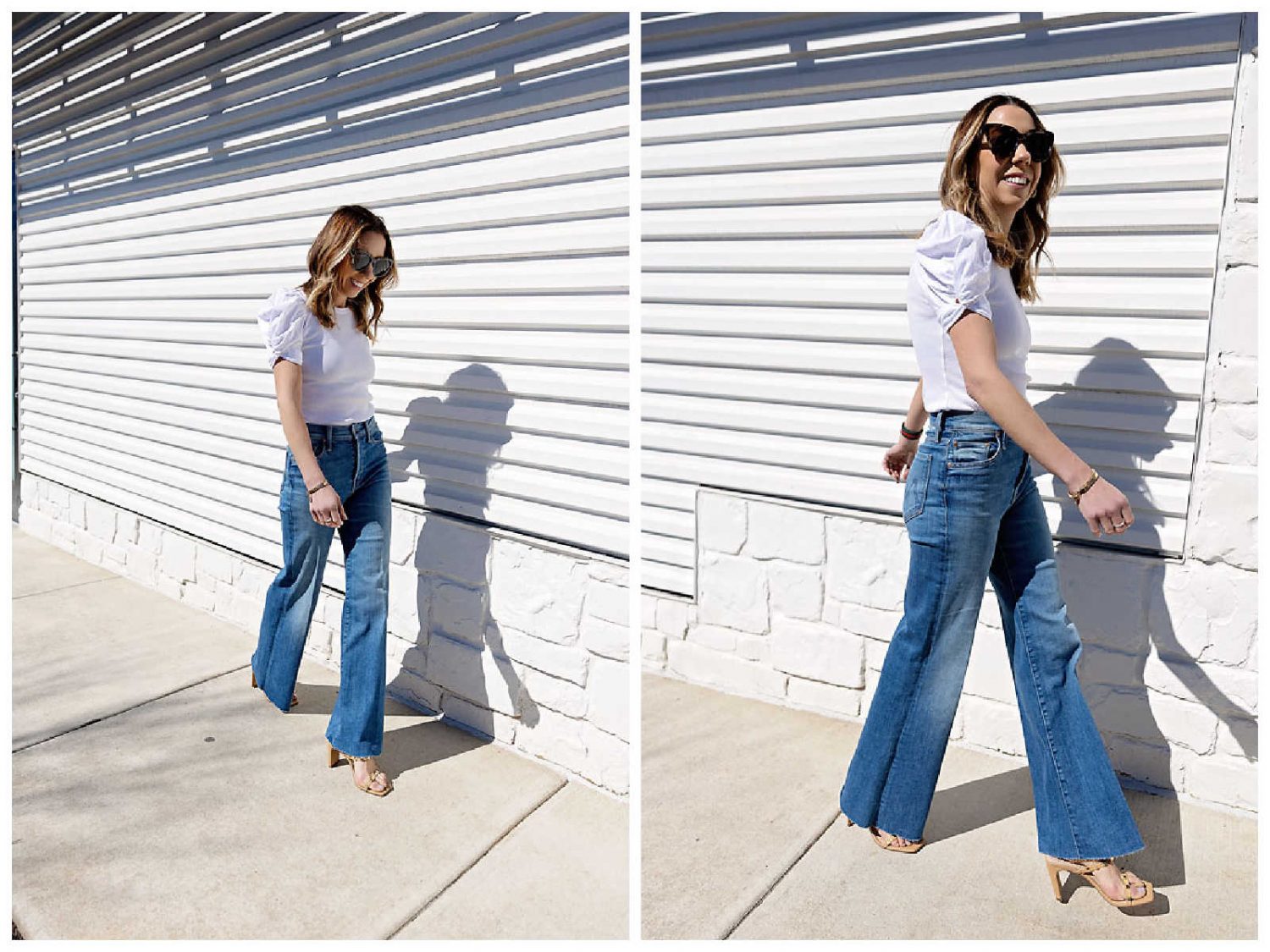 Puff Sleeve Tee | Jeans | Sandals (similar)
Graphic Tank + Wide Leg Jeans + Neutral Sneaker
I try not to pick favorites, but this one is near the top. This look is something I would wear everyday but taken up a notch with the wide leg jeans. A graphic tank and sneakers are always a go-to look!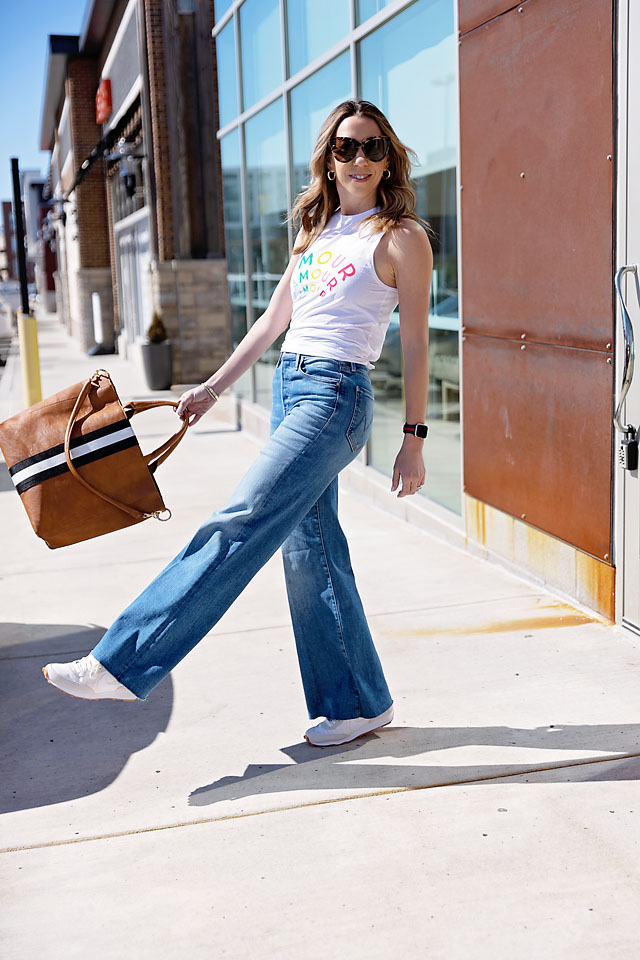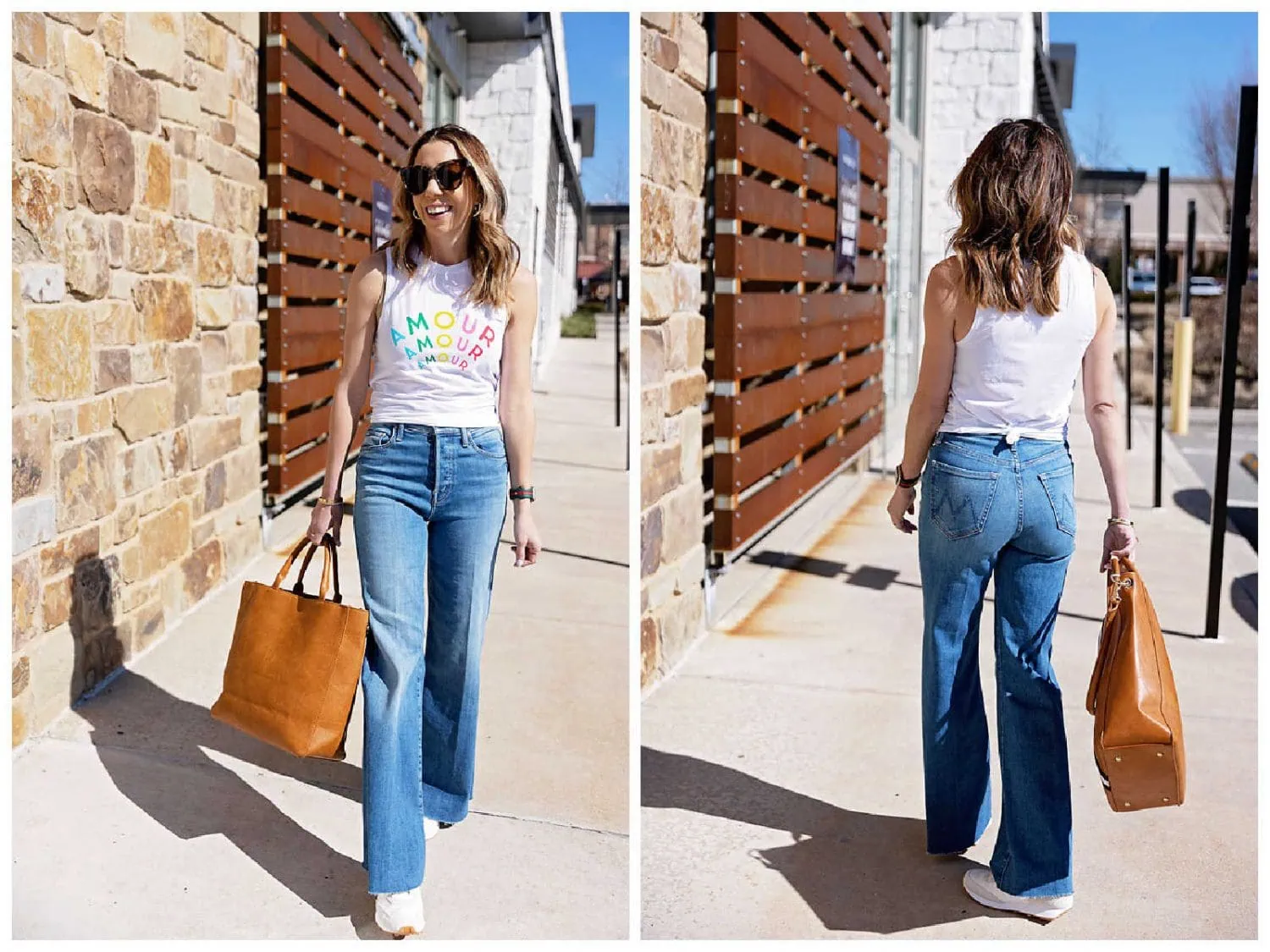 Graphic Tank | Jeans | Sneakers
Shop more wide leg jeans