Vuori dropped a bunch of new arrivals this spring and I wanted to do a little spotlight on some of their tanks. Why? I realized I have almost all of them and put one on prettttty much every morning. I like them all for different reasons and thought it would be helpful to break it all down for you. While it's hard NOT to be smitten with the gorgeous new hues, I know that fit and function are equally important when deciding which style is for you. Personally I love all of these tanks and will wear them for different activities – some even look great with a pair of denim shorts OR WAIT… have you seen their new Vintage Ripstop shorts? They are en route and I cannot wait to share. I'm sharing five tank styles below all with a few different features to call out. I am wearing size XS in all of these tanks and think they run true to size.
The Sunrise Tank
When it comes to the Sunrise High Neck Tank, the cinnamon color sold me and the fit sealed the deal. It has a close-to-body fit that moves with you during workouts and is made of a moisture wicking fabric. The racerback style works with a variety of sports bras. I have it paired with the Daily Bra that has a scoop back, but if you like your bra completely hidden try it with the Yosemite Bra which is more of a racerback style.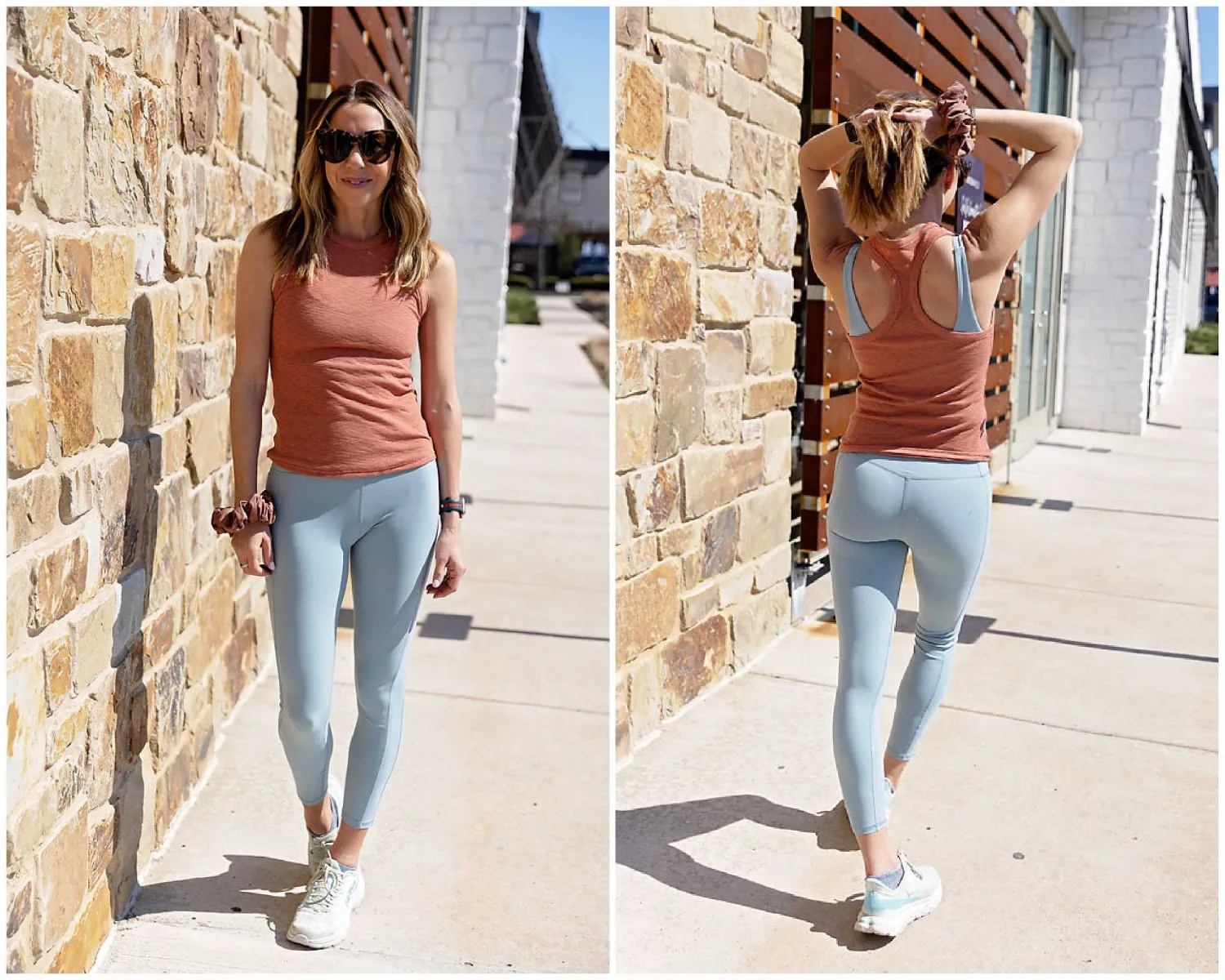 Sunrise Tank | Studio Pocket Leggings | Sneakers | Sunnies
The Sunrise Crop Tank
This tank features a double scoop and a shorter length. Similar to the tank above, it has a slim fit so it stays out of your way during workouts. If you aren't into tummy bearing tanks, pair it with the studio leggings that have a high rise fit.
Sunrise Crop Tank | Studio Pocket Leggings | Sneakers | Sunnies
Mudra Plyo Tank
This tank has a built-in bra with medium support. It is also cropped in length so I tend to wear it with high rise leggings or the boyfriend joggers. It's pretty much ready for any sort of activity… yoga, hiking, running errands and it is UPF 30+ sun coverage to boot!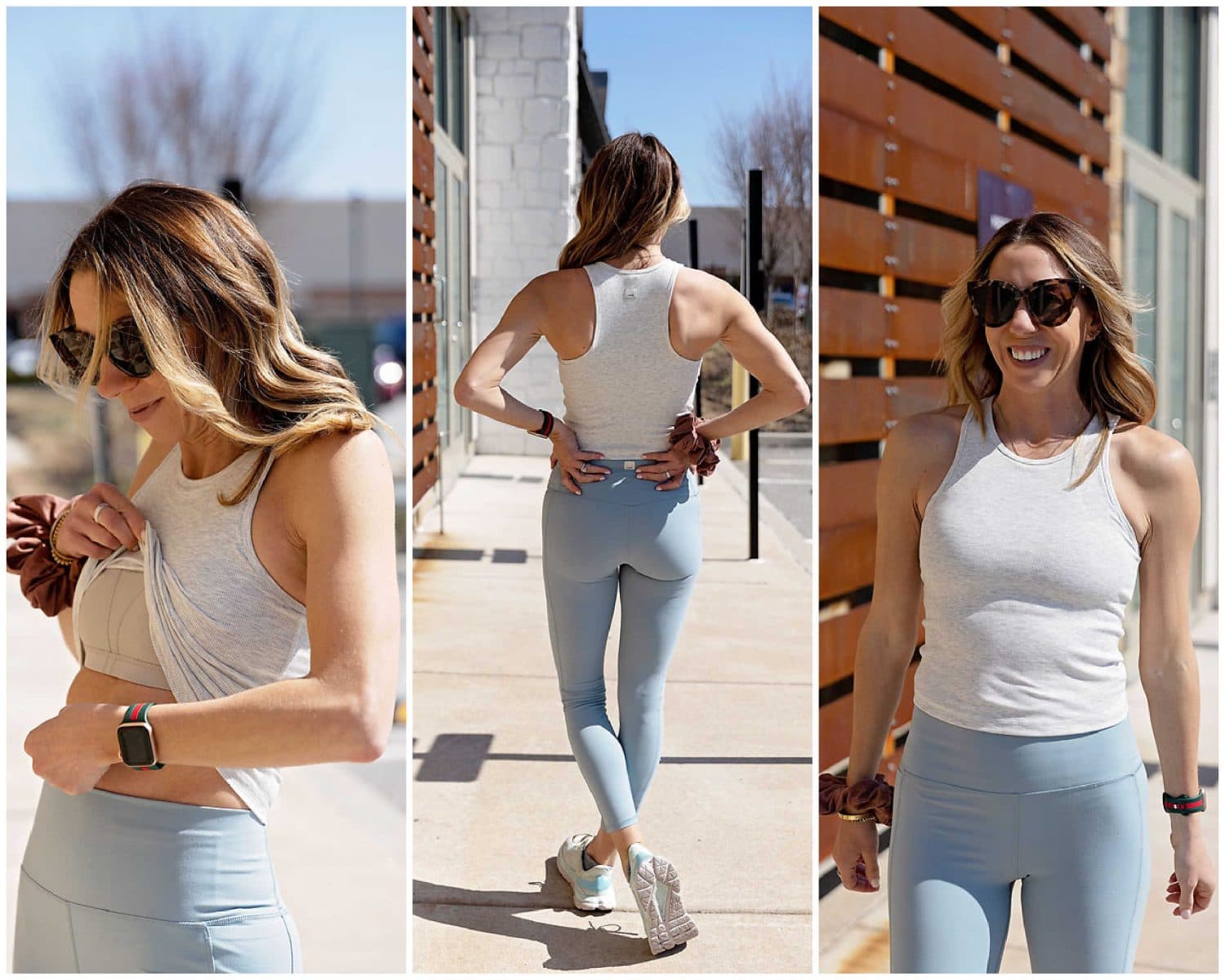 Mudra Plyo Tank | Studio Pocket Leggings | Sneakers | Sunnies
The Cove Crop Tank
The Cove Crop Tank is made of a slinky rib material that is breathable and body skimming. It sort of "floats" against your body…if that makes sense? While this wouldn't be my pick for hard run, it is amazing for a walk with friends… and how cute are the little buttons!
Cove Crop Tank | Studio Pocket Leggings | Sneakers
The Halo Cropped Tank
I grab this tank several times per week! It has a built in shelf bra that is best for light/medium impact activities making it perfect for yoga/barre/toning days. If it has the word "HALO" in the description you know it's made of the coveted, butter-like Vuori fabric. Speaking of butter, it's also super cute for lounging… the Halo Performance Crop paired with my coveted boyfriend joggers simulates the look of a matching set. What can I say, matching sets really make me feel like I have my life together.
Halo Performance Tank | Boyfriend Joggers
Shop the post here: