It's hard not to think about graduation and immediately start humming most popular song of 1999 – Graduation by Vitamin C. You are welcome for getting that song officially stuck in your head. But speaking of graduation, this special day calls for memorable gifts. Beyond the essentials: towels, sheets, shower caddies, we gathered 50+ ideas for your graduate this year. A little something extra to show off how proud you are and to celebrate this momentous time. Whether you are attending a graduation party or dabbing your eyes sending one of your own off to college, we curated two sets of gifts. The first set is our splurge-worthy gifts that you might consider for your own graduate. These are gifts that your grad will always remember as "the gift they got on their graduation day". The second set of gifts are a mixture of practical and simply fun!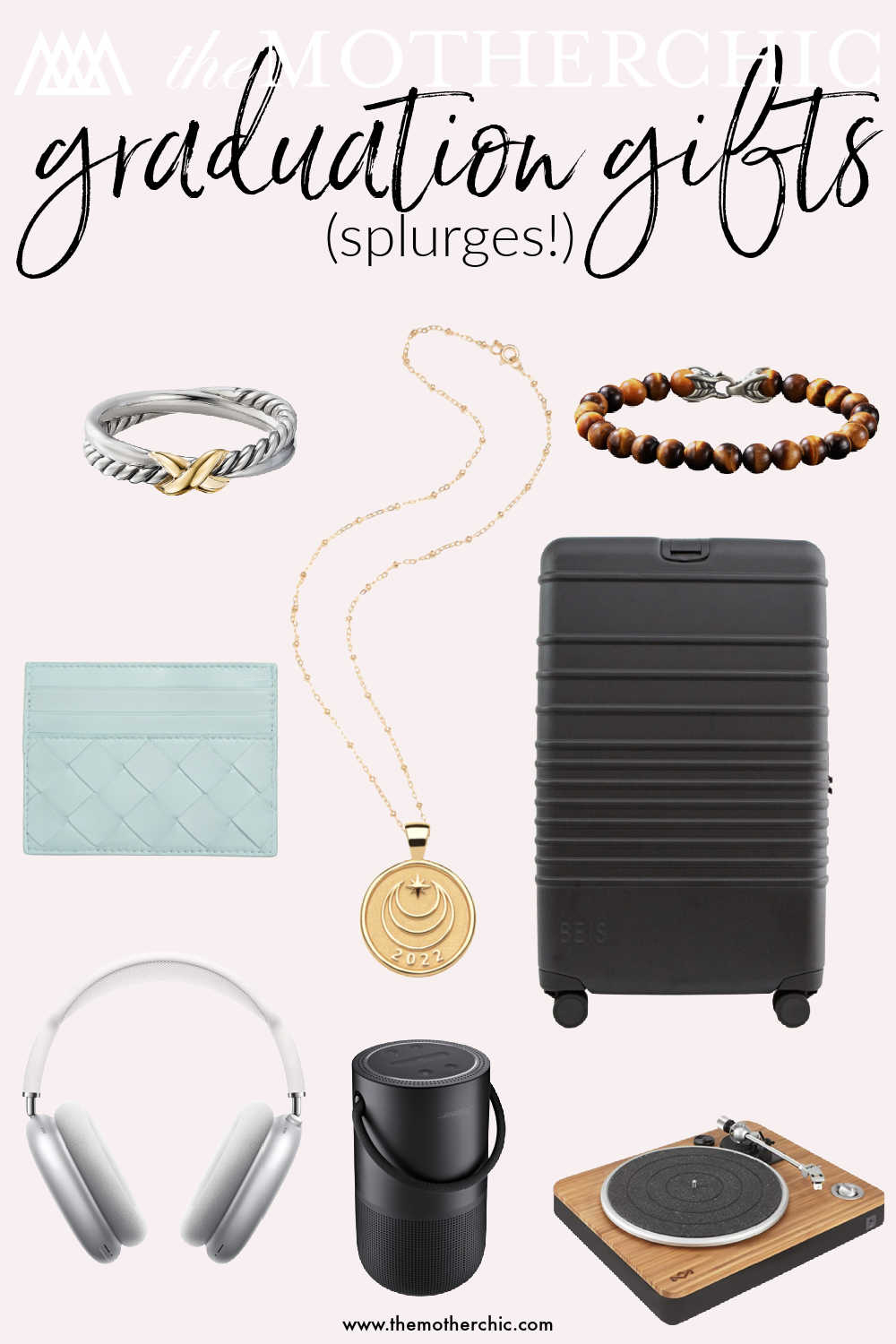 David Yurman Ring // A classic gift to celebrate all of her accomplishments.
Bottega Veneta Card Case // For the girl with champagne taste, this chic card case is an incredible gift she will cherish.
Jane Win Graduate Necklace // This limited edition 2022 coin necklace is pretty much the perfect graduation gift. There is a compass on the back side for all the places they will go…..
AirPod Headphones // Dorm room essential… noise cancelling headphones.
David Yurman Spiritual Beads // If your guy is into jewerly, these are pretty special.
Beis Luggage // You know… for spring break 😉
Bose Portable Speaker // I live near a university… trust me when I say the kids like their music LOUD.
Turn Table // A little dorm room fun for the music lover…
Instax Camera // I love this "in the moment" gift as a way to capture pictures that they will remember forever. And don't forget the film!
Wrap Towel // I may actually need one of these for myself – bonus points for getting it monogrammed!
Wallet // This simple fold wallet has an ID window and exterior money clip to keep everything organized.
Laundry Backpack // When I was in college it was quarters for laundry and quarters for the tanning salon… can you guess what was used more?
Our Place Always Pan // There's nothing like a home cooked meal – but this pan will help them feel a bit closer to it.
Selfie Frame // Capture the moment with this life size polaroid frame!! Perfect for a party!
Courant Charger Tray // This way they will never forget to plug in their phone and not have an excuse for calling home.
Light Make-Up Mirror // Stylish and functional – the perfect spot to do your make-up!
Birkenstock Slides // Comfy, cool and can be worn as shower shoes.
Lululemon Belt Bag // Pretty sure I am guilty for adding this to every gift guide! It is the of the moment item that I can't get enough of!
Herschel Dopp Kit // They can use this for years to come – this dopp kit is waterproof and has a wipe clean interior.
UGG Backrest Pillow // My kids are obsessed with these pillows and are also perfect for those late night study sessions.
Amazon Gift Card // Let's talk about what they want, what they really really want!
Shop more gift ideas below