Thank you to Nordstrom Rack and ShopStyle Collective for sponsoring this post.
One of the goals of The Motherchic has always been to share easy ways to elevate your outfit. We believe fashion should be an expression of your personality, but that it also shouldn't take more than 90 seconds to put together a "look". Here is a little #fashiontip: keep it simple and invest in accessories. A simple black maxi dress is a summer staple. You can easily create a "vibe" with a few add-ons. We love finding hidden gems at Nordstrom Rack because there are SO. MANY. DEALS….. and this post is FULL of them from this $19 maxi (yes, you read that correctly) to this HOBO bag that is almost 50% off.
Pop of Color
While a maxi dress is a million percent chic on its own (we like to refer to that is "minimalistic" which is totally a vibe), I personally love adding some color. Whether it's a shoe or a bag, it's a 7 second decision that can transform your look.
Maxi Dress | Bag | Shoes
More Colorful Bags:
Statement Necklace
Adding a long, gold necklace immediately adds some interest to the blank canvas of a black dress. This makes this $19 find that much fancier and we are not mad about it….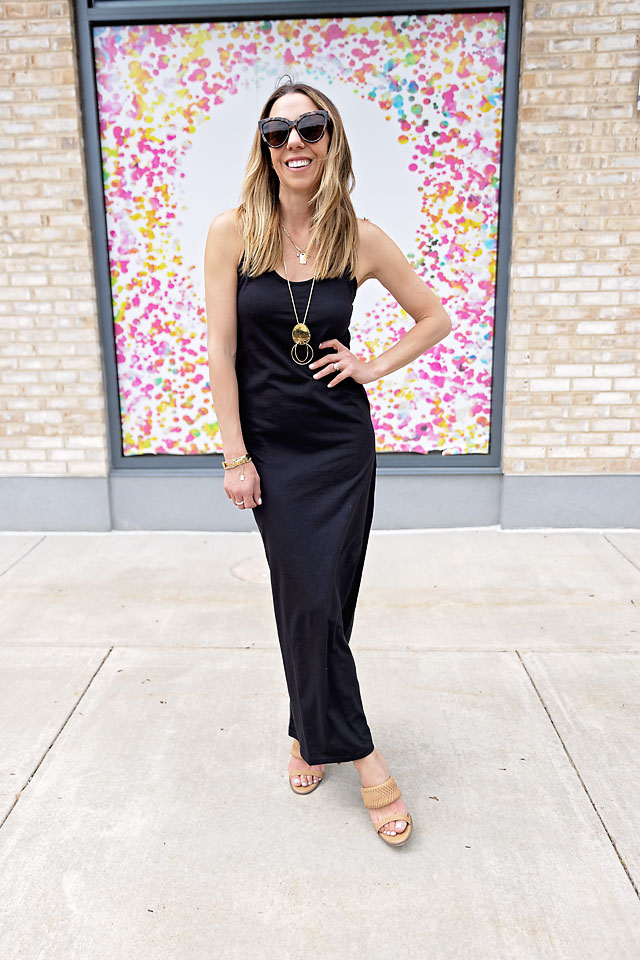 Maxi Dress | Necklace (exact sold out similar here) | Shoes
More Statement Necklaces:
A Chic Layer
I mean, tell me you aren't getting Rachel Zoe vibes here. She is the queen of the duster and this look is kind of making me want to book a trip to Almafi. Annnnd all of a sudden my $19 dress just got really expensive 😂 .
Maxi Dress | Duster | Shoes
More Chic Layers:
Belt it Up
A little cinch of the waist instantly adds shape to a long dress. I love having a few waist belts in my closet to add to my outfit when it just "needs something".
Maxi Dress | Belt | Shoes
More Belts: