Thank you to Old Navy and ShopStyle Collective for sponsoring this post.
Well, I'm sure of us have a lot to say about shorts, but I will try to get right to the point. I have found in my quest to find shorts that actually feel good on my body, denim isn't always the answer. Don't get me wrong, I LOVE denim and wear denim shorts all the time, however, when I wear non-denim shorts I am like 87% more comfortable. If you are struggling to find shorts that not only look good, but feel good too, read on.
Looser fitting, lighter, more breathable fabrics are the secret to finding shorts that are comfortable… and I am not talking about athletic wear. I found the cutest pair of 100% cotton shorts from Old Navy that are equal parts styled and comfortable. Translation: they look like I made effort, but feel like gym shorts. I love the high rise, 4.5 inch inseam and loose fit through the thighs. And yes, they pass the sitting down test with flying colors. If you know, you know. I got size XS and feel like they run true.
Right now Old Navy is having a crazy good sale on shorts – I'm talking 50% off shorts, tee, swim and tanks. I styled the high waist twill workwear short three ways below – and did I mention they are UNDER $20?!! I also rounded up some other shorts that I can pretty much guarantee will feel amazing on at the bottom of this post.
Look One // Texture + Trend
One of the biggest trends this season is crochet. I love this open knit sweater shell as a nod this fashion moment paired with the high waist shorts for a casual, yet elevated look.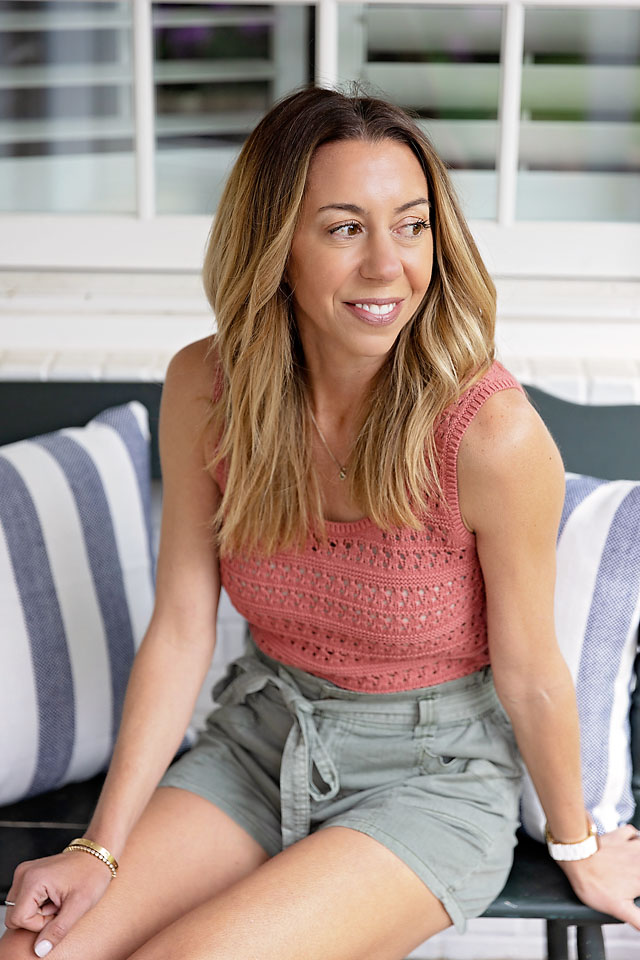 Open Knit Sweater Tank | High Waist Twill Workwear Shorts
Look 2 // Minimal + Chic
The high waist style short lends itself to tops that tuck in. Enter the bodysuit for a sleek (sexy) way to dress up these shorts.
Square Neck Bodysuit | High-Waist Twill Workwear Shorts
Look 3 // Fun Fun FUN
Is there anything a graphic tee doesn't pair well with? Answer: NO.
Graphic Tee | High-Waist Twill Workwear Shorts
More Old Navy Shorts We Love….
Non-denim….
Denim….